There's no shortage of ways for companies to make a meaningful contribution, whether through one-time events or more sustained commitments. Volunteer-focused activities also strengthen camaraderie, which, in turn, can boost collaboration and productivity at the office.
We asked members of the Staples InsidersNetwork: What are some creative ways your team has given back?
Carrie, office administrator: "We did a bike build for underprivileged boys and girls."
Instead of having a holiday party last year, Carrie's company opted to spend an afternoon building bicycles for disadvantaged children who belonged to a local Boys & Girls Club.
With some guidance from Impact 4 Good, an organization that connects companies with community service projects, Carrie's company bought the bicycle parts and had them shipped to the office. On the day of the bike build, the company brought in lunch, and Carrie divided the staff into teams. "I mixed up the teams so that people who don't normally interact would have a chance to work together," she says. They built 13 bikes in all, and they assembled goodie bags with cookies and other treats for the kids.
The payoff for the work came shortly after, when the kids arrived at the office to pick up the bikes. "Some staff members were crying, they were so moved by seeing the kids' reactions," Carrie says. The afternoon was such a success that the company plans to do a similar project.
Margo, engineering administrative assistant: "We did the Special Olympics Plane Pull."
Two years ago, Margo and her colleagues accomplished a feat that takes team-bonding to a whole new level: Working together, they managed to pull a plane weighing nearly 180,000 pounds. In the process, they raised money for a good cause.
Margo, a Special Olympics volunteer, saw an email about a plane-pull challenge the organization holds each year. Intrigued, she asked some co-workers to form a team to participate. She rounded up 14 people in all, each raising $50. The company matched the funds, for a total $1,400 donation.
The event was a fun day out — participants brought their families, and Margo's team got to mingle with other volunteers. "Naturally, taking part gave us a strong sense of accomplishment," Margo says. "Knowing it benefited a good cause made the experience that much sweeter."
Julie, administrative assistant: "We 'adopt' several families from a local shelter."
Each holiday season, Julie's company works with a community organization to donate gifts and basic necessities to families in need. The organization provides the details about the family members and what they're hoping to receive — a stuffed animal for a young child, for instance, or bath towels and kitchen supplies for the parents. Then, employees volunteer to buy the items.
"We have a tree near our main entrance that has paper ornaments, each with a description of a gift item and who it's for," Julie says. "That makes it easy for employees who want to participate to take an ornament and purchase the item on it." Once the items have all been bought, the company brings them to the agency.
To keep the positive momentum going throughout the year, Julie's company organizes park cleanups, volunteers at a veterans' home and sponsors movies at a local park during the summer. "More employees have gradually become involved in these events over the years," she says. "They help to lift morale — giving back feels good."
We asked members of the Staples InsidersNetwork to tell us:
What best describes your colleagues' response to social responsibility or community giving initiatives?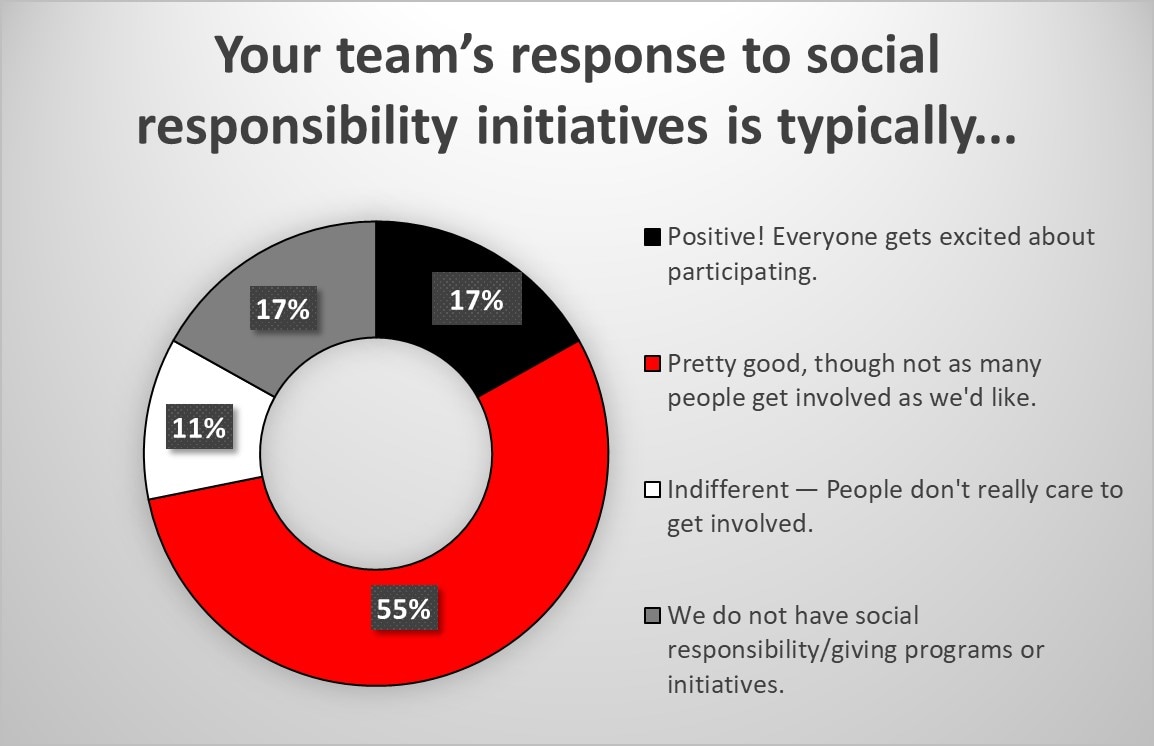 People are eager to volunteer at most of your peers' companies. A small segment is really geared up!