Electronic mail, files and devices are all essential to productivity. But they can easily pile up and become a source of distraction and stress. How do you manage it while juggling the demands of your job? We asked office managers in a Staples survey how they keep digital clutter under control.
Terri, accounting assistant: "I sort through my email twice a month to remove clutter."
Terri's inbox is flooded with items she doesn't need — irrelevant promotions, old delivery confirmations, newsletters she doesn't read. Managing the influx can feel like a never-ending battle.
"Since companies sell your email address, I get lots of emails that I never asked for," she says. As for the lists she did sign up for, "you can't always unsubscribe from them, because some of the emails are useful," she says.
To tackle the problem, Terri uses Microsoft Outlook's "rules" feature to automatically direct incoming messages from certain senders to her junk mail folder. That helps to minimize distractions. She also deletes other items in her inbox once she's dealt with them.
"Then, twice a month, I sort my deleted items and permanently get rid of things I know I'll never need to see again," she says. "I only save things in my sent and deleted folders for the current and previous month. Anything older than that either gets saved to an Outlook folder or deleted permanently."
Mattea, senior accountant/HR and benefits coordinator: "I organize my electronic files according to how often I access them."
To stay productive and focused, Mattea follows a simple rule: She keeps the files she needs most often in easy reach, and keeps the other ones out of sight.
"I'll pin the electronic files I use most to the top of my recent documents list," she says. (Tip: You can do this by hovering over a file name and clicking on the pin icon that appears on the right side of the screen.) Taking this step enables Mattea to see the file as soon as she opens the file tab from her desktop.
Mattea keeps the documents she needs less often out of view by moving them into a "historical" folder. "I'll go through that folder every couple of months and see when I last accessed the files in it," she says. "Then, I'll see what I need to keep. Generally, if I haven't opened a file in six months or longer, I'll move it onto a CD or a flash drive."
Tom, purchasing manager: "I invested in a device that allows me to download any files that need to be preserved from old laptops and PCs."
When devices are upgraded or replaced at Tom's office, the old ones tend to pile up. As a one-man purchasing department and IT troubleshooter, Tom lacks time to research the best way to dispose of them.
"We have a lot of old computer components and network devices that we don't want to just throw away," he says. Some components, like hard drives, may have information stored on them that he doesn't want to risk compromising. "Then there are things like batteries and circuit boards that can be toxic to the environment if they're not disposed of properly," he says.
To cut down on clutter, Tom recently bought a device that lets him download files from old computers that need to be saved. He can then reformat the hard drives so that they're free of old data. His next step is to find a place to donate some of the old computer and networking gear. He has also found companies that will safely dispose of the circuit boards and batteries, helping to shrink his discard pile.
Kathy, administrative assistant: "I make time to go through my emails and files at least once a week."
Keeping up with a constant stream of email is a must for Kathy. At times, she's had an inbox so full that new emails couldn't come through. Her method for keeping it under control is to set a schedule for pruning emails and stick to it.
"I'll usually do this on a Friday when the office is a bit more relaxed and the phones are less busy," she says. "I'll go into a specific folder, sort the emails alphabetically and decide what to delete." Sorting alphabetically lets her focus on emails from specific senders, one at a time. When deciding what to delete, Kathy considers how old they are.
"I try to keep everything for at least 12 months, so when I'm going through emails, I'll start by looking for the oldest date and delete anything that's more than a year old," she explains. "If there are multiple emails to delete, I'll just highlight them all and delete the block to save time."
Kathy takes a similar approach to cleaning out digital files. "Once I've sorted alphabetically, and from oldest to newest, I'll quickly browse through the older files and delete a few at a time, or batches of them if I can," she says. "It makes cleanup easy and fast."
We asked respondents to a Staples survey to tell us: What's your approach to managing digital clutter?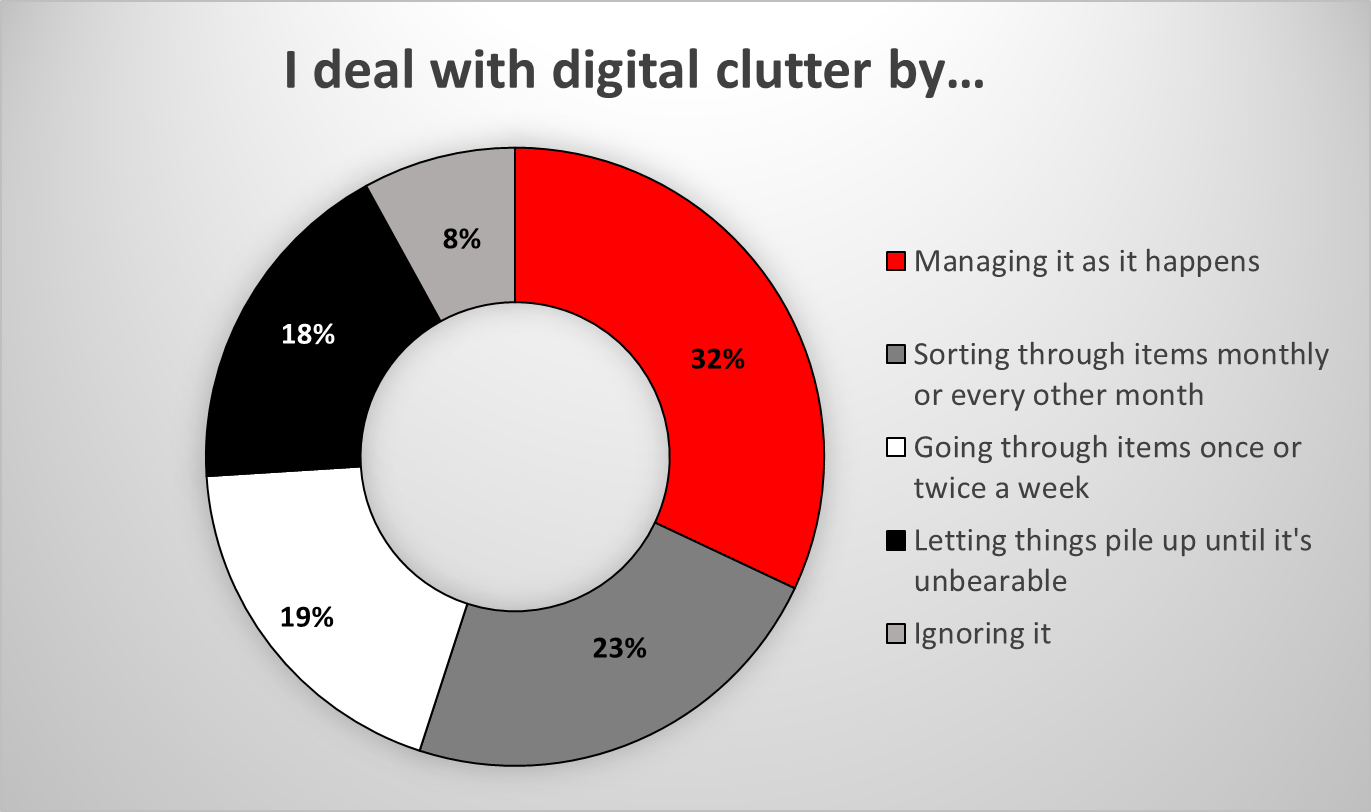 Caption: Most administrative professionals build decluttering into their routine. Yet, for a few, ignorance is bliss.