When you run a healthcare practice, your patients come first. That's why it makes sense to outsource time-consuming but crucial tasks — like ordering facilities supplies and maintaining your IT system — to a business products and services supplier. But how do you know yours is the best fit for your practice? Use this list to decide if your supplier has enough healthcare experience to serve as a trusted partner, now and in the future.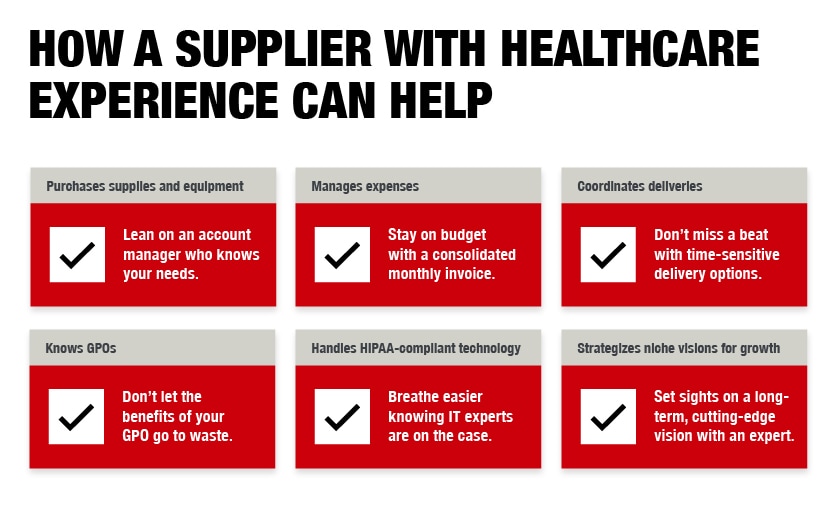 They know who I am — and what my practice needs.
You put a lot of thought into the supplies and services that your healthcare practice relies on to serve your patients. Will this cleaning product bother patients who are sensitive to smell? Is this chair comfortable enough for a loved one to pass a few hours in? Is this service really in our budget?
A supplier with a great deal of healthcare experience that knows your office can be proactive, rather than reactive, in making recommendations. They anticipate the questions and concerns that are top of mind for you, and use that knowledge to research products, point out new avenues for efficiency, and help identify ways your office can get more bang for its buck — all without you having to ask.
"Many times, managing supplies is only a small part of the practice manager's job, and something there isn't a lot of time for. That's where a [healthcare] account manager can help, working with you on an individual level to overcome a breadth of challenges." — Luke Merwin, Healthcare Account Manager, Staples
They offer a wide range of services that support me.
A supplier with a finger on the pulse of the healthcare industry will offer dedicated experts to make sure your needs are met in all areas. For example, if you're concerned about data breaches, a supplier with a healthcare tech team can help roll out a HIPAA-compliant plan to better protect sensitive information, and keep things moving with daily IT support. Plus, they'll let you know if a better system (or new threats) emerge.
When the time comes for my facility to evolve, I know they can help me think strategically.
Suppliers that have long-served the healthcare industry know the niche needs of a healthcare practice. Thinking about going paperless? What about remote patient monitoring? Whatever the case, chances are high that an experienced supplier has already been there, done that, and helped like-minded facilities find success. In other words, they've got a gameplan — one that can be customized to fit your vision for growth.
"A supplier with extensive healthcare experience is going to have many different customers in that space, from the east coast to the west coast, so they understand the niche [needs] for very particular markets." — Jennifer Ren, Staples Healthcare Senior Manager
They know the intricacies of the group purchasing organization environment from front to back.
If your practice is purchasing supplies through a GPO, you'll want to take full advantage of all the perks. Can I pay less if I buy more? Can I customize my contract? Will somebody tell me if new items are available at a discount?
Beyond having a history of working within GPOs, an experienced supplier will take the time to get to know your contract so you can cash in on the savings opportunities that you (or another supplier) might otherwise overlook.
"When your supplier is knowledgeable about your practice's GPO, their account managers never have to respond to a request with, 'I'll get back to you.' They know each contract inside and out." — Vickie Siliski, GPO Leader Healthcare, Staples
They see the big picture — not a just a swift sell.
Your patients — including their health and their experience with your practice — are your top priority. A supplier that's deeply connected to your industry won't simply understand that, they'll feel that same way. So, if an account manager recommends a new product that could improve patient experiences or outcomes, you can trust that they've carefully considered the ways it might impact your practice and the patients passing through. It's simply one more layer of security, and it won't add a thing to your plate.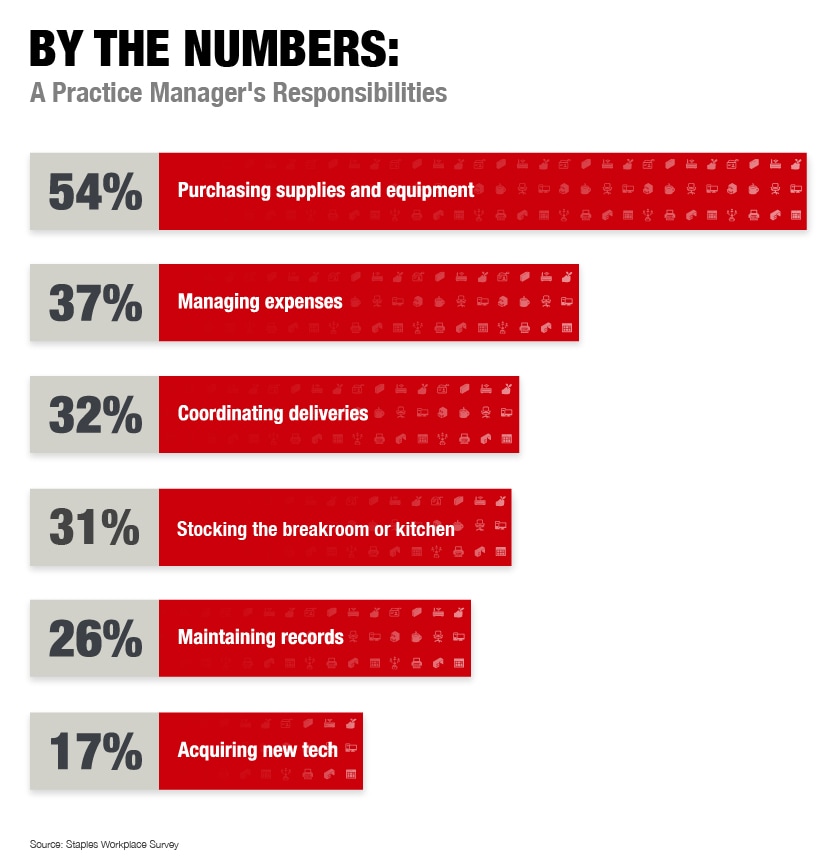 Staples has long served as a partner for healthcare facilities both small and large. Discover how Staples can help you plan, budget, and make tough supply decisions with precision and confidence.