He wanted to teach the method he'd been developing for most of his life to navigate his learning disabilities. So, in 2013, Ryder Carroll launched bulletjournal.com.
"Bullet journaling is a mindfulness practice disguised as a productivity system," Carroll says.
A bullet journal is much more than a to-do list. It visually organizes what you have and haven't done—so you can determine what truly warrants your attention. And the ritual of coming back to your thoughts helps you clarify and keep you mindful of what you're doing and why.
It has caught on in a major way. Today bullet journaling, known to its fans as "BuJo," is tagged in more than 8 million Instagram posts.
"It helps externalize your thoughts so you can work through them more clearly," Carroll says.
A bullet journal has four main templates that provide structure: the index, future log, monthly log and daily log.
BuJo's benefits are all the more important in today's climate, when we're not able to structure our days along work, home and social distinctions the way we used to. "Bullet journaling provides the sense of control and agency, as well as the intellectual and emotional structure, that we're lacking these days," Carroll says.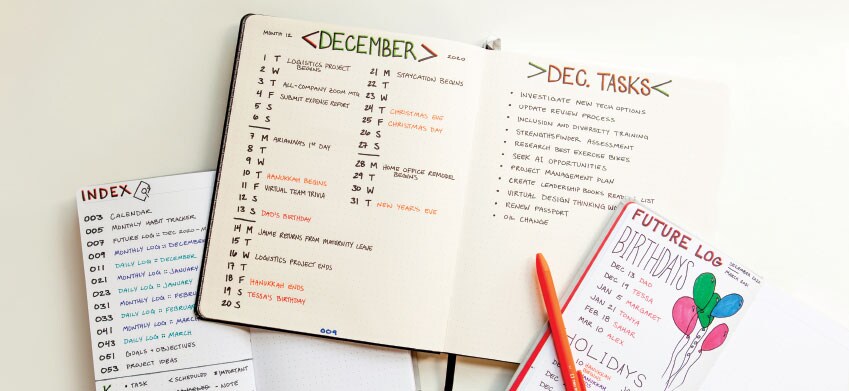 Index
The journal's table of contents. It lists each section, or collection, along with its page numbers.
Monthly log
A bird's-eye view of the primary things you want to get done that month—and a record of what you accomplished. List the days of the month, followed by the first letter of the day of the week. Draw a line at the end of each week.
Future log
List what you want to get done in the coming months. Add important dates, including birthdays.
Daily log
Carroll calls this "the workhorse." Create a list of tasks, events and notes.
Use a greater-than sign to mark tasks that still need to be done in the short term. Then, move them to the next monthly log. Migration is one of the most crucial parts of bullet journaling. It's when you determine whether the tasks you still have to do are, in fact, worth doing—or if they can be postponed. "The goal is to leave behind as many things as possible and only migrate the things that are worth your time and energy," Carroll says.
Strike out tasks you decide aren't worth your time.
Photo by Caleb Fox