Your first objective when you're responsible for an event is to see that it all goes off smoothly — but you also want to be sure that guests remember the event fondly. We asked members of the Staples InsidersNetwork to tell us:
What are a few of the small touches you've come up with to make events special?
Jessica, administrative assistant: "We do company trivia to spice up the annual meeting, with questions like 'How many years has the company been in business?' and 'Who was the first employee?' It's a good way to get people engaged and to help them learn more about the company's history."
Jessica also helps to plan an annual charity fishing tournament that employees and customers take part in. Proceeds benefit organizations and causes that are meaningful to the staff, such as a local children's hospital and an autism services nonprofit. Participants in the tournament typically receive a branded shirt, stress-relief balls, bottle openers, hats, and towels. "We even try to embroider the names of each customer that goes fishing with us to add an extra special touch," Jessica says.
We asked members of the Staples InsidersNetwork to tell us: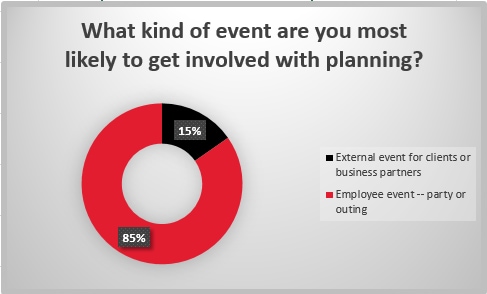 Administrative professionals are most likely to get involved with planning events that show employee appreciation — so when you do a good job, we hope your colleagues take a moment to celebrate your hard work!

Amber, sales executive assistant: "For our company picnic this year, I bought Italian ice instead of the usual cookies — cookies don't cool you down on a hot and sticky summer day. The Italian ice was cheap — only $17 for a two-and-a-half-gallon bucket. We also purchased paper cups and two scoops at the dollar store. It was a great treat that everyone enjoyed."
Amber and her team also look for small touches to liven up the annual holiday party. One way they do this is through drawings and giveaways: One year, they distributed $25 gift cards to a supermarket; last year, they gave out instant-win lottery tickets, which generated some fun and excitement.
Brenda, development assistant: "We try to be sure that everyone can participate in the activities. Most of the events we do are fundraisers, where people have an opportunity to bid on items. We try to be sure there are items that are suitable for lower bid amounts. For example, we've put together baskets with school supplies, arts and crafts, and board games — which didn't cost a lot but were very popular, particularly among people with children."
At every big event, Brenda and her colleagues also try to ensure that those who volunteer have downtime. "People work day and night to be sure that events go smoothly," she says. "So if we see someone running around at an event, attending to this or that, we make sure they have something to eat. We try to make a point of saying, 'Why don't you sit down and enjoy yourself?'"