As people go back to the office, they'll be interested in every possible means of keeping germ transfer to a minimum. Schedules, office configurations and social distancing will be important, of course, but essential office supplies also have a role.
What you buy, where you place supplies and how you access them can help keep everyone safe and healthy.
Encouraging safe access to office supplies
Health guidelines recommend minimizing shared access to common areas. This means supplies should be available to your teammates in a way that helps them avoid central supply closets. Do this by providing individuals with their own sets of office essentials to keep at their desks. [See below for a checklist.]
Another option is to create small satellite supply "stations." If a cohort of three or four co-workers plans to work closely together and feels comfortable with their arrangement, you can stock a small supply cabinet in an area near their desks.
Tools for distanced communication
Since larger group meetings, typically held in conference rooms, may not be feasible, think about the office supplies people need for smaller group gatherings. For example, whiteboards in huddle areas big enough for people to meet at a safe distance may be a popular choice. Likewise, screens for projecting presentations in places other than conference rooms might also be helpful for meetings in non-enclosed places.
A way to deliver supplies
Consider setting up a shared document to track supply needs virtually. People can let you know what they anticipate needing through an email, or even a simple online poll with a tool like Doodle, SurveyMonkey or QuestionPro, to help safely deliver supplies to them.
Refreshment stations
Throughout the day, everyone takes a break for a cup of coffee or tea, or to get some water. Make access to these important items as safe as possible by setting up multiple "drink hubs" shared by a small group of people. Assemble a mini refrigerator, a single-serve coffee maker and an electric kettle to serve a cluster of people instead of the whole office. Offer disposable cups for coffee instead of having a cupboard of shared mugs — this might be frustrating if you're trying to have a sustainable office, but is necessary in the current germ-conscious environment. For water, encourage employees to bring in their own water bottles from home, or offer single-use water bottles. Many workplaces are bypassing the use of bottle-filling stations and water coolers right now.
Antimicrobial products
Having products available that help reduce the likelihood of spreading germs makes a lot of sense as people return to the workplace. Buy antimicrobial options that include an agent to disrupt the growth of microorganisms when possible. They're available in lots of supply and furniture categories, and include pens, scissors, tackboards and chairs.
There's no doubt that the return to the office will look and feel different. Planning ahead and stocking up on the essential supplies your team needs will make the new normal feel more comfortable for your team.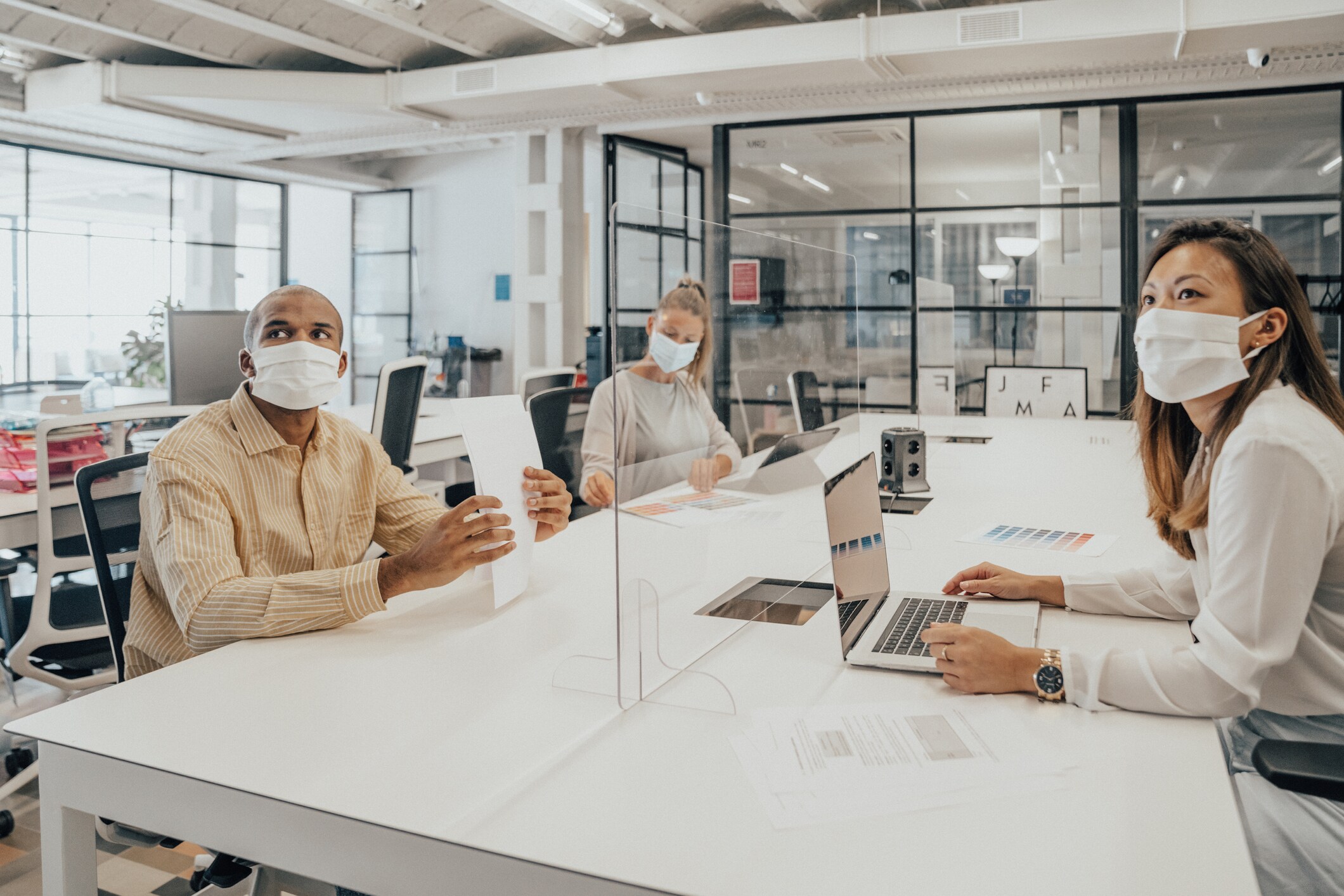 Your Essential Back-to-the-Office Kit
Welcome your team back with supplies that help keep them safe and healthy.
Keep ideas flowing
Whiteboard markers
Pens
Sticky notes
Notepads
Get organized
Scissors
Stapler
Calculator
Stackable letter trays
Stay connected
Add supplies for health and safety
Hand sanitizer
Disinfecting wipes
Tissues
Inspire team spirit
Branded pouch to store supplies
Company T-shirt
Branded mug
Single-serve snacks
Find the products your team needs at staplesadvantage.com or staples.com