Studies show that a cluttered, chaotic environment can increase procrastination. When your home office feels disorganized, you may feel overwhelmed. Improving home office organization can make a big difference in how you think, feel and perform, and organizing by color helps create a cohesive, efficient environment. If you're ready to turn your cluttered, beige workspace into a home office you're excited to work in, here are some tips to help you assess your remote-working needs, get organized and create color-coded systems that will help you thrive.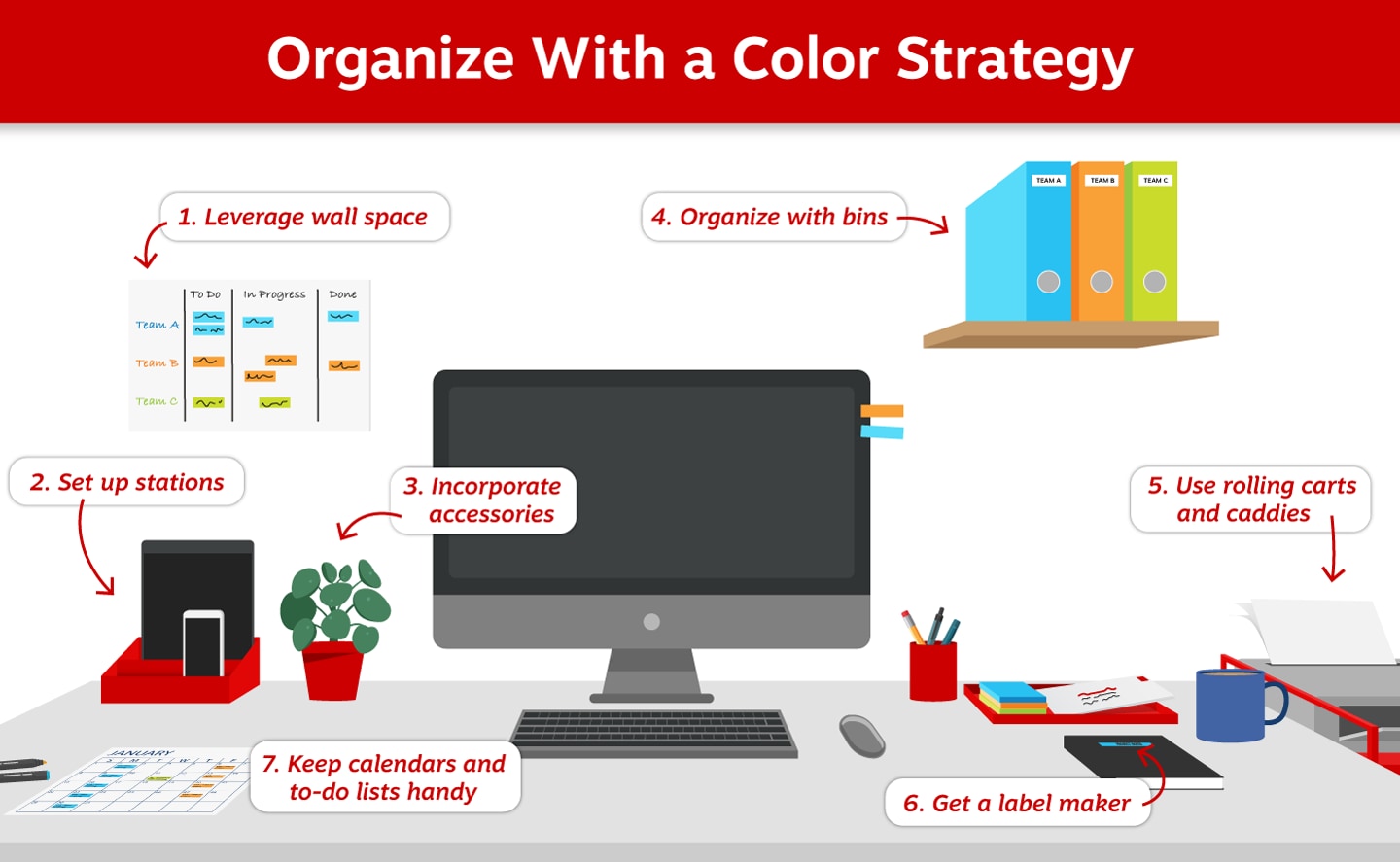 The Science Behind Color-Coding
Try color-coding your home office. This level of optimization can take your workday from good to great. Color-coding is one of the most effective ways to organize a space because it's both functional and attractive. Since the brain recognizes color faster than it can process text, color-coding acts as a visual label, allowing you to easily distinguish between categories.
There's also quite a bit of science demonstrating how color affects us. Color can have a powerful subconscious influence that you can use to your advantage. Because of this, you can use it to encourage your brain into performing better or being more motivated. If you want to feel calmer, try incorporating light blue tones into your home office or supplies. Imbue calm and serenity with shades of green, or uplift your mood with yellows and pinks. If there's a project or task you always dread or feel intimidated by, assign related materials a bright, happy color like yellow to trick your brain into making a positive association with it. Using color to help streamline the way you work can improve your efficiency.
Consider Your Unique Needs
Before you tackle your color-coding project, think about your specific needs and challenges. Do you share your workspace with someone else? Do you need a lot of equipment and supplies in your home office? Does your space need to be multi-functional? Determine your organization strategy by what will work best for your household, personality and occupation.
If you're sharing your home office, keep your workstations separate to avoid overlap and distraction. Color can help here. Make each person's space their own by using color to help keep things organized. You can also divide workspaces by putting up a screen between areas. Visibly having your own area helps get your mind focused on work.
If your home office needs to be multi-functional, come up with a way to make each function distinct. For instance, if you have to work at the dinner table, there are things you can do to tell your brain it's work time versus personal time and vice versa. Something as simple as removing a tablecloth or putting up a sign can help signify to you, and those you live with, that the table is now a workstation. When the workday ends, remove your signifier to indicate that the table is once again for sharing meals.
Evaluate Your Space
Some people can devote a whole room to their home office, while others may only have a small corner in a bedroom or a communal space. It's essential to take inventory of the available space and how each piece of furniture fits into it. Declutter your home office of any furniture, equipment, or supplies that aren't necessary. Then, rearrange your space so that you're comfortable, can easily reach what you need, have the appropriate lighting, and won't be distracted.
If your workstation is small, opt for lighter colors on the walls and across your accessories and furniture to make the space feel bigger. A smaller space can be optimized by incorporating space-efficient furniture, such as a compact desk and hanging file organization rather than piled on a desk or in a tray.
Now it's time to start color-coding.
How to Color-Code Your Workspace
The idea behind color-coding is to create a workspace that is functional and intentional for your day-to-day life. Developing and implementing a color strategy will help optimize your overall home office organization by clearly and visually establishing categories and functions, saving you valuable time and mental energy. Because you want your color strategy to simplify how you work instead of adding confusion, it's crucial to have a reliable, well thought-out plan going into your color-coding strategy development.
First, decide on the categories you want to identify in your home office. Group items by type of project, project status, priority, department, team, or any other system that fits your needs.
Once you know the categories you want to identify, it's time to assign each a color. Your color strategy can be entirely personal to you but select a scheme that's easy to remember. Pick colors that you associate with your categories. You may want to assign urgent tasks a color like red or have all materials related to a project involving the outdoors be green. Maybe assign yellow to your favorite client because they make you happy, or use their brand color. Whatever scheme you decide on, make sure you can consistently apply it and that it makes sense to you.
Now apply your color strategy across all aspects of your work, from the tangible to the virtual. Consider folders, stickers, markers, pens, labels, sticky notes, notebooks and all other materials you use in your workday. Depending on the grouping method you've chosen, carry it throughout your entire workspace to get the full benefit of color-coding.
For instance, if you group by type of project, keep the color associated with each project consistent across all materials. Make every folder, sticky note, wall pocket, whiteboard marker, etc., aligned with that project the same color. Use that color for virtual categorizing as well, applying it to file icons on your desktop and your digital calendar. You can also color-code Excel spreadsheets using the colors assigned to each project or task as well. Maintaining this consistency streamlines filing systems, reduces time spent searching for items, and lessens the chaos.
A color-coded office looks polished and pulled together, creating an environment where you can do your best work. And that doesn't just have to be the work you do for your job. If you tackle household tasks in your home office, you can organize by color to distinguish home projects from work, making all facets of your life easier.
Organize Your Workstation by Incorporating Your Color Strategy
Now that you know how to color-code, apply it to your home office using these tips.
Tip 1: Leverage Wall Space
Using wall space can help keep your desk clutter-free while setting up all your necessities in arm's reach. There are endless options for wall organization, such as bulletin boards and wall calendars. These options are affordable and easy to install. You can also purchase them in a range of colors or customize them using your color strategy.
Wall Pockets
Wall pockets are great for storing mail or other important papers, so you never have to think twice about where you filed a certain document. Using a specific color wall pocket for different categories can make it easier to remember where items are when you're in a hurry. If you prefer your wall pockets to match, you could use different colored labels to signify what you store in each.
Hanging Folders
Optimize your color-coded system with hanging folders in a wide variety of colors so you can maximize your color-coded system. Use these when you want to get granular with your organization, such as when you want to group like items within a larger group. For instance, if you have a designated drawer for a particular project, you could use different colored hanging folders for each aspect of the project or signify a project's status.
Whiteboards
Whiteboards can fill a variety of purposes. Use them for note-taking, writing your workday schedule, keeping track of reminders, teaching, drafting, and more. Coordinate dry erase markers by using certain colors to write notes about specific subjects. For example, you can use a green dry erase marker to record meeting notes and then write action items in red.
Shelving
Floating shelves are another great way to make better use of wall space. Use them to hold books, binders, or other office supplies and remove clutter on your desks. To help keep things organized, purchase different colored shelves, or use color-coded labels to differentiate between categories.
Tip 2: Create Targeted Stations
Sometimes a single desk cannot provide adequate space for every aspect of a job or business. Creating stations for different parts of your job can free up your desk space. For example, place your computer and primary work equipment at your desk, and store your printer on a different surface--or even in a different room. That way, your surfaces won't be cluttered, and those you share your space with won't be tempted to come to your desk to perform these functions or ask for materials.
To create a polished and coordinated look, consider assigning each station its own designated color or incorporating color within stations. A few ideas are detailed below.
Sorting Mail
Depending on the work you do, having a designated mail station can dramatically increase organization. Use this station as a place to sort and store incoming mail. Keep items like paper shredders, trash and recycling containers, and letter organizers nearby. Additionally, consider using different colored labels to sort mail by bills, correspondence, packages, etc.
Shipping
Set up a shipping station where you can prepare outgoing mail and stock this station with stamps, shipping labels and envelopes. Putting all outgoing mail ready to go in one spot will make it easy to grab and send off on your way out the door. Use bins or labels in different colors to quickly identify which mail can be taken to a postal box rather than be taken elsewhere for shipment services.
Laminating
For teachers or those who often need to laminate materials, this area could include a laminator and other related tools, such as scissors or paper trimmers. Keeping items like this in their station and away from your desk helps keep you focused on one function at a time. Colored labels, wall pockets, or hanging file organizers are a great way to distinguish between sheet sizes if your needs call for a variety.
Tip 3: Incorporate Desk Accessories
Style the top of your desk functionally and attractively using color-coordinating desk sets. Drawers can be a challenge to wrangle, as different supplies tend to get thrown in together, but drawer dividers are a small yet impactful tool that keeps things in their place. Whether you choose a home desk organization set that goes on top of your desk or in a drawer, pick one with the compartments needed to separate paper clips, push pins, binder clips, pens, staples, and more into their own compartments so you can easily find them. Monitor stands and risers are also great accessories to organize your desk.
Purchasing these business essentials in the same color can also make a cluttered desk or drawer easier on the eyes.
Tip 4: Organize With Bins
Storage for your home office is a must. Bins and other containers can be a lifesaver when it comes to office storage because they are easy to sort by color and can hold many items. When it comes to things that may be too large for drawers, bins can be an affordable and attractive alternative to cabinets. Sorte based on different types of projects, priorities or people. Separating bins by color makes for quick filing and finding, adding efficiency to your workday. Writing their functions in different colored markers somewhere visible is an easy way to set them apart.
Tip 5: Use Rolling Carts and Caddies
Rolling carts and caddies are perfect when you want to keep something in reach but your desk just doesn't have space. A cart can hold printers and other equipment or office supplies that you need frequently but don't want on your desk.. This mobility is also helpful when sharing equipment with others since you can easily wheel your cart to different work stations. Consider buying a cart that fits under your desk or out of your way when you don't need it. Or purchase multiple rolling carts; you could use one cart for all things printing related, one for extra office supplies, and one for mailing and filing.
Tip 6: Get a Label Maker
Label makers can be useful when it comes to filing documents and storing items in bins. When combined with a color-coding strategy, no one will ever have to wonder where something goes, who it belongs to or where to look for that item. Label makers remove all guesswork and make your home office look polished and professional.
Tip 7: Keep Calendars and To-Do Lists Handy
Keeping a written record of your schedule and tasks readily available can help you stay on track when digital methods fail. And since you can purchase calendars and notepads that hang on the wall, you won't have to worry about taking up desk space with these items. This is another opportunity to color-code, distinguishing between a specific event and task types with designated colors of pens, highlighters, and stickers.
Final Thoughts
Your space should inspire you to do your best work. Having a system of organization that is easy to maintain can substantially improve your work life and performance. Color acts as a handy visual tool for keeping all aspects of your work in order and keeping you operating efficiently. Home office organization is ultimately personal and should be suited to your needs, and with a few tools and these tips, it can be easy.