It may seem like a no-brainer, but maintaining a clean workspace is important for any business. That's because the appearance of your business, clinic, office, warehouse, or facility tells visitors exactly who your company is, and what they can expect from you. But it's not just about looking clean — it's also important to sanitize and disinfect regularly to ensure the safety of anyone who walks through the door. If your workspace is clean, organized, and inviting, employees and visitors know you care about their experience and perception of just how safe the facility may be.
The COVID-19 pandemic evolved the way we think about large gatherings of people, and the way we clean the office and other communal spaces. Whether you're overseeing the cleanliness of your workspace, or just want to keep things looking good, you'll find these commercial cleaning tips and tricks helpful for making your workspace safe and sparkling clean.
Entryway and Lobby

First Impressions
When visitors come to your business, the entryway is usually their first impression. There are some fast and easy things you can do to make sure their first impression is a good one. Straighten up any magazines and other decor items in the lobby or waiting room daily, and be sure to have a quality floor mat at the door to prevent dirt and mud from tracking into the facility. Don't overlook tasks like cleaning windows and removing scuff marks from floors and walls. Also be sure to clean and disinfect surfaces so they're germ-free when visitors or clients arrive.
Dust Regularly
Items like picture frames, blinds, and even plants accumulate dust over time. To keep things looking spic and span, use a microfiber cloth or a duster every couple days. You can also make sanitation easier by dusting surfaces before cleaning more thoroughly.
Workstations and Desks

Declutter
Before you attempt to clean a workstation, free it of clutter. Organize papers and keep pens and other small items in their designated spaces using storage solutions. An office or facility manager may choose to provide organizational solutions so workers can declutter on their own. You can also store loose items in drawers. Once all items are organized, dust the surface of the workstation, then clean it using antibacterial wipes or cleaning sprays.
Disinfect Electronics
High-touch electronic items such as laptops, telephones, computer mice, keyboards, and headphones can easily build up grime, oil, and bacteria when not cleaned regularly. Provide employees with disinfectant wipes or electronic wipes containing alcohol so they can clean the items themselves. You can also provide canned air to get into the nooks and crannies of laptops and keyboards — and don't forget to clean oily fingerprints from trackpads. To make sanitizing easier, use wipeable covers for electronic items like tablets. Remember to never spray liquid cleaners or disinfectants directly on electronic devices.
Kitchens or Break Rooms

Keep Food-Prep Spaces Clean
When cleaning the break room in a workplace, approach it as you would when cleaning your own kitchen. Tables and chairs should be decluttered and wiped down daily, and the microwave and other food preparation areas should be sanitized. The refrigerator should regularly be checked for old food or forgotten lunches, and should be cleaned frequently.
Encourage Employees to Keep Tidy
It's important to keep shared areas clean and any mess to a minimum. But when workers heat up lunches in microwaves and prepare snacks, kitchens or break rooms can quickly become dirty. Encourage your employees to help keep the areas clean — after all, everyone uses the space, so everyone should participate in its upkeep. Have cleaning supplies like sanitizing wipes, hand and dish soap, paper towels, and multi-surface cleaning sprays readily available for employees to use in the event of a spill. Don't forget to focus on microwave and refrigerator door handles, which typically harbor the most germs and bacteria of any surface in the breakroom.
Meeting Rooms and Public Areas

Make Sure They're Ready to Go
Meeting rooms and other public areas are used frequently, so take steps to be sure that they're always neat and ready to go. Make sure surfaces are clean and disinfected daily, floors are vacuumed, and any clutter is stored properly. You should also disinfect high-touch surfaces like light switches, door handles, remote controls, and white board markers. Ensure trash bins are also emptied regularly to keep these rooms smelling fresh. Also, don't forget to restock items such as notepads and refreshments that are often used by visitors.
Keep Cleaning Supplies Handy
Make it very easy for whoever uses these shared spaces to clean up after themselves. Keep disinfecting wipes, trash bags, and recycling bins nearby to discourage big messes from piling up, and ask employees to tuck in chairs and return items like markers and remote controls to their designated places. To encourage employees to take out the trash, keep trash bags or can liners at the bottom of bins.
Floors

Vacuum Regularly
Whether you have tile floors, linoleum, wood floors, or carpet, it's important to vacuum every day, especially in high-traffic areas such as entryways, walkways, or kitchen areas. Vacuums suck up dirt and dust that tend to lurk in corners and crevices, spots often missed when sweeping with a broom. To ensure you're doing the most thorough cleaning, move items like chairs and furniture out of the way. If you don't have the bandwidth to vacuum daily, have supplies available for spot cleaning. This can include a broom and dustpan, or even a small vacuum, which allows employees to clean up little messes quickly without needing to break out the larger vacuum.
Deep Clean Carpets
No matter how often you vacuum, sweep, or mop the floors in your workspace, you'll need to schedule regular deep cleaning for your carpets and floors. For janitorial cleaning, it's recommended to have your carpets professionally cleaned every 12 to 24 months — some carpet manufacturers may even require this in order for you to maintain your warranty.
Post-Pandemic Professional Cleaning Tips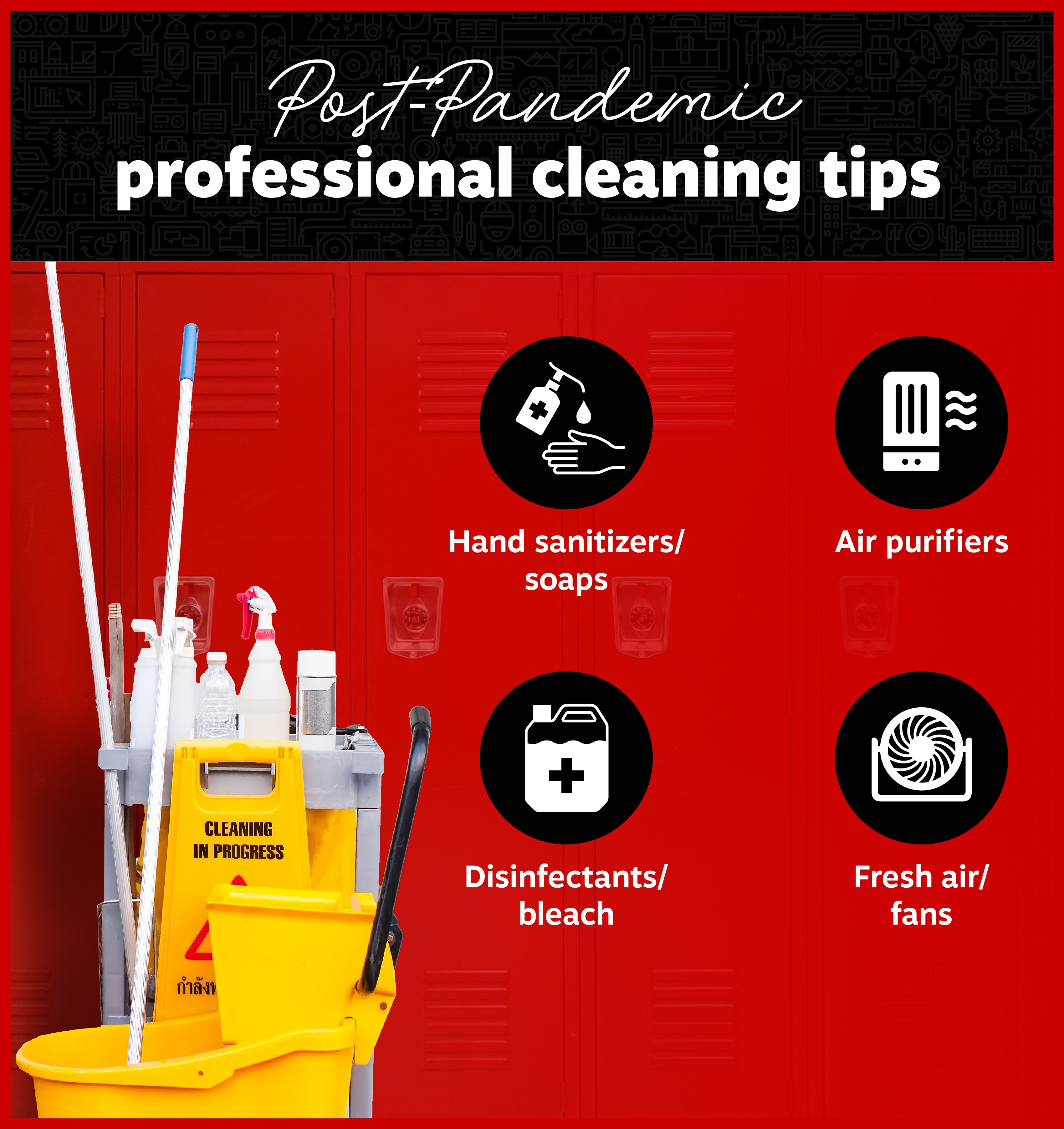 The above janitorial cleaning tips are essential to keep each room clean and free from clutter. But to ensure the health and safety of the entire workplace, it's a good idea to keep these post-pandemic cleaning tips top of mind.
Sanitizing vs. Disinfecting
Did you know there's a difference between sanitizing and disinfecting? Sanitizing means reducing the bacteria present to a safe level; regular soap, multi-surface cleaning sprays, and sanitizing wipes can get the job done easily. Disinfection is when chemicals such as bleach and quaternary ammonium or peroxide solutions are used to kill bacteria and viruses on an item's surface. The disinfectant needs to sit undisturbed for a certain amount of time in order to disinfect a surface. However, instructions can vary, so always read product labels to understand proper usage.
To rid a surface of harmful germs and viruses as much as possible, it is best to sanitize and disinfect. However, daily cleaning focused on sanitizing is often enough for most areas. The Centers for Disease Control and Prevention (CDC) recommends disinfecting surfaces touched by multiple people — such as door handles, star rails, desks, light switches, keyboards, drinking fountains, and telephones — if anyone in the vicinity has been sick, or if you feel it's necessary. The Environmental Protection Agency (EPA) has provided a list of approved disinfectants that can get the job done properly.
Provide Employees With Cleaning Supplies
Encourage employees to keep their workspaces clean as well. Provide disinfectant wipes for them to clean high-touch surfaces around their workspace, such as touchpads, phone handsets, and keyboards. You can also keep cleaning supplies readily available around the facility in kitchens, break rooms, meeting rooms, and other shared areas.
Allow Sick Employees to Work From Home
If possible, encourage employees to work from home or take a sick day if they're not feeling well. The CDC also recommends sanitizing and disinfecting the entire workplace if an employee contracts COVID-19.
Keep Hand Sanitizer At the Ready
It's important to encourage employees to wash their hands with soap and water for the full 20 seconds. But when hand-washing isn't feasible, make sure employees have access to hand sanitizer with at least 60% alcohol content.
Improve Air Circulation
COVID-19 and other viruses can spread more easily indoors, and the CDC has recommended focusing on improving ventilation in workspaces. Depending on your workplace setup, try opening windows or doors to introduce fresh air. If you're not able to do that, or if the weather doesn't permit it, use fans, adjust your HVAC system, or use portable high-efficiency particulate air (HEPA) fan/filtration systems to clean the air. HEPA filters can be found in quality air purifiers.
It can take mere hours for a spic and span workplace to become cluttered and unsanitary — even post-pandemic, when we're taking cleaning more seriously than ever before. Daily maintenance and simple cleaning tasks can keep your workspace orderly in between deep cleans. By following these helpful office cleaning tips, you can ensure the cleanliness of every area of your workplace and present a better, tidier, and safer impression for employees and visitors.