The way we spend our time has dramatically changed between 2019 and 2020. The COVID-19 pandemic has been the major catalyst for these changes, forcing people into new modes of working, learning, shopping, socializing, and more. The widespread adoption of remote work, hybrid learning, and at-home hobbies all have a significant impact on the way we're dividing our time. Other factors like business closures, avoidance of large gatherings, job loss, and furloughs have also strongly influenced our collective time use this year.
Given these fluctuations, how are people using their time differently between 2019 and 2020? To answer this, Staples conducted a survey that analyzed how U.S. residents are spending their time in 2020. The survey was completed by 1,000 people across the U.S. on September 3-5, 2020.
Staples compared the responses to the Bureau of Labor Statistics report on time use in 2019. This comparison illustrates the difference between time spent on common activities before the COVID-19 pandemic and after. The activities fell into five categories: working, childcare, children's education, household, and leisure. Read on to see the results.
Changes in Time Use Between 2019 & 2020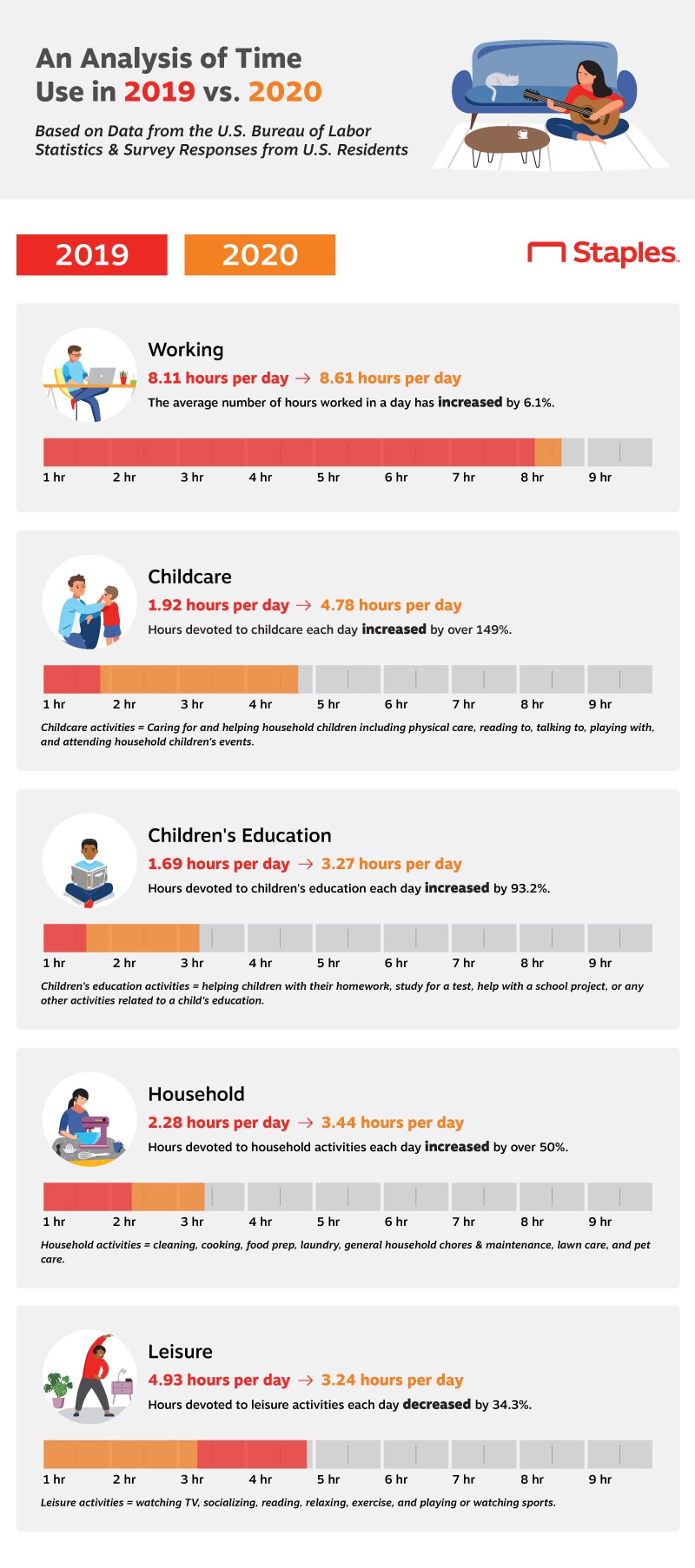 Daily Hours Devoted to Work
One of the biggest changes the pandemic has had is the shift from working in an office to working from home. With fewer boundaries associated with remote work, many are actually working longer days. Bloomberg reports that employees are logging in earlier and logging off later than they normally would because, in many cases, commute times no longer apply and, at home, the lines of the 9-to-5 workday are far more blurred.
Staples identified similar results from the survey as well. The results show a 6% increase in average working hours per day between 2019 and 2020 – 8.61 hours per day in 2020 versus 8.11 hours per day in 2019. At first glance, this seems like a small percentage increase; however, an additional 6% means employees are working an extra half hour per day and an extra two and a half hours per week on average.
With many now living a few rooms away from their offices, employees are finding it increasingly harder to unplug when their shift ends. For this reason, many employees are establishing tighter boundaries when it comes to disconnecting from their devices at the end of the workday. Common practices include setting strict time parameters for mobile notifications or scheduling fun, non-work activities at the end of the day like an early evening bike ride or a virtual cooking class.
Daily Hours Devoted to Childcare & Children's Education
According to the survey results, hours devoted to childcare and attending to children's education have drastically increased between 2019 and 2020, by 149% and 93%, respectively. This increase has undoubtedly occurred due to the implementation of remote learning by schools and daycares, and the fact that children are spending countless more hours at home as a result.
Daily Hours Devoted to Household Activities
Hours devoted to household duties have also jumped by over 50% year over year – 3.44 hours per day in 2020 compared to 2.28 hours per day in 2019. Living and working from home means more upkeep for the household, from everyday cleaning, cooking, and maintenance to major renovations. CNBC confirms that kitchen and bath remodels saw a 40% spike in demand this past June, while online searches for pool and landscaping professionals have tripled between 2019 and 2020.
Daily Hours Devoted to Leisure Activities in 2019 vs. 2020
Hours dedicated to leisure activities like entertainment, reading, socializing, and relaxing have actually decreased by 34% between 2019 and 2020 according to the survey results. Where people used to spend almost five hours per day enjoying leisure activities in 2019, they now spend only 3.24 hours per day on these activities in 2020. Based on the overall responses, the increased time spent on working, childcare, and household activities has eaten into leisure time.
Other factors like adherence to CDC guidelines and temporary business closures also contribute to reduced leisure time, particularly for live entertainment, socializing, or exercising. Safety measures like social distancing and avoiding crowds or large gatherings rule out many of the usual day-to-day leisure activities such as going to the movies, a sporting event, a concert, or even the gym.
Work-Life Balance Ratings in 2019 vs. 2020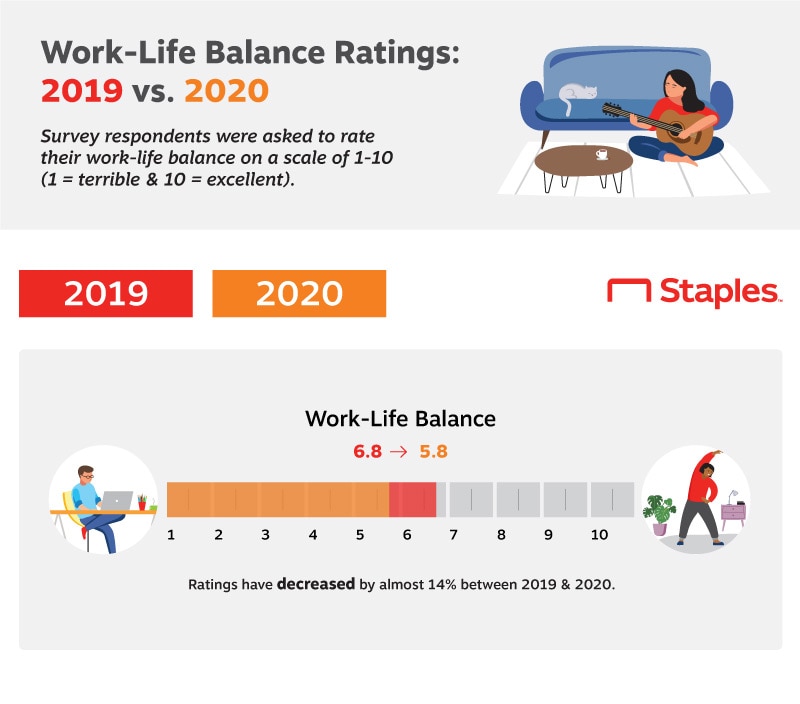 An uneven distribution of time spent on working, childcare, and leisure activities can certainly take its toll on the sense of work-life equilibrium. Respondents rated their personal level of work-life balance on a scale of 1 to 10 in both surveys, where 1 indicated terrible and 10 indicated excellent. On average, respondents gave their work-life balance a score of 5.84 in 2020 – a 14% drop in balance from 2019's average score of 6.79.
Overall, the survey results show that compared to last year, people are dedicating more hours per day to work, childcare, and household activities in 2020 and fewer hours per day to leisure and rest, which can have a negative impact on our work-life balance, leaving us feeling spread thin and burned out. Therefore, plenty of workers are actively seeking creative ways to boost their energy levels and sense of balance throughout the day including going on lunchtime walks, working outside for a change of pace, or taking short meditation breaks.
Time Use Moving Forward, Post-Pandemic
Some of these "new normal" shifts in time use or behavior will likely live on into the future, even after the pandemic is over. Given the cherished flexibility of remote work, will the majority of workers opt to continue working from home? Will people go to movie theaters or continue to enjoy the convenience of watching movies at home? Will we continue to renovate our homes at astronomical rates even in a post-pandemic world? It's been eight months since the COVID-19 outbreak within the U.S. and many have become acclimated to new social norms, such as remote work and virtual relationship building on Zoom. Granted, some of these new routines will be temporary, but some will likely continue for years to come.
The 2019 American Time Use Survey conducted by the U.S. Bureau of Labor Statistics surveyed 9,400 individuals in the U.S. with a 90% confidence level and a margin of error of less than 1%. The Staples survey that was conducted on September 3-5, 2020 surveyed 1,000 individuals in the U.S. with a 90% confidence level and a margin of error of 3%.
© 2020 Staples, Inc. All Rights Reserved. Staples and the Staples Logo are trademarks of Staples, Inc. in the United States and/or other countries. All other trademarks are property of their respective owners.