Throughout the pandemic, people have fielded Zoom calls and answered emails while curled on couches, perched at kitchen counters and parked on deck chairs in their backyards. Despite the occasional hiccup — including tech glitches and working with kids, pets and spouses underfoot — many quickly settled into a new routine.
Businesses that are now looking to entice workers back to the office may need to replicate that cozy feel and convenience in the workplace. "People want the amenities of home," says Cristina Ainslie, LEED AP BD+C, senior design director. "They want to be able to sit on a sofa with pillows and a footrest when they take a call. They want floor lighting rather than overhead lighting and plants around to liven up the room — basically, they want that same level of comfortable setting in the office."
Ready for Workplace Reinvention
Workspace design trends were pointing in this direction before COVID, but the sudden shift to remote work accelerated both interest in the cozier office concept and the incentive for companies to pursue it. One reason is that while most employees want to come back to their offices, many are interested in a different workplace experience and in spending less time at the office than before. According to a January 2021 PwC survey on attitudes about remote work, 87 percent of employees say the office is important for collaborating with team members and building relationships. Yet, more than half of those surveyed (55 percent) report that they would prefer the flexibility to be remote as often as three days a week.
Transitioning to a hybrid model where some workers are remote-only or physically in the office only part of the week frees up floorspace that companies can convert to less traditional uses. Ainslie, for example, is working on an office plan that addresses both safety concerns and workplace design trends for a company that's taking a phased approach to bringing back employees. "They're rearranging the floor plan and buying new furniture to accommodate social distancing, but also to create more collaborative spaces and add amenities," she says.
Foster Collaboration
Such changes also reflect growing recognition of the role that the workplace plays in fostering engagement and bringing employees together to facilitate teamwork. "In planning office spaces, we're hearing a lot of discussion about why it is that we come together to work, and a lot of it is about the importance of spontaneous interaction and working as a team," says K. J. Jacobs, principal and corporate studio director at McMillan Pazdan Smith Architecture. "Smart companies recognize the value of in-person collaboration."
"One of the huge elements that's suffered with remote work is the culture and that ability to gather people together, whether that's informally or in scheduled meetings," agrees Hannah Hackathorn, design principal at commercial interior design company Unispace. "It's not about foregoing all desking for meeting spaces; it's creating a mix so that there are private spaces like 'focus pods,' cocoon-like spaces where you can work individually, and also spaces where groups can collaborate."
Create Welcoming Spaces
In adapting offices to the way we work now, designers are acutely aware of the uphill battle companies may face inviting back employees hesitant to change their work-from-home patterns. "We're definitely looking for allure, creating spaces that have that cool factor visually, while also enticing people back with things they don't get at home," says Hackathorn. "Some companies are even introducing wellness amenities like meditation spaces or yoga sessions to give employees that added reason to go into the office, so that it becomes a place where employees want to be."
Set up inviting breakrooms that offer comfortable seating and the convenience of ready access to beverages, healthy snacks and even meals to bump up the appeal of coming back. Workers accustomed to grabbing coffee on the go or ordering in for lunch are more than ready for a break from making and consuming every meal at home.
Introducing amenities like grab-and-go beverage stations can also bring safety benefits. "One large company we work with created an app — you order from your desk using your phone, get a text when it's ready and go to the cafeteria to pick it up," Ainslie says. "It's convenient for the employee and better for all concerned, because less going in and out of the building is safer for everyone."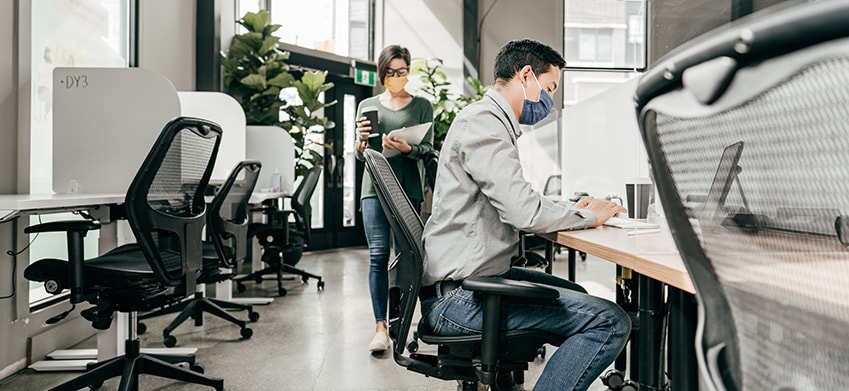 Bring in Natural Elements
Design elements can help workplaces make safety practices such as plexiglass barriers, sanitizing stations and traffic flow signage feel more welcoming. Plants are also a great way to make workplace settings inviting, says Ainslie, who suggests planters be used as natural barriers in meeting social distancing goals. "Biophilia — bringing in elements like natural light and plants — brings warmth to any space," she says. "We add planters to separate people and also as a way to soften the appearance of a disinfecting station."
When possible, leveraging the great outdoors itself is also effective in adding allure. Balconies, rooftops or patio areas can be set up with attractive, comfortable seating conducive to small meetings or casual coffee chats, giving employees an alternative to the traditional conference room as well as a place to duck out and get fresh air during the workday.
Ultimately, the office of tomorrow is about options, says Ainslie. "People want more flexibility now because they've had it and they know what it feels like," she says. "So, as you rethink your office, what you really want is to give people a variety of spaces so that you have something that will work for every individual in every situation at your company."