Decorating your desk or cubicle with photos, flowers and other items can make your workday a little more cheerful. Taking ownership of your workspace could even increase your productivity, research suggests.
Need some inspiration for personalizing your workspace? We asked members of the Staples InsidersNetwork to tell us: What's the one thing you've done that's helped to liven up your workspace the most?
Kristi, administrative assistant: "I've placed live plants around my desk and check the local grocery store for fresh flowers on clearance. They add a touch of color and cheer, especially in the long winter months. Some days, I'll find full bouquets for only a couple of dollars and buy several of them. I'll look for daisies, lilies and mini-sunflowers, but my favorite are roses. There are many on clearance after Valentine's Day, and they make the office smell so good!"
Kristi's most treasured find is a fiddle-leaf fig tree that sits beside her desk. "It was tiny when I bought it; it was barely holding onto two leaves," she recalls. "It now sits in a giant, five-gallon pot on the floor, proudly supporting over a dozen leaves."
We asked members of the Staples InsidersNetwork to tell us: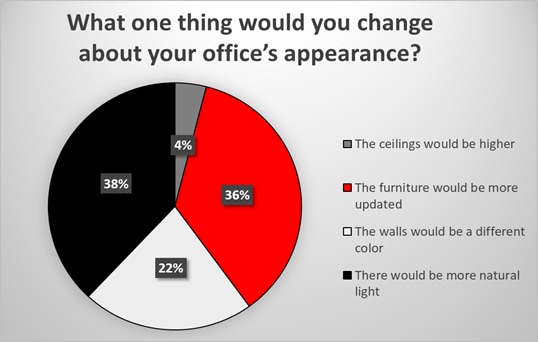 If you're yearning for more sunlight or updated office décor, you're not alone. These things topped the wish list of nearly three-quarters of your peers.
Beth, bookkeeper: "My surroundings aren't as important to me as the fragrance in the air. I always have a reed diffuser or some other scent-producing item. Different scents trigger happy places in my mind."
Having her own office means Beth doesn't need to compromise on her scent choices. These days, she is partial to cinnamon. "It may be from back when my mom and Grandma would bake cinnamon rolls or apple pie," she says. "Everyone is driven to their happy place in different ways — maybe it's a certain visual, or a song on the radio that brings back memories. But for me, having a scent I like brightens my day."
Liz, administrative assistant: "I like to display prints that reflect what I'm feeling or what I'm currently interested in. Right now, it's succulent plants." Liz created her own prints to post in her cubicle by searching online for images of succulents and choosing ones she liked. She printed out images of the plants on sticky label paper, along with separate images of plain wood. "I cut out the 'wood' in the shape of frames for the pictures of the plants," she explains. "Then, I cut out pieces from cardboard boxes — we have a lot of them around the office — to use as backing for the prints."
Liz has also used her wood-framing technique for displaying family photos and inspirational quotes. Her ingenuity has caught the attention of her colleagues. "If people in other departments need some out-of-the-box thinking for a display, they know to come to me."