It's human nature for people to want to be recognized for their efforts at work, but heading toward 2022, why are workplace celebrations important and what are the best ways to celebrate and invest in your employees? Is the old-fashioned holiday party still worth the planning and effort? Do people really get motivation from a holiday potluck before teams head out on break? Or are there more effective ways to use celebrations to positively impact employee satisfaction and engagement?
This article outlines how you can approach celebrations as the COVID-19 pandemic slowly wanes, shows why celebrations at work are still relevant, and offers suggestions on celebrating your way toward stronger employee satisfaction.
Employees want to feel appreciated
As employees establish long-term work patterns following a complex pandemic period, statistics show they badly need reasons to celebrate. According to a recent Gallup poll, 48% of employees are looking for a different job. This could be an indication that employees are looking to feel more appreciated in their current roles According to Gallup analysts, "it takes more than a 20% pay raise to lure most employees away from a manager who engages them, and next to nothing to poach most disengaged workers."
It's no secret that when employees feel valued by their employer, the recognition and engagement they feel will likely lead to:
Improve productivity
Decrease employee turnover
Boost employee morale
Increase employee engagement
Improve employee satisfaction
Build better team and company culture
Increase employee retention
Help employees manage stress
Extend brand positivity to customers via strong loyalty and satisfaction scores
Throwing a celebration at work is an excellent way to make employees feel more appreciated, but this does not happen without planning. A big question is — what form does celebration take now that so many companies are adopting a hybrid virtual/physical workplace model?
Types of Celebrations
As 2022 approaches, "employee celebration" can refer to something more meaningful than a generic thank-you card. The pandemic has flipped the table on everything that used to be normal in business, but what is certain is that properly recognizing your employees is key.
According to a recent Bersin by Deloitte survey, "organizations with recognition programs had 31% lower voluntary turnover than those without." More than half (52%) of employees want to be recognized more often by their manager, according to a Quantum Workplace and Bamboo HR survey.
But companies are also dealing with pandemic restrictions, so how do we manage to recognize and celebrate when financial times are tight or people are not physically able to be present? Fortunately, company celebrations do not have to mean in-person interaction or a ton of extra expense, so here are some convenient, cost-effective ways to show you are serious about recognizing employee contributions to your business.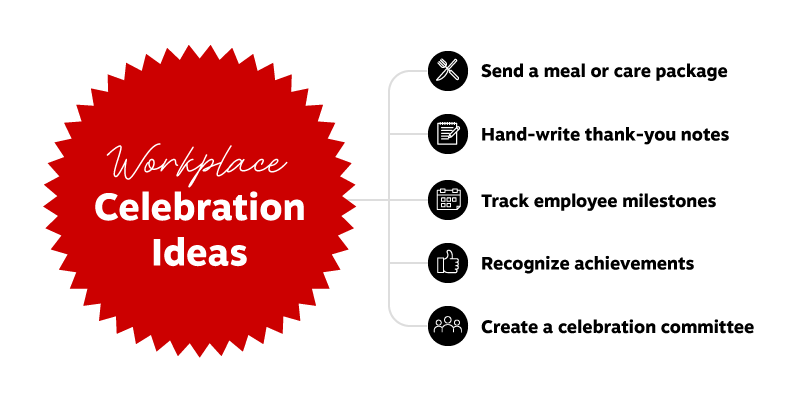 Send a Meal or Care Package
When stressed with balancing work, childcare, and other pressures, it comes as a huge relief to see a meal or care package arrive at the doorstep. Food delivery services give employers a convenient way to conduct an employee celebration that demonstrates genuine gratitude. A care package is a powerful way to help build an invaluable, positive emotional connection between employer and employee.
Handwrite a Simple Thank-You Note
Employee celebrations can be a gesture as simple as handwriting thank-you notes. In an age where so much is done digitally without too much consideration, a manager who writes a note of gratitude for an employee is one who is making an effort to recognize someone as part of the lifeblood of their company. For many employees, small, thoughtful details make a big impact.
Keep Track of Employee Milestones
The office birthday celebration remains an important event. Harvard Business Review research says job hunting jumps 12% just before birthdays, and 16% in the ensuing period. Recognizing big milestones can demonstrate an employer's appreciation of their employees.
The recognition does not have to be over the top, but if a card is circulated, it creates employee satisfaction when a manager takes the time to share an anecdote or elaborates on how their presence has made a difference personally and professionally. Two things to note: Don't forget your virtual employees' big days, like birthdays; and when onboarding new employees, ask them if, and how, they like to celebrate their birthdays. Some people prefer a more discreet acknowledgement.
Anniversaries and other milestones can be celebrated in a similar way, where solid contributions are thoughtfully highlighted and acknowledged.
Recognize Achievement
As part of its Employee Experience Index study, IBM recommends "helping employees understand the deeper meaning of their work and how it contributes to the wider organizational purpose and goals." Celebration and recognition of a job well done is something that studies prove is an important contributor to a positive employee experience.
According to Indeed.com, work celebrations are encouraged to mark:
Successful quarters
Finishing a significant project
Reaching sales quotas
Outstanding customer feedback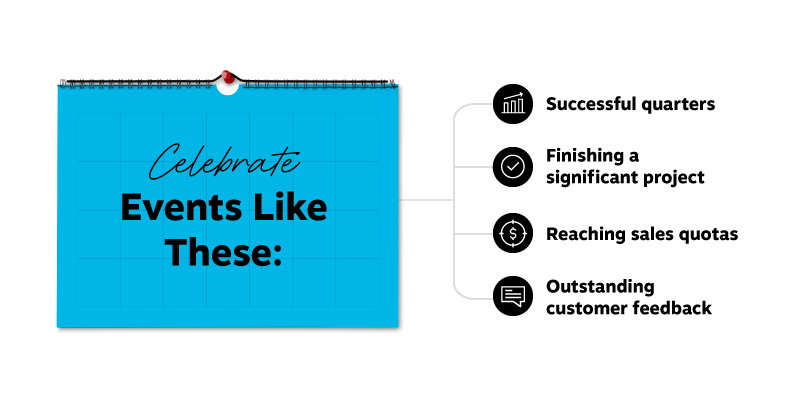 Employee Appreciation Day
A study by Firstup reveals 56% of people don't feel valued in their role, and 18% were not sure if their colleagues would even notice if they were on leave. That's why it's critical to put in place celebrations in the workplace that are dedicated to showing genuine appreciation for employees.
You could even choose to celebrate Employee Appreciation Day by providing gift cards, event tickets, PTO, surprise desk decorations, collated well-wishes from other employees, a video or professionally printed compilation, or handwritten notes from managers.
Company Celebration Ideas
Not every company can gather in physical locations the way they used to. The pandemic has led to employers having to identify unique ways to celebrate employees. Here are some ways they create meaningful company celebrations.
Give Employees a Long Weekend
At one time, employees may have found it immensely satisfying to gather with their colleagues to socialize over a catered lunch as part of a workplace celebration. But in pandemic-era 2022, offering extra days off is likely to carry much more weight in increasing workplace satisfaction. Employees are now seeking jobs that provide more rewarding experiences and one of those is being able to spend as much time with family as possible.
IBM says "79% of employees report a more positive employee experience when their work schedule is flexible enough for them to meet family and personal responsibilities." Offering extra days off demonstrates that you are a manager who is in touch with what is important to your workforce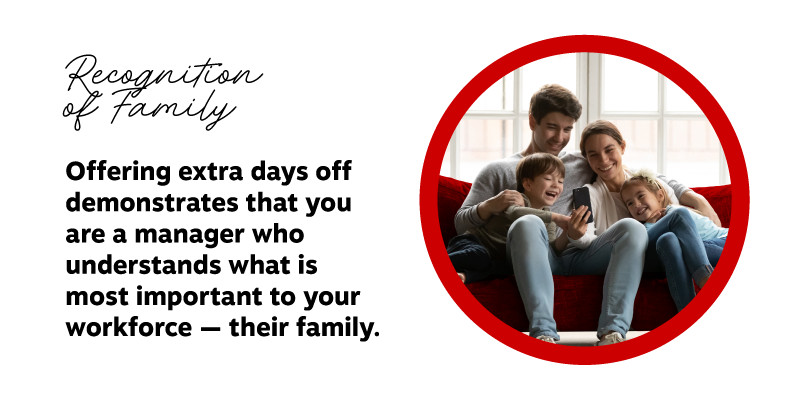 And what's better than a day off? A surprise day off, where you insist your employees enjoy some well-earned R&R.
Allow Work From Home (WFH) Days
Some workplaces have been able to resume in-person attendance models for employees. The pandemic demonstrated that WFH was a model that succeeded on at least two fronts: Workers appreciated the extra flexibility, and more than two thirds of employers reported increased productivity from their telecommuters.
Pew Research Institute says 54% of employed adults want to work from home permanently when the pandemic is over. And Owl Labs says one in two workers won't even return to a job that does not make remote work an option. So, being able to continue working from home, even via a hybrid model, is a reason to celebrate for more than half of employees. Employers who allow WFH days help people feel happier in their jobs, improving productivity and reducing turnover.
Team Outings
The list is endless in terms of options to get out of the office for some fun down-time with colleagues. Ideas include: A Puzzle Room visit, archery or axe-throwing, paintball, go-karting, karaoke, a cocktail party, or a trivia/poker night. You could also consider holding an outdoor barbecue with families included, having a day at an amusement park, staging a scavenger hunt with prizes, bowling, or spending some time in a small group at a day-spa.
Morale-Boosting Mementos
Consider dedicating a day to recognize a specific team's contribution, and form a celebration committee to handle the details and celebration budget. Notes from colleagues, photos on a board in a prominent place; and customized mementos such as mugs, hats or t-shirts can be a way to mark the occasion.
Celebration Ideas for a Virtual Workforce
Office celebrations of old have been replaced by modern methods of fun that result in increased employee satisfaction — and it doesn't matter if a workforce is remote. Celebrations at work can happen virtually too!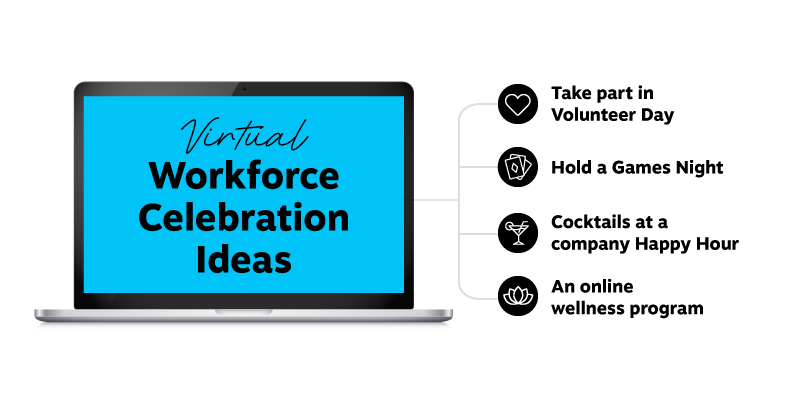 Online Volunteer Day
SHRM research shows 75% of millennials consider philanthropic endeavors to be of great importance in the workplace. Consider creating a company celebration focused on helping a charity by convening an online lesson or collaboration, drawing on the many talents of your employees. VolunteerMatch and Points of Light are two facilitators of online volunteer days, where your office celebrations can make a real difference to employees and the wider community.
Plan Virtual Happy Hours or Game Nights
The National Business Research Institute says studies show that the quality of friendships at work is directly linked to job satisfaction. In fact, it increases by almost 50% when an employee forges close relationships with colleagues. The benefits of social events in the workplace are that they build camaraderie, an indicator of overall employee satisfaction, and they also encourage a commitment to one's job and colleagues.
Virtual happy hours via Zoom or other video call platforms are now an accepted way to get together in a relaxed environment. Imaginative teams have even developed ways to hold cocktail mixology and cooking classes from their own kitchens.
There are limitless games teams can play simply to have fun, without it being a directive from upper management to take part. Recommended online games include Jackbox (trivia), Donut (getting to know you), and skribbl.io (like Pictionary). Whatever the game, virtual happy hours and game night activities are a way for workers to get to know each other by leaving the pressures of work behind for a while.
Celebrating Employees Through Wellness and Continued Learning
Employees expect — actually, demand — that companies offer quality experiences and potential for growth in terms of health and further education. Companies that celebrate employees in the following ways are doing what is expected of them for 2022.
Create a Wellness Program (Virtual or Not)
The American Institute of Stress says 550 million working days are lost each year due to absenteeism, more than half of which are stress-related. Fostering wellness is a way to celebrate your employees and show you truly care about them — and statistics show it directly impacts employee satisfaction. Gallup's recent survey found that employee engagement had a "reciprocal relationship with well being — engaged employees are healthier, more resilient and better performers." This means wellness programs are a win-win for the company as well as its employees.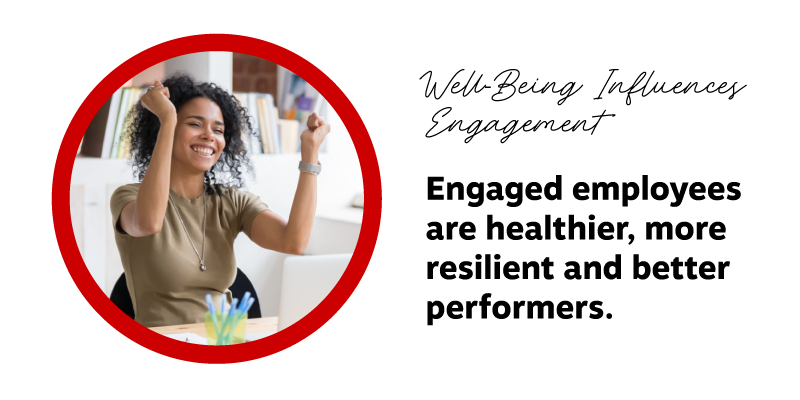 Remote work is no barrier to creating a wellness program that helps your employees feel happy, healthy and content, because virtual class options like yoga, meditation and counseling, are readily available. Wellness is an employee celebration that is well worth the investment.
Offer Online Learning and Development Courses
No matter their age or career status, all employees desire continued development. It stands to reason that employees who have the opportunity to further their education subsequently bring more value to the table for their employer. Forbes says ways companies can help employees develop include:
1. Provide each employee a Professional Reinvestment Budget to be used on study, courses, conferences or book
2. Let employees choose and personalize their development path
3. Schedule one-on-one meetings with managers
4. Gamify training and development, perhaps in a portal, and offer incentives
5. Engage with employees as if there is no hierarchy, and share and listen to learning experiences
6. Establish a reading program that pays people to learn about subjects that encourage personal or business growth
7. Stage internal webinars to share information from team to team
Create an Internal Rewards Program
If you don't have such a program, now is the time to consider it. Do benefits have to be the same for all employees? Traditionally they were one-size-fits-all — but as we know, times are rapidly changing. You might consider a program that can be tailored by employees however they like. This ensures that you're able to compete with similar companies that offer internal programs of their own.
Internal rewards programs typically have an objective, build on your company culture, have a clear policy, budget and scale. There are four types of reward systems to consider as part of your program:
Employee Recognition Programs (e.g. new job title or promotion)
Employee Assistance Programs (e.g. courses and conference opportunities)
Monetary Reward Systems (e.g. pay raise, bonus etc.)
Non-Monetary Reward Systems (e.g. internal merch shop points, travel, etc.)
Celebrate to Foster a Positive Workplace Environment
In a challenging era, be encouraged to utilize the power of a healthy dose of positivity. Managers are encouraged to find reasons to celebrate as often and as genuinely as possible in small ways, such as with handwritten thank-yous and, more extensively, by offering wellness programs. Whatever the case, emphasizing proper recognition and letting employees know you value them as the lifeblood of your business will boost engagement and satisfaction and reduce turnover. Celebrate meaningfully, creatively and often and see what happens to your bottom line!