A lot of events may have been canceled this year due to the COVID-19 pandemic, but you can still count on Black Friday. Though the annual shopping tradition is on for 2020, there are a few unique aspects this year to keep in mind. Our Black Friday guide is here to help you navigate them all.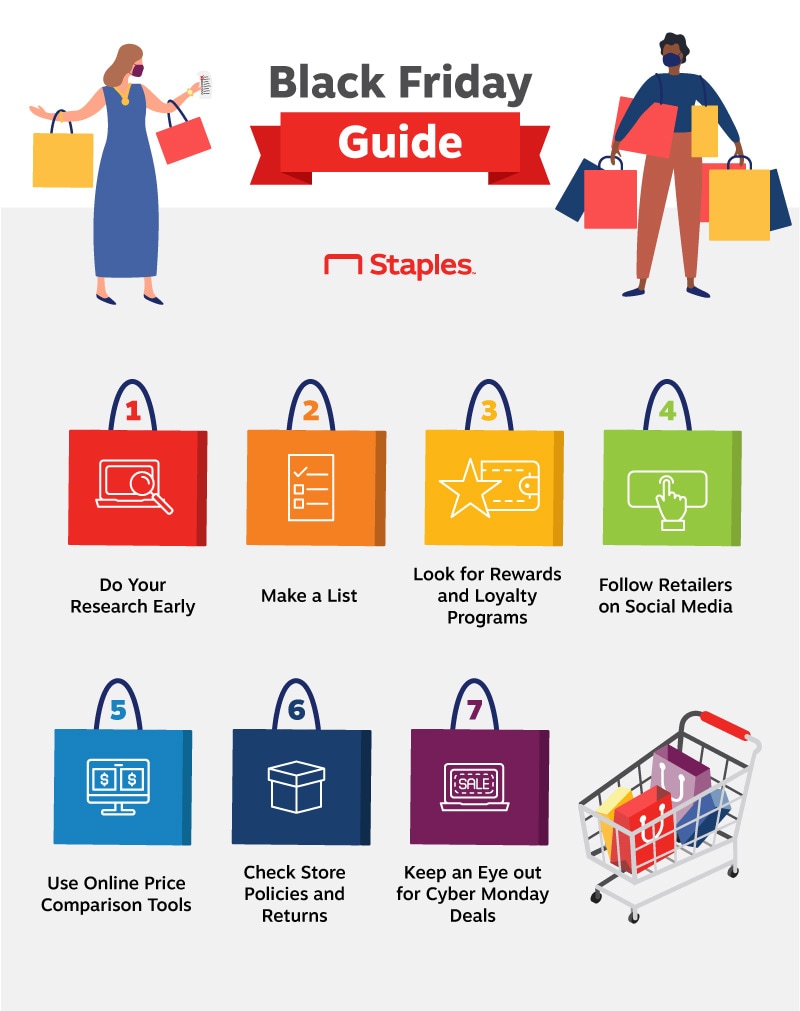 When Is Black Friday?
Black Friday refers to the day after Thanksgiving, the kickoff of the busy holiday shopping season. This year it falls on November 27th. Though it's called Black Friday, the sale is now commonly a string of four days, lasting from the official Friday kickoff to Cyber Monday when online savings can be taken advantage of.
How to Black Friday Shop During the COVID-19 Pandemic
Black Friday 2020 will look a little different. COVID-19 will have many shoppers opting to stay home, and retailers may still be under state requirements to operate at a limited capacity.
So, what should you keep in mind?
Continue to follow CDC guidelines to keep yourself and other shoppers safe.
Research to see if the deals you want will be extended as a means to reduce crowds.
Look for curbside pickup or other delivery options.
Use touchless payment methods.
Consider online shopping as an alternative to going out.
How to Find the Best Black Friday Deals: Essential Tips
Black Friday isn't a sale you ever want to go into on a whim, but you want to have a plan this year in particular due to all the other changes that may be in place because of COVID-19. Here are some tips to prepare and get the most out of one of the biggest deal days of the year.
Do Your Research Early
The morning of Black Friday isn't the time to get your game plan together. If you wait until the last minute to figure out what you want and from where, your desired purchases are likely to be sold out before you get to them. Scope out the deals you're most interested in at least a couple of weeks in advance so you're ready to jump on them as soon as savings begin. Make sure to research which stores have what you want for the best price, as well as any fine print you'll need to know about. Browse the websites of the retailers you're interested in, pay attention to commercials, and be on the lookout for ads you see in the mail or in your inbox.
Make a List
Once you've scoped out what's available, put a list down on paper of exactly what you want, the store, the price, and any Black Friday policies to keep in mind for that retailer's sale. This will help ensure you get what you want while staying on budget.
Look for Rewards and Loyalty Programs
If you can get extra discounts, take them. Reward and loyalty programs are often free, though you have to ask for them. This can often be done online through the retailer's website, but you may have to go in the store and ask. The minimum effort to sign up can lead to big rewards, like with the Staples Loyalty Program, which offers a variety of ways to save. Being a program member also means you may receive emails that provide sneak peeks into what deals will be offered on Black Friday.
Follow Retailers on Social Media
A retailer's social media account is often where you'll find the latest news about the Black Friday deals they're offering. This may also be where retailers release any kind of buyer's guide for Black Friday that you can use in your research.
Use Online Price Comparison Tools
Websites that compare prices can give you a quick look at where to get the biggest savings. Price comparison sites (find them with a simple search) can conveniently show you which stores offer the items you want and at what price, so you compare all in one spot.
Check Store Policies and Returns
Retailers tend to have their own rules and requirements for Black Friday. Make sure you're familiar with them before spending. Check retailers' websites or even give them a call to learn about things like return policies, restrictions on gift card use, quantity limits, etc.
Keep an Eye out for Cyber Monday Deals
Friday isn't the only day to save. Deals usually extend through Monday, and maybe even beyond. If you prefer to shop online, you can score big savings on Cyber Monday. And Monday's discounts may even be bigger than Friday's. Remember to make a list of exactly what you're after to ensure you don't forget anything or go overboard with spending.
What Should I Buy During Black Friday 2020?
Black Friday isn't just a great time to get a jump on your holiday shopping; it's also a chance to get a deal on the more expensive items you've had your eye on for yourself or your home. This can be a good time to purchase home appliances, TVs, laptops, smartphones, headphones, and furniture.
Toys and video games are also in high demand. Of course, whatever the year's must-have new items are, such as updated tech or smart-home devices, will have customers flocking as well. If you're in the market for any of these types of purchases, start doing your research on the exact items you want and where they're available now.
When Is the Best Time to Shop for Black Friday?
Discounts are usually announced by retailers a week or two before Black Friday, though some deals begin in early November and last the entire month. Online discounts typically last longer than in-store, so you may want to start doing your research at the end of October. For items that don't go on sale until Thanksgiving, don't forget that Black Friday is no longer just a day.
What Are the Best Deals on Black Friday?
This year's predictions for big deals include items like the gaming consoles, laptops, TVs, and small appliances. Popular Staples deals you're likely to see are computers, tablets, device accessories, desks, and printers — making Black Friday a great time to save for business owners and students in particular.
Black Friday 2020 will be here before you know it. Use the tips in this Black Friday guide to begin preparing now so you can get the deals you want.