Over 200,000 Americans are hospitalized each year due to problems related to the flu. In recent years, aggressive flu outbreaks have cost U.S. businesses nearly $15 billion in lost productivity due to employee absences. What's more, the combination of flu and COVID-19 could overwhelm healthcare networks that are already stretched thin.
According to the Centers for Disease Control and Prevention (CDC), the flu vaccine prevented an estimated 7.52 million illnesses during the 2019-2020 season and is, therefore, the best defense against the spread of flu-related illness within the workplace. Encouraging employees to get this year's flu vaccine may not only reduce pressure on our healthcare system but also mitigate productivity losses within businesses.
Using CDC data, Staples produced the below charts to inform U.S. employers of past years' flu vaccination rates as they prepare their workplaces for flu season each year. Read on to learn more about average flu vaccination rates in the U.S. and how businesses can promote safe and healthy workplaces.
The Recent History of U.S. Flu Vaccination Coverage
Vaccination rates are measured per flu season, not calendar year because a flu season lasts from October to May. According to the CDC, the national rate of flu vaccination has fluctuated from 41% to 51% over the last decade. While there isn't one sole reason for these shifts in flu vaccination rates, one thing is important to note: patients must receive a new flu vaccination every year. The same person may be consistent with their annual flu shot for years and then miss a year due to a variety of factors, such as moving or simply forgetting. This seasonal nature sets the flu vaccine apart from many common vaccinations and makes promoting it year after year important.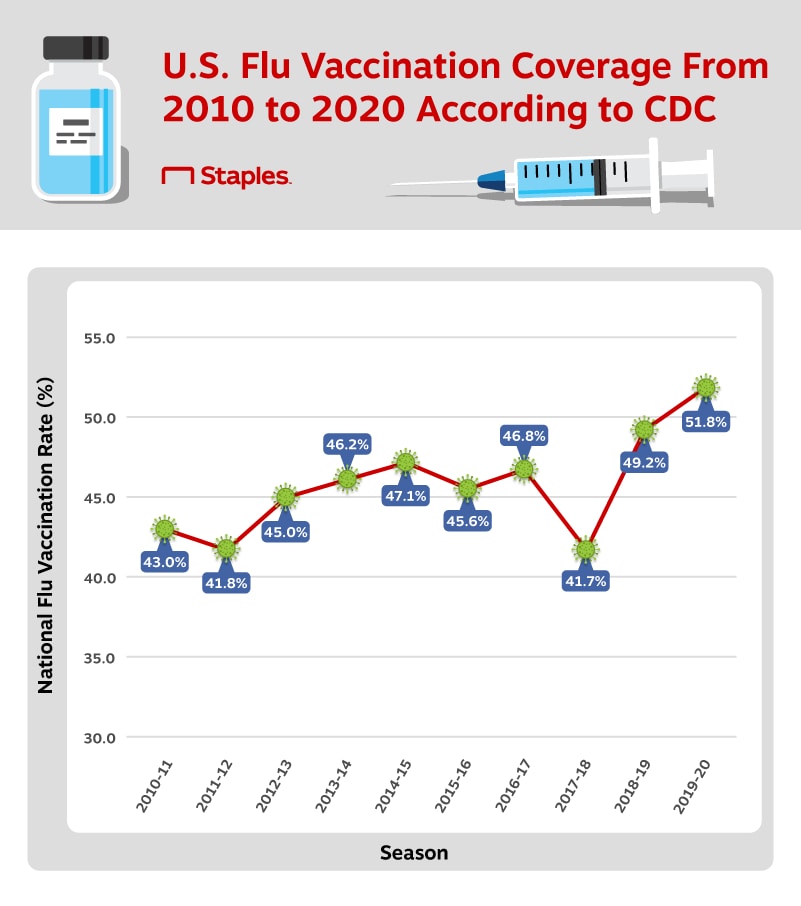 While flu vaccination rates have varied over the past decade, the national vaccination rate has increased in the previous two seasons. This trend appears to be carrying into the current season: The CDC estimates that a total of 189.4 million flu vaccines have been administered in the U.S. so far this season, compared to 174 million in the 2019-20 season.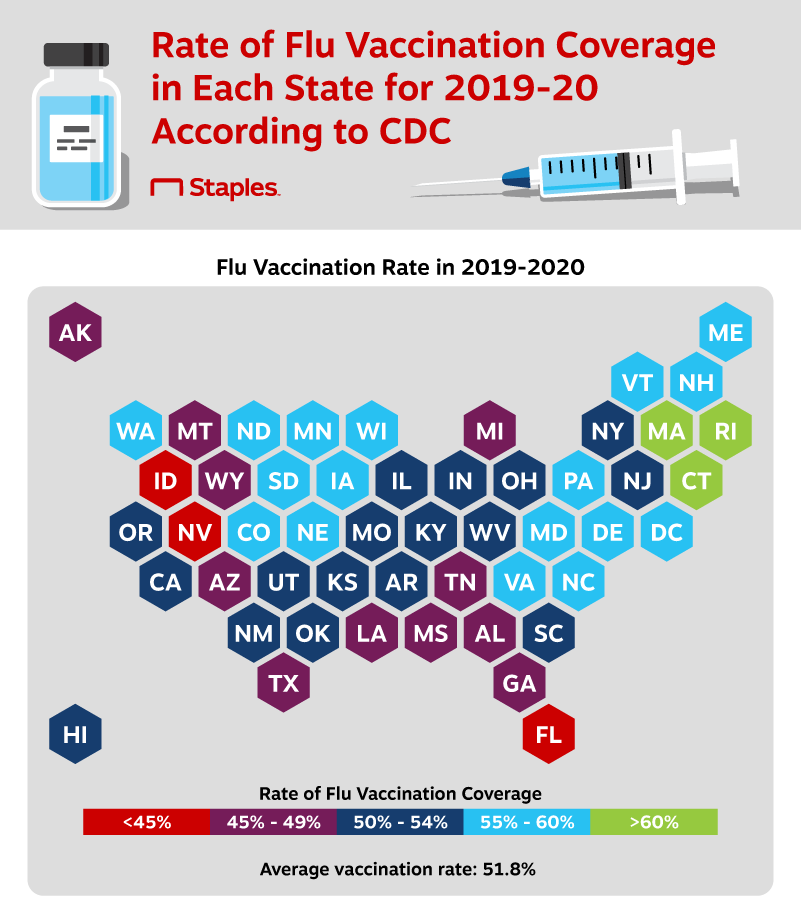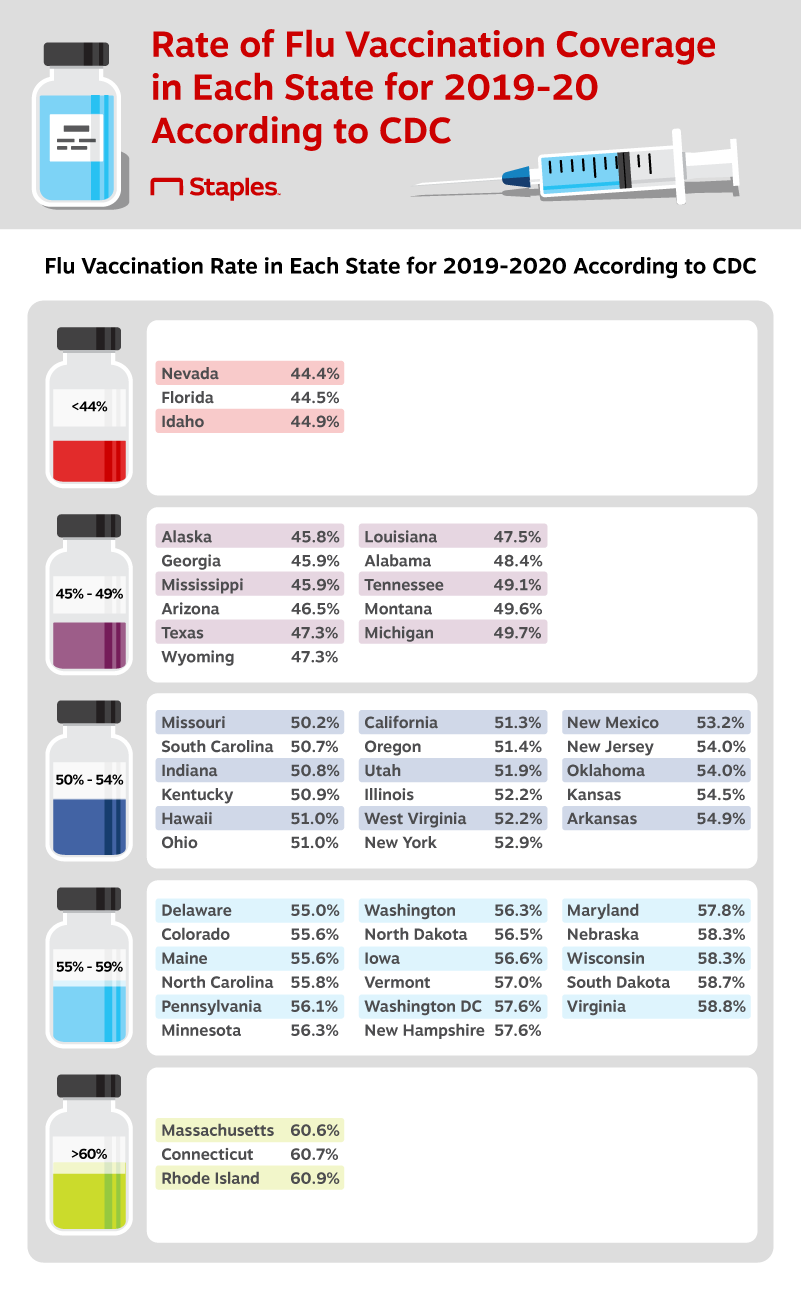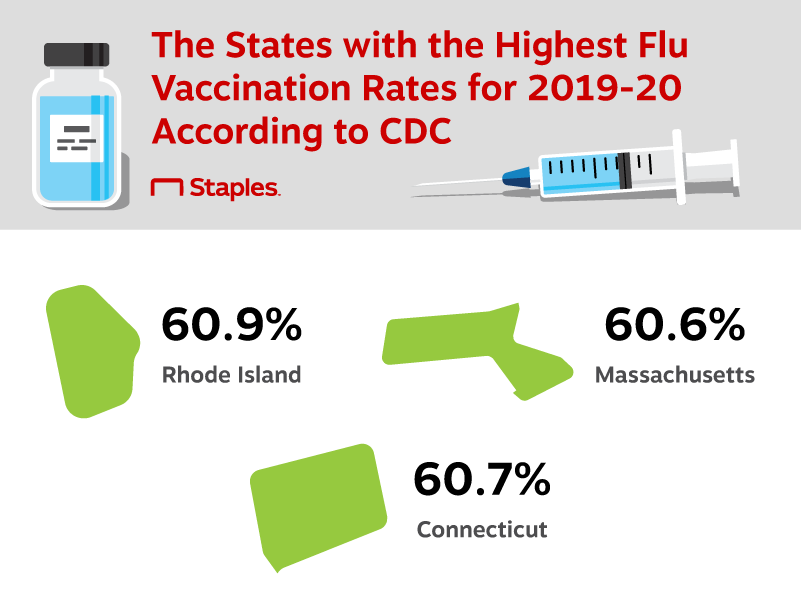 The most recent flu season, 2019-20, saw record-high state flu vaccination rates. Rhode Island, Connecticut, and Massachusetts, all saw averages over 60% - far higher than the average vaccination rate of 51.8%. No states had average flu vaccination coverage rates under 44%.
The U.S. Department of Health and Human Services is attempting to increase the rate of flu vaccinations with the Healthy People 2030 initiative. One of Healthy People 2030's main goals is for the U.S. to reach 70% flu vaccination coverage in 2020. The initiative has provided resources to help individuals and workplaces make a difference, such as monitoring national progress and setting individual targets that keep needs and priority populations in mind.
Helping to Keep Workplaces Safe and Healthy
As this flu season progresses, workplaces can promote the benefits of flu vaccinations for both employees and employers. Having an open dialogue helps instill that employers care about employees' well being, which can positively impact morale.
What Employers Can Do This Flu Season
There are plenty of ways that employers can help reduce the spread of flu for both in-house and remote employees. Employers should first encourage employees to consult with their doctors to see if the flu vaccine is a healthy option for them.
One of the best ways to encourage employees to get a flu vaccine is to host on-site flu vaccination clinics. On-site flu clinics are shown to be a cost-effective way to prevent absenteeism and promote continued productivity. This tactic is most effective for workplaces with in-house employees.
How to Plan an On-Site Flu Vaccination Clinic
The first thing you will need to do is find a flu vaccination agency to work with. Conduct research on firms in your area to find the one that will work best for your company and its employees. Keep in mind the following criteria:
How much the service will cost: Ask for quotes from a few firms to make sure the on-site clinic is within budget.
The staff's quality: Ask for references and reach out to businesses that have previously used the firm for an on-site clinic about their experiences.
How easy the process will be: Ask about the firm's efficiency to ensure your employees will be able to get their vaccines without hassle.
The availability of the staff: Ensure that the firm is available at a time that makes sense for the employees and the business, and is early in the flu season.
Once you've found the right firm for you, keep your employees' convenience top of mind. Choose a date and time that will work for the largest number of people, and consider offering multiple days and a flexible schedule to your employees so they will be able to go to the clinic at their convenience.
When promoting your on-site clinic, remember that communication is key. Use posters, emails, and newsletters to get the word out to your employees so they are well aware of when and where the clinic will be. Consider appointing internal wellness associates to help manage the internal promotion efforts. Follow the CDC's COVID-19 guidance to help keep everyone safe.
It's important to note that not every flu vaccine is right for every person. Different flu vaccines are approved for use in different age groups. Factors that determine a person's suitability for vaccination include age, health, and allergies to the flu vaccine or its components. The CDC recommends that all persons aged 6 months of age and older receive a flu vaccine, but there are exceptions associated with certain risk factors. Always recommend that employees consult their healthcare provider before receiving the flu vaccine.
How to Encourage Employees to Get Their Flu Vaccine
If an on-site clinic isn't possible, work with HR or your wellness manager to encourage employees to seek flu vaccinations in the community. The key to this strategy is to make getting the flu vaccine as easy as possible. To get started, you can share promotional posters for local clinics and inform your employees where they and their families can get flu vaccines. Be sure to include resources such as VaccineFinder or the CDC's Influenza page in the promotions to provide as much information as possible. Employers can also invite a health expert to conduct a webinar or lunch-and-learn about the benefits and risks of flu vaccinations to increase employee health education.
Another quick and effective way to spread information on how to get flu vaccines is to have your HR team or wellness manager share information from your company's health insurance provider, particularly about the cost. Consider establishing flexible HR policies that allow employees to take some time during the day to get a flu shot.
How to Help Reduce the Spread of Flu in the Workplace (and Beyond)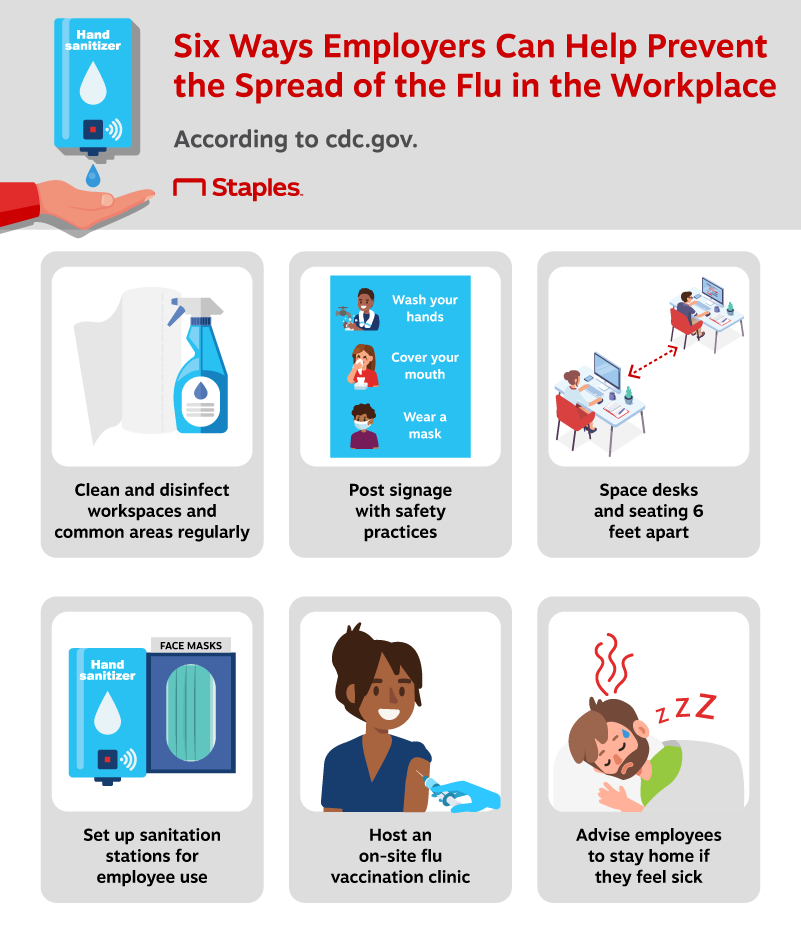 There are tips to help reduce the spread of the flu beyond the flu vaccine. Set policies around desk cleaning and increase cleaning schedules, with a specific focus on sanitizing commonly touched items such as door handles. Provide guidance in common areas by encouraging employees to maintain a safe distance from one another and to disinfect surfaces after each use.
According to CNBC, nine out of ten people go into work when they're sick so encourage your employees to take sick days or work from home if they start to feel sick. In line with that, provide clear guidelines about what employees should do if a family member or roommate has flu symptoms.
Lastly, it's important for employers to promote a culture of wellness, even when it's not flu season. For example, continue to encourage your employees to:
Setting up sanitation stations throughout the office is a great way to keep these practices top of mind and easy for employees to do. Stock mobile caddies with hand sanitizer, disinfectant, tissues, masks, gloves, and cleaning products. Position the stations throughout the office so employees always have easy access.
Consider forming a wellness committee to continuously promote and improve the overall health and wellness of the company by sharing healthy recipes, best practices, and tips on how to remain healthy in and out of the office.
Wrap Up
Workplaces can be a part of making this flu season better by promoting flu preparedness and helping our nation get closer to the goal of a 70% flu vaccination rate this year. Make the 2020-21 flu season as healthy as possible so that employees can remain happy and productive now and in the future.