A freshly brewed cup of coffee is as much a part of the workplace as lunch meetings and watercooler chats. For many people it's essential, with 67% of workers enjoying a cup every day at work. That is, until the COVID-19 pandemic disrupted the symbiotic relationship between coffee and work in the office.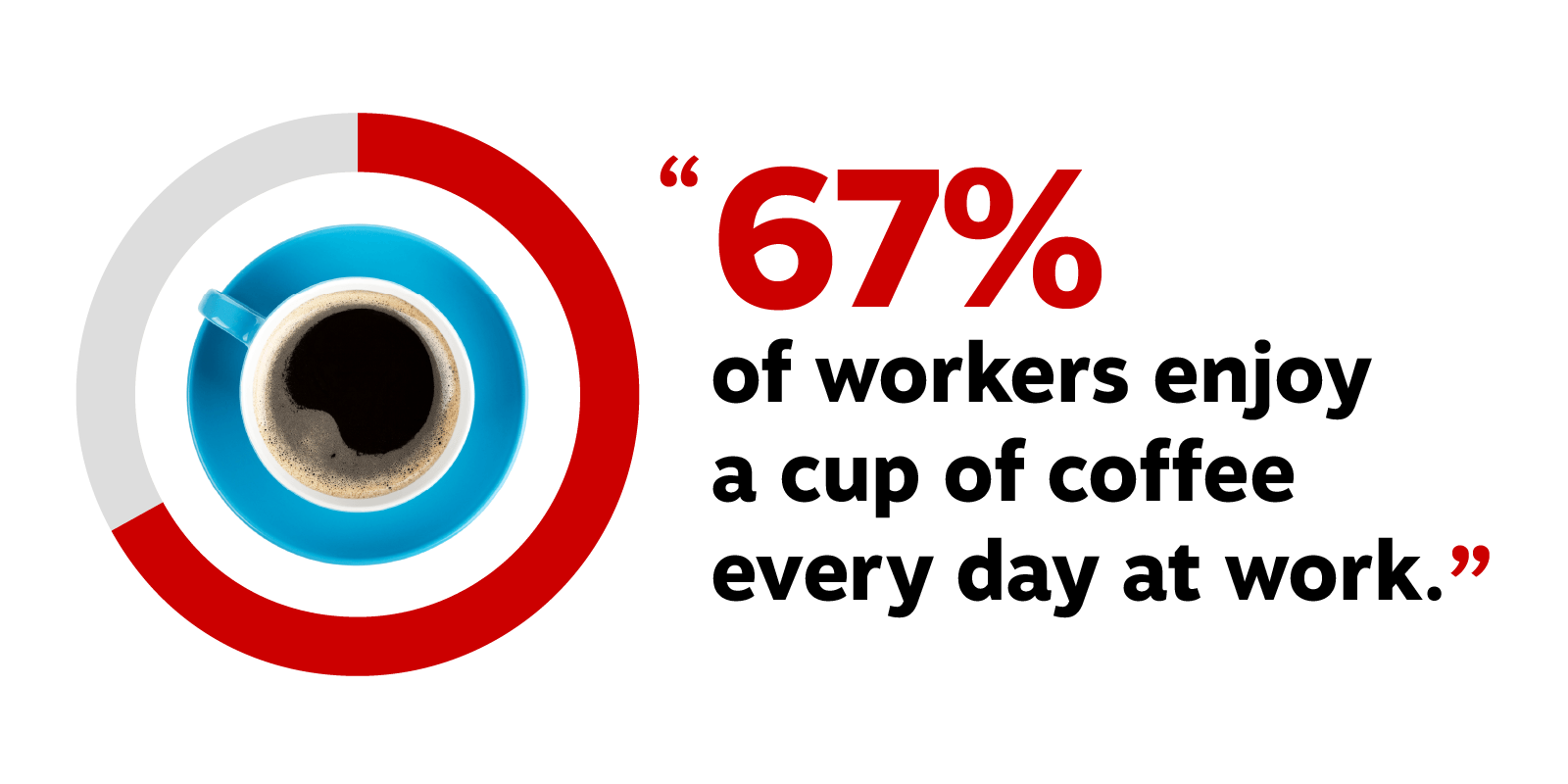 The workplace has undergone drastic changes over the last 18 months, including the transition to remote work and the new emphasis on office cleanliness for those still in the office. Something that hasn't changed? The desire for great-tasting coffee to start the workday off right. Now that many businesses are heading back to the office after COVID-19 and embracing the "new normal," they're looking for ways to bring back the coffee break as safely as possible. Let's look at ways coffee and work have changed, and how you can safely reintroduce it to your workplace.
The Decline and Slow Return of Coffee in the Workplace
When people started working from home full time in 2020, they took their coffee-drinking habits with them. A report by the National Coffee Association found that workplace coffee preparation has plummeted by 55% since January of 2020, with 85% of workers now drinking at least one cup of coffee at home each day. At-home workers aren't just spending less time around the break room coffee maker — they're also steering clear of traditional coffee shops.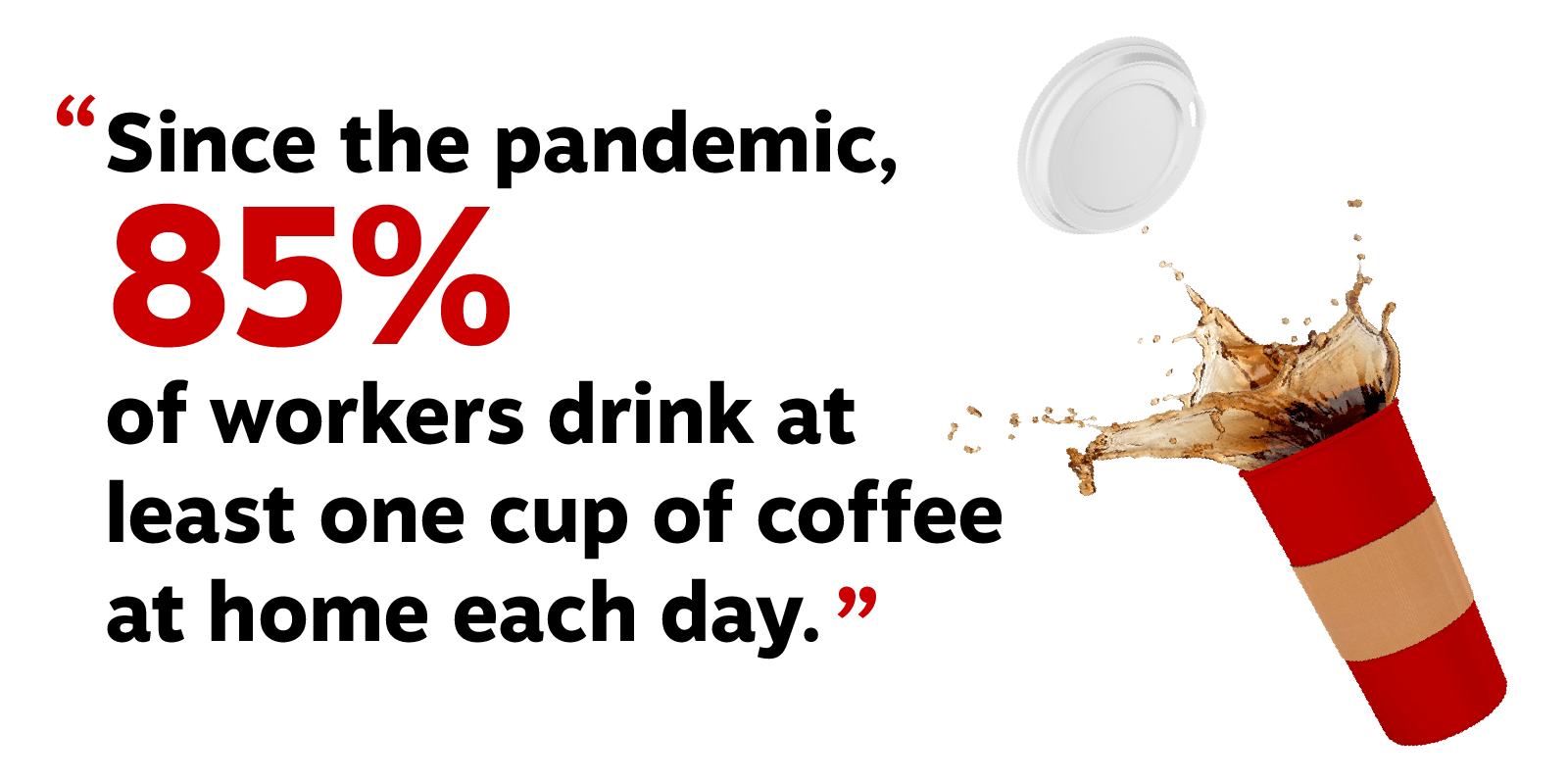 In 2020, "... nearly one third tried to replicate a favorite coffee shop beverage at home" — and these remote work baristas also experimented with new types of coffee beverages. The TikTok whipped coffee recipe trend in the spring of 2020 became a favorite among newly remote workers. But the at-home coffee adventures didn't stop there: 23% of workers also purchased a new coffee maker, such as a pourover, drip coffee machine, single-serving coffee brewer, or cold brew maker.
Now that more businesses are returning to in-person work, employers and employees need to decide if they're comfortable using the communal office coffee station. Communal coffee is slowly returning to the workplace, and that can look different for many companies across the country.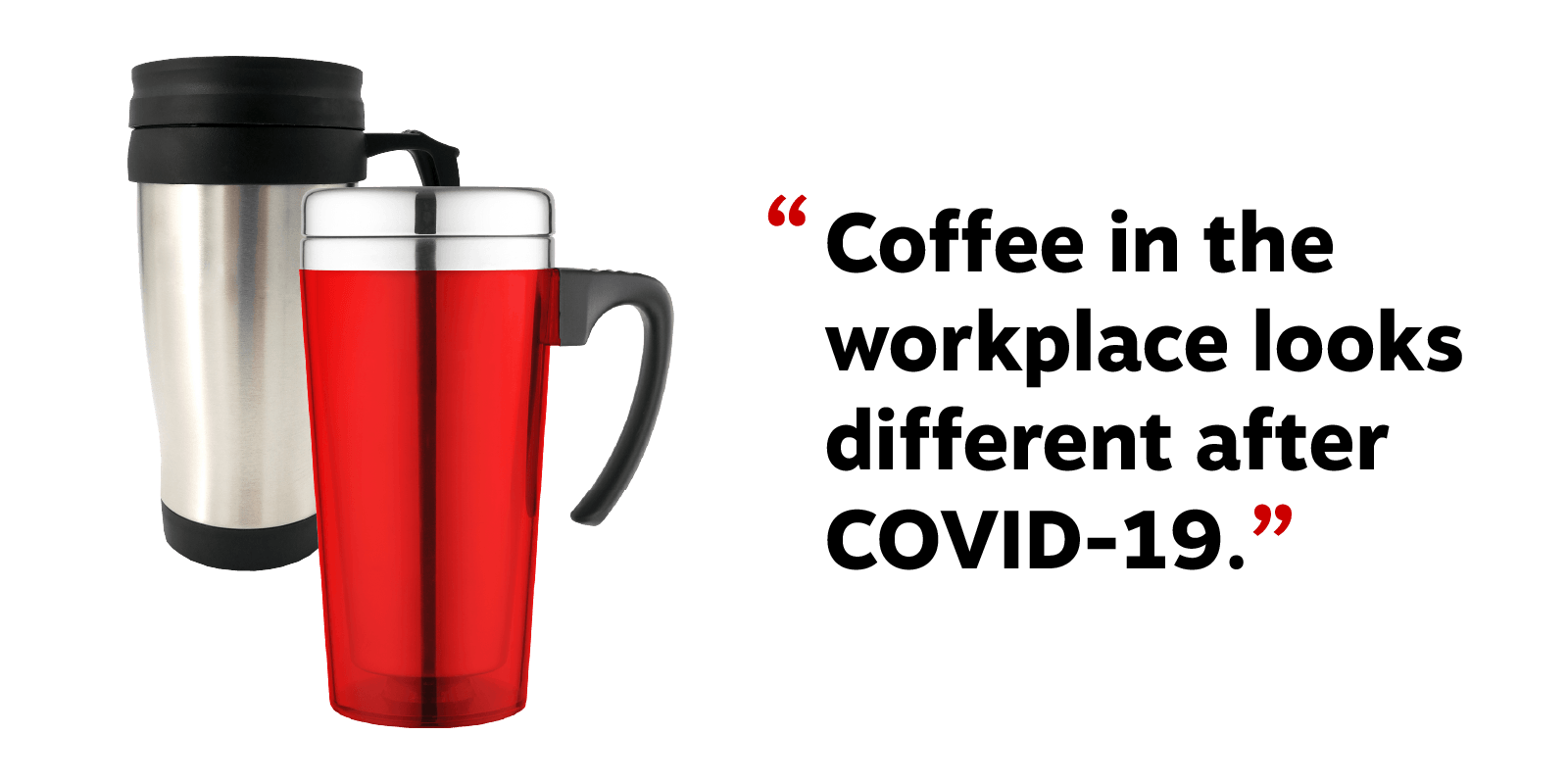 Should You Provide Coffee for the Office? Studies Say Yes.
Some businesses may decide to avoid the hassle of in-office coffee because of hygiene and health concerns, and instead encourage employees to bring their beverages from home or swing by the local coffee shop. In fact, a 2020 study found that just 29% of workplace coffee drinkers had access to a coffee maker at work, and just 24% had access to a single-serve coffee maker. While forgoing coffee may seem like a simple solution, it could actually negatively impact your employees' workplace experience.
Sure, coffee is delicious — but that's just one of its many benefits. Various studies have shown the importance of coffee in the workplace, including the following:
Boosts work productivity and collaboration. Coffee and productivity are strongly related, and that's a big reason that many people drink coffee in the morning and grab another cup when the 2 pm lull rolls around. In one study, 43% of workers said that drinking coffee at work makes them more productive. Another study found that coffee drinking led to more participation and discussion in group tasks.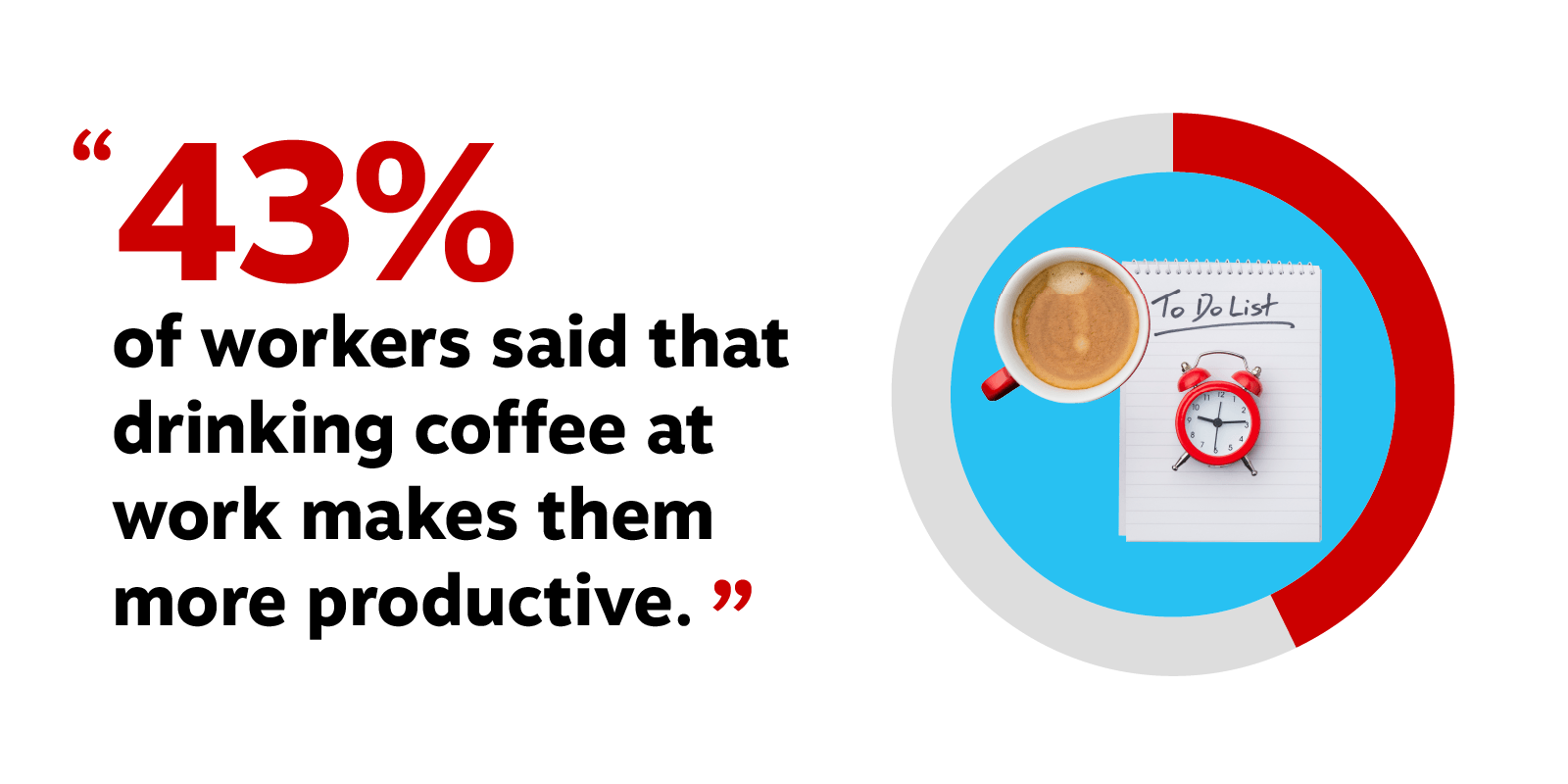 Linked to numerous health benefits. A Harvard study found that women who drank four or more cups of coffee each day had a 20% lower risk of developing depression. Another study found that, in low doses, coffee can actually reduce anxiety.
Allows for networking opportunities. Spending time with a colleague over a cup of coffee isn't just a social hour. In one study, 36% of workers said that coffee helps their career by giving them the opportunity to network with their colleagues.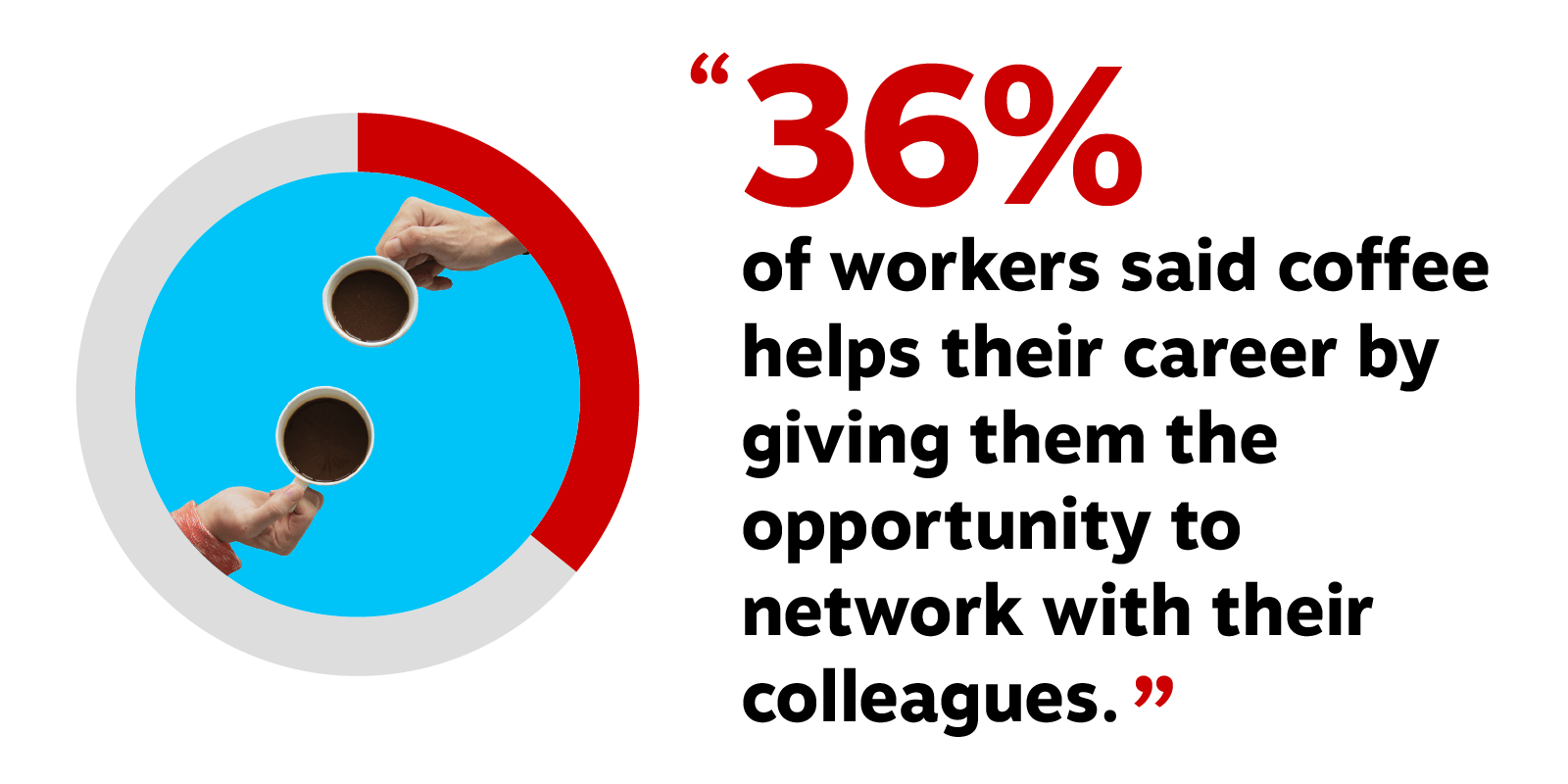 If you'd like to provide your workforce with the benefits of coffee without adding a coffee station to your break room, there are other solutions out there. CNN reported that some companies are even offering their employees discounts or gift cards to local coffee shops to help them get their coffee fix even when they're working remotely.
Hot Tips for Coffee in the Workplace
If you and your employees are back in the workplace, you may be looking for ways to get your morning or afternoon coffee fix safely while ensuring workplace health and hygiene. Lots of businesses are coming up with ways to navigate coffee at work, and we've compiled some smart strategies for keeping workers safe and caffeinated.
Bring in Touch-Free Coffee Stations
A primary concern among workplaces is high-touch areas, where germs and viruses can quickly spread to surfaces and possibly throughout the workplace. This can make employees hesitant to use the traditional workplace communal coffee machine. The Centers for Disease Control recommends that companies returning to the office take certain precautions by replacing communal coffee items with single-serving coffee pods and low-contact coffee makers that employees don't have to touch as much.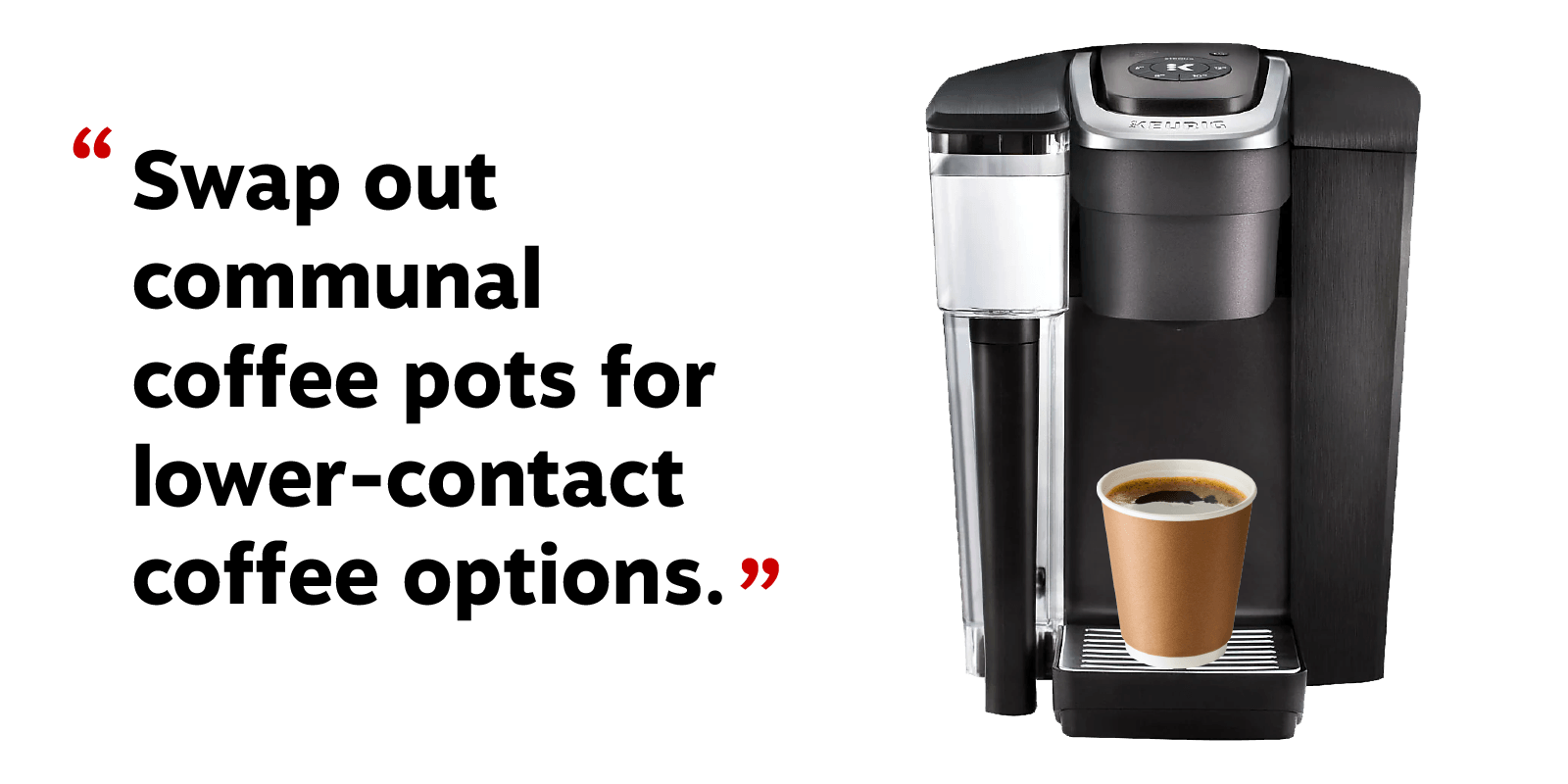 Provide Single-Serve Coffee Makers
Many workplaces offer their employees pots of drip coffee, which are shared around the workplace — and the handle is touched by various people. To cut down on the spread of germs, workplaces can consider single-serve coffee makers. This type of coffee maker lends itself better to social distancing by preparing just one cup at a time. Ask workers to disinfect the touchscreen after use with disinfectant wipes, and be sure to regularly sanitize the coffee station and break room.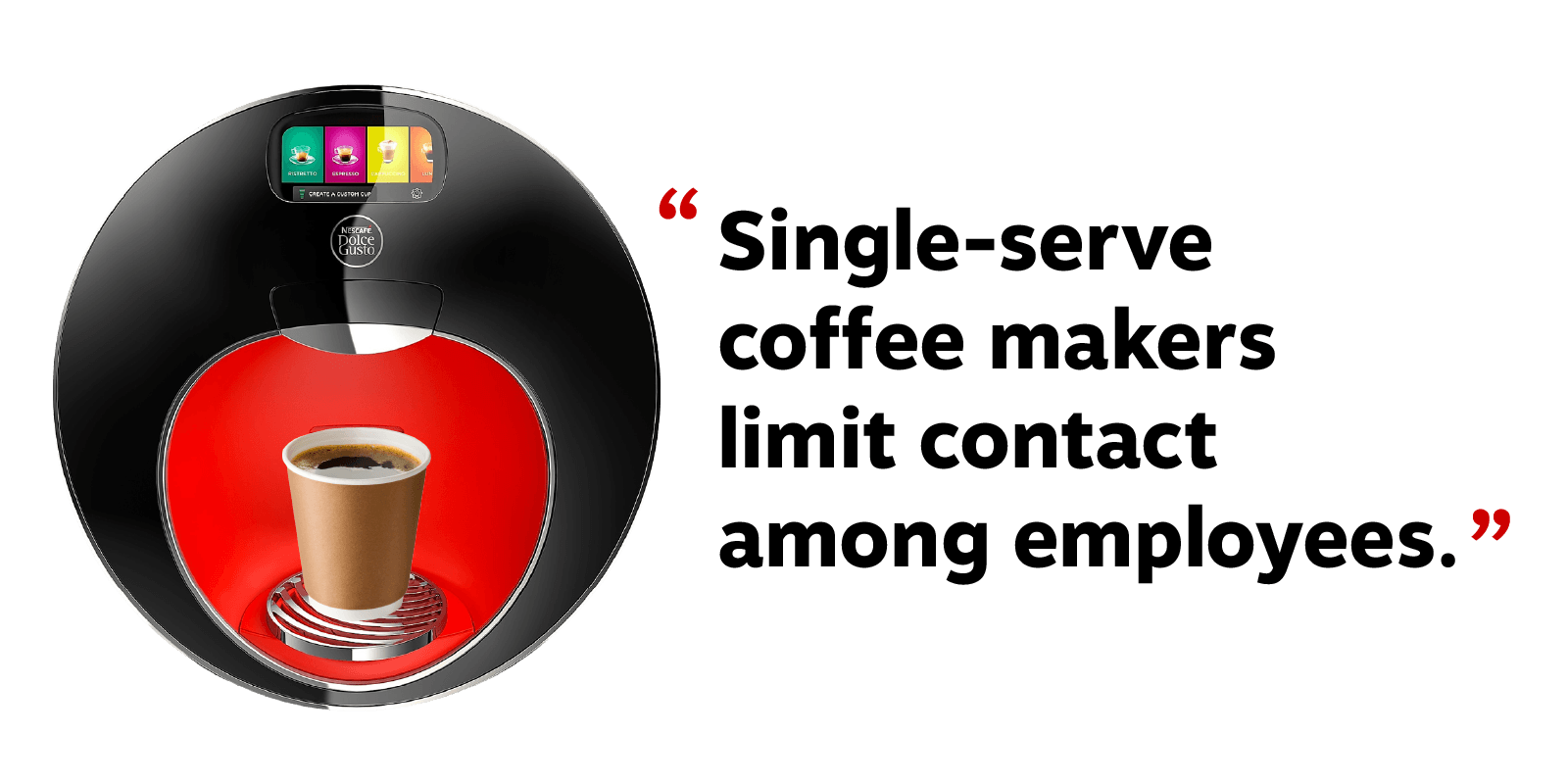 Cut Out Communal Coffee Condiments
A hot cup of coffee feels so much more comforting with the right amount of cream and sugar. But communal creamer and sweetener containers are high-touch surfaces that quickly accumulate germs and bacteria. The CDC recommends switching out milk cartons and sugar dispensers for individually wrapped creamers and coffee sweeteners, so employees can quickly grab and go without touching too many surfaces.
Additionally, you can also provide disposable cups, lids, stirrers, and cutlery so that used coffee mugs aren't left sitting on coworkers' desks.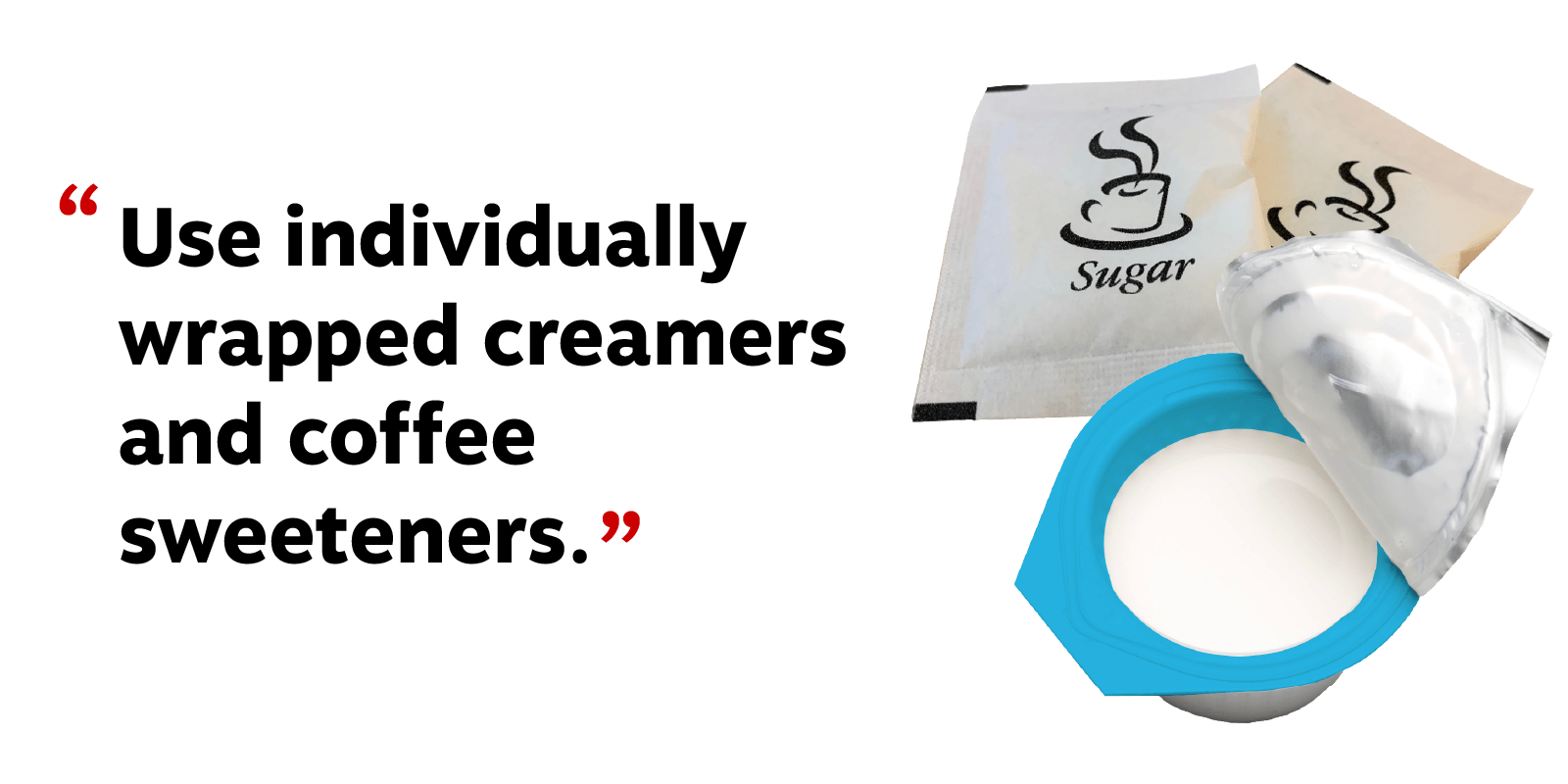 Set Up Multiple Coffee Stations
When setting up an office coffee station, it's important to consider its location. Is it in a small room that easily becomes crowded? Is it in the middle of a high-traffic area of the workplace? Rather than encouraging all employees to gather in one breakroom, consider adding multiple coffee stations for your office.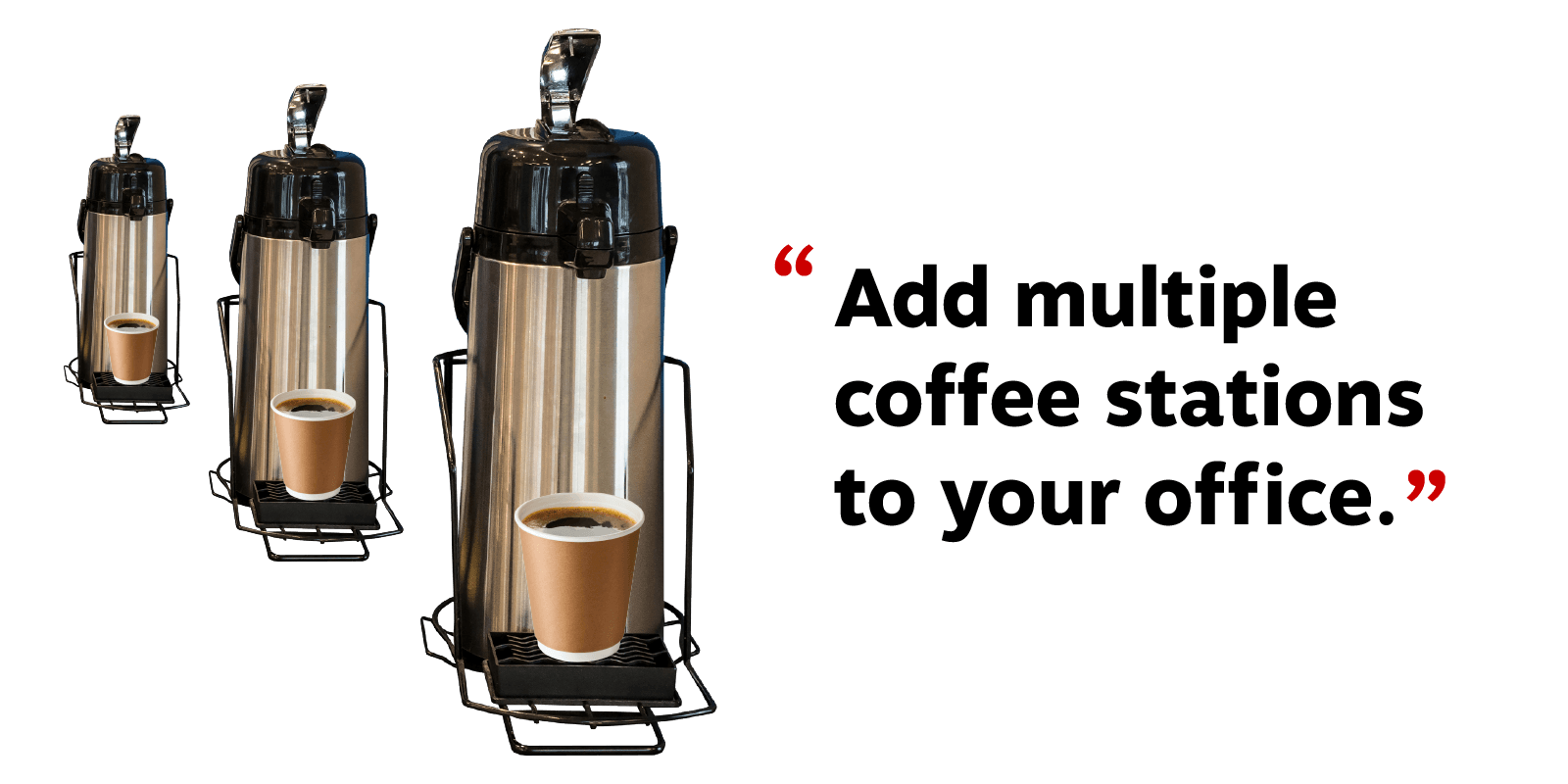 Even if you only have one dedicated breakroom, you can add small table-top coffee bars around the workplace. Simply set up a single-serve coffee machine, coffee pods, and individually wrapped creamers and sweeteners, and workers can whip up a cup quickly and safely.
Embrace the Virtual Coffee Break
Today, coffee meeting etiquette in the office can be a challenge. Businesses face the issue of navigating coffee in the hybrid workplace, where some employees work from home on certain days, while others work from the office. An office coffee hour can be just as important in a hybrid work environment as in a traditional office setting. Find a way to keep the ritual going. Virtual coffee breaks can be a great solution.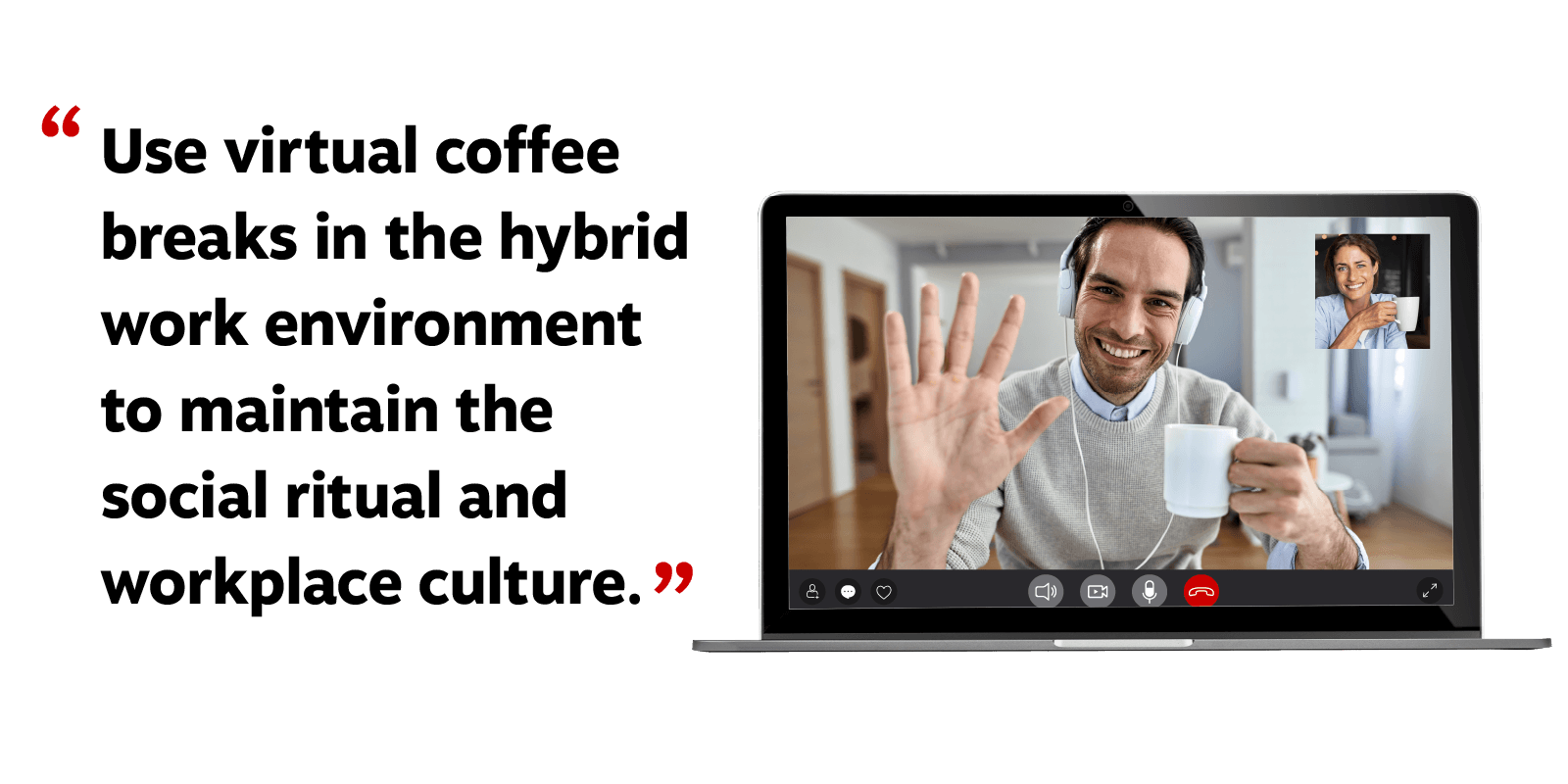 In-office workers can grab a cup from the break room and at-home workers can whip up a cup using their own brewer, then connect over video chat. That way you don't lose the culture of connecting over coffee, even if some shifts are staggered or you're utilizing a hybrid or fully remote workplace.
Encourage COVID-19 Safety Measures, No Matter What
By now, most workplaces are probably used to increased hand-washing and social distancing. The CDC recommends these measures for businesses returning to the workplace, in addition to increased cleaning and disinfecting, mask-wearing, and ventilation. They also recommend staggering break times and displaying reminders of safety protocols around the workplace.
Most break rooms are not big enough for all employees to social distance. To help employees stay safe, set up hand sanitizer bottles or automatic hand sanitizer dispensers next to the coffee station, and place stickers or decals to encourage social distancing among employees. Provide employees access to a sink where they can wash their hands as well as their coffee cups.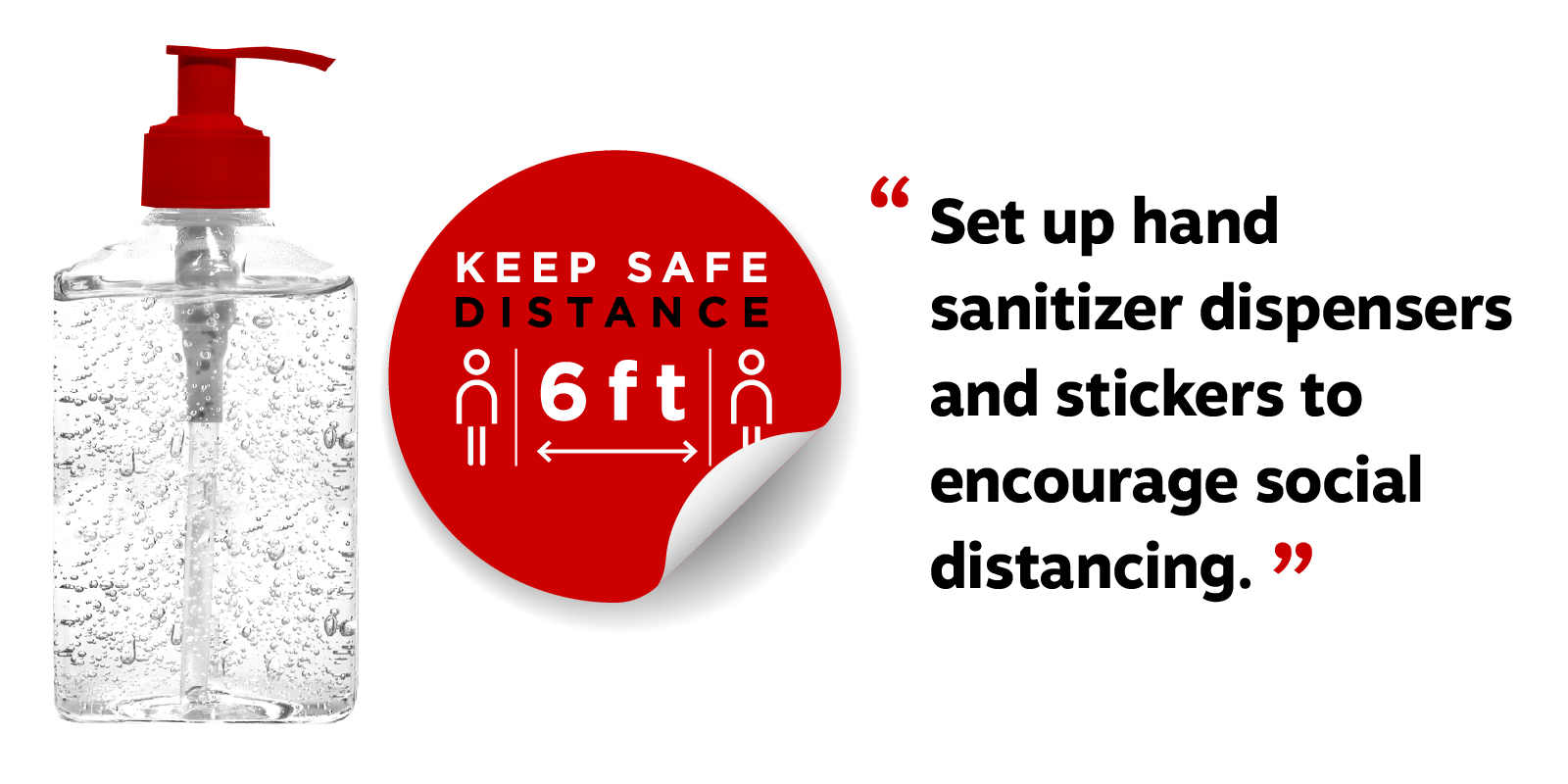 Equip Your Workplace With Coffee Safely
Having coffee in the workplace provides employees with the chance to take a breather during a busy day, connect with coworkers, and improve their focus when it's time to get back to work. The workplace just isn't the same without a coffee station situated in the heart of the break room. Your workforce will thank you for safely providing coffee in the workplace.