Illness is probably going to make a visit to your workplace.
So how do you make sure your team remains productive even as some get sick? One strategy is to let employees work from home, both as a preemptive measure for healthy employees and as an option for sick workers who are feeling well enough to work but don't want to spread germs to others.
Despite concerns about a drop in productivity, a study by the Stanford Graduate School of Business found that workers were 13 percent more productive per hour when working from home. With this kind of boost, your team might be able to maintain typical productivity levels even if you're down a few staff members.
For employees to be at their best when working from home, though, they'll need a functional space, along with the technology and tools to stay productive. Consider sharing the tips below with your team members about how to prepare their home offices for a successful telecommute.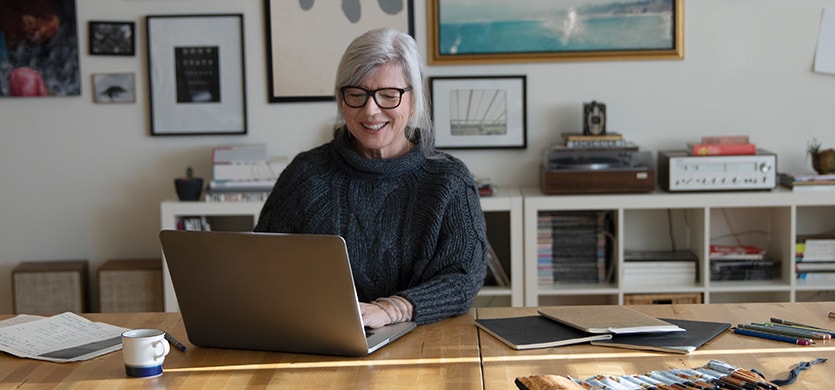 Best Practices for Setting Up an Office Away From the Office
If this is your company's first foray into letting employees work from home, establish a telecommuting policy. Be explicit about your rules and expectations for employees — what is and isn't allowed, what equipment you will reimburse employees for and a statement that working remotely has specific limits. If you already have a policy, then add a section to address your flu season work-from-home guidelines.
You can find additional advice on creating these policies and tips on planning for the IT investment from resources like SHRM, the Society for Human Resource Management. There is no consensus on what employers should be responsible for when it comes to the technology and office needs of remote staff. But the organization points out that it may be worthwhile to pay for furniture and equipment to ensure the wellness of your employees — and the productivity.
Creating a home workspace takes a bit of planning. First, workers must figure out where it's going to be, says Lisa Kanarek, author of five books on working from home, including "Organize Your Home Office for Success: Expert Strategies That Can Work for You."
If your employees have an extra room, nook or cubby in their homes, now is the perfect time for them to start setting it up as a home workspace. It should be in an area that's quiet and conducive to focus, Kanarek says. Ideally, it won't be near the main traffic area of the home where others are constantly moving through, she adds.
When planning the layout of a workspace, employees have a few things to consider, including one element people might not even think of: lighting.
"Don't have your desk set up with a window behind you, as the glare from windows shines on the computer screen," says Cecelia Jernegan, author of "Working from a Home Office Successfully."
Here are other best practices to share with your team to help them create an ideal remote office during flu season:
Design the space in a way that works for their needs. For example, have employees ask themselves whether looking out the window helps or distracts them. Do they work best lounging on a recliner or sitting at a desk? Challenge them to ask themselves these types of questions as their space is coming together.
Have some fun with it! This isn't a shared office; it's just for one person. Ditch the gray staplers and cabinets and go for items with a pop of color. "There are so many options to decorate and bring color into your home office," Kanarek says. "Instead of having that corporate look, you can make it interesting and a place you want to work."
Don't overdo it. There's no need for workers to duplicate their corporate office setup item by item. Encourage them to focus on the tools they need (check out the list below) and stick to those. "People will go out and buy baskets and containers and pencil holders. Then they have more things in their home office to keep them from getting organized than actually helping them get organized," Kanarek says.
Just say no to clutter. A home workspace can quickly become the area to dump furniture and other items that don't fit anywhere else in the home, Kanarek warns. Soon enough, that remote office just becomes a storage space with a desk in it. Encourage employees to set up work-related items only.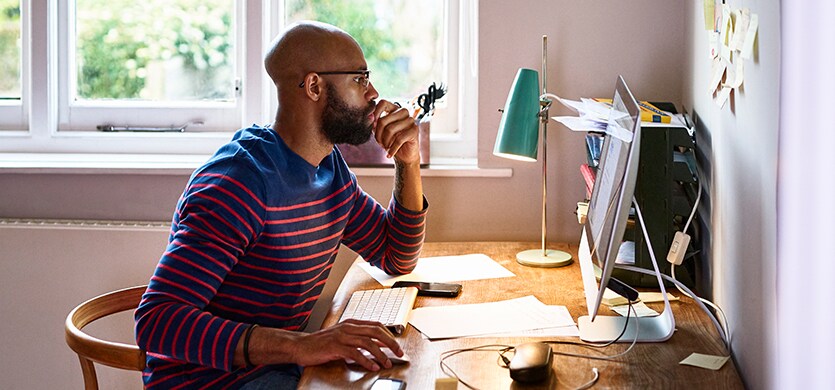 The Tools and Tech Workers Need for a Home Office
Beyond identifying the workspace and setting parameters about its setup, there are some tools that will make working remotely frictionless.
Start with the bare minimum that employees will need and that the company is likely to provide or at least help cover: a laptop or desktop computer, a phone and Wi-Fi connectivity. If employees are worried about ensuring sufficient connectivity, a wireless signal booster can work wonders. Once they're connected to their workstations, they'll be connected to their co-workers and corporate network.
(One caveat: Your employees' remote access should be as secure as it is when they're in the office. The IT team should always be a critical player in any work-from-home program.)
When the essentials are set, here are some other items to fill out those home offices:
A good desk chair. An ergonomically correct chair is crucial. "This is something I always stress. Don't just grab your kitchen chair and put it in your home office," Kanarek says. "Get something that is more comfortable than a straight-back chair, because that's just not conducive for sitting at your desk all day."
A small desk. There's no need for one as big as a standard office desk. Suggest that workers get a desk with one drawer for small items.
A file holder. Advise team members to store all files they're working on in one of these, so they're always within reach.
A bookshelf or file cabinet. Suggest that workers store files they're not working on in a separate cabinet or bookshelf. This will help keep their work areas tidy. "Adding a bookcase in the home office can make all the difference if you don't have a supply closet in that room," Kanarek says. "It's just to get things off your desk and off the ground."
Cable management items. Printers, phones and computers can quickly result in a jumble of cables, so recommend that employees get a cable catch or box. (And while they're at it, add a surge protector.)
The little things. That includes scissors, tape, a stapler, ruler, highlighter, pens, pencils and a notepad. No workspace is complete without these at your fingertips, Jernegan says. During flu season, workers might want to include hand sanitizer so they don't spread germs to others in the home.
Bonus: A printer (with a scanner). Now team members have access to any important files they need to print. And if they're working on a paper document that they need to share with co-workers, they can scan and send it electronically.
With the right planning and tools, you and your team can establish a flu season work-from-home plan that ensures productivity. And it might also set the stage for making remote work and telecommuting a regular option.