A newcomer's first few days on the job can either be exciting and energizing, or awkward and disorienting — it all depends on the welcome they receive. As an administrative professional, you can help ensure the new person hits the ground running.
How do your peers help new hires get off to a good start? We asked members of the Staples InsidersNetwork to share their insights.
Tonya, business services coordinator: "We decorate their office."
Tonya, who works at a university, tasks students who work in her office to decorate new hires' office doors with handmade welcome signs, letters and other creative touches.
"When I started a year ago, my office was decorated, and it made me feel so welcome," she says. She has carried on the tradition, and now, before other new people start, she has students use construction paper, markers and other supplies around the office to dress up their work spaces.
It's an inexpensive undertaking that pays off. "You can tell that people really appreciate the effort," she says. Some employees — including Tonya — still have their welcome decorations in place.
Dawn, office manager: "I make myself a go-to for questions."
Remembering who's who and where things are can seem overwhelming when you're new to a job. Having someone to turn to in your moments of doubt can make all the difference. Though some managers at Dawn's company have their own system for onboarding new hires, she takes it upon herself to "fill in the gaps" as they get up to speed.
"I make sure to let new people know that they can come to me if they've forgotten someone's name or what that person does — or if they have any questions at all," she says. She also makes sure they have the office supplies and other items they need to work productively and comfortably.
"I'll also make a point of checking in with them after they've been here for a week or two," she says. "They might have a better sense at that point of whether there's anything that they need."
Claire, operations services specialist: "I extend an open invitation to lunch."
Among the most daunting challenges on day one is finding someone to eat with. That's why Claire makes a point of inviting new people to join her and her colleagues.
"I know people can feel lost when they're new at a new job, and having people to talk to can make things easier," she says. Claire tries to get to know her new colleagues by asking basic questions: where they're from, where they've worked, how their weekend was. These conversations help newbies build a rapport with more tenured workers.
Claire keeps the lunch invite open, but lets people know that they shouldn't feel obligated. "We're an open group — we could be anywhere from three to 10 people, depending on the day," she says. "We just like to extend a standing invitation so people know that they're always welcome."
We asked members of the Staples InsidersNetwork to tell us:
How would you describe your company's current onboarding system?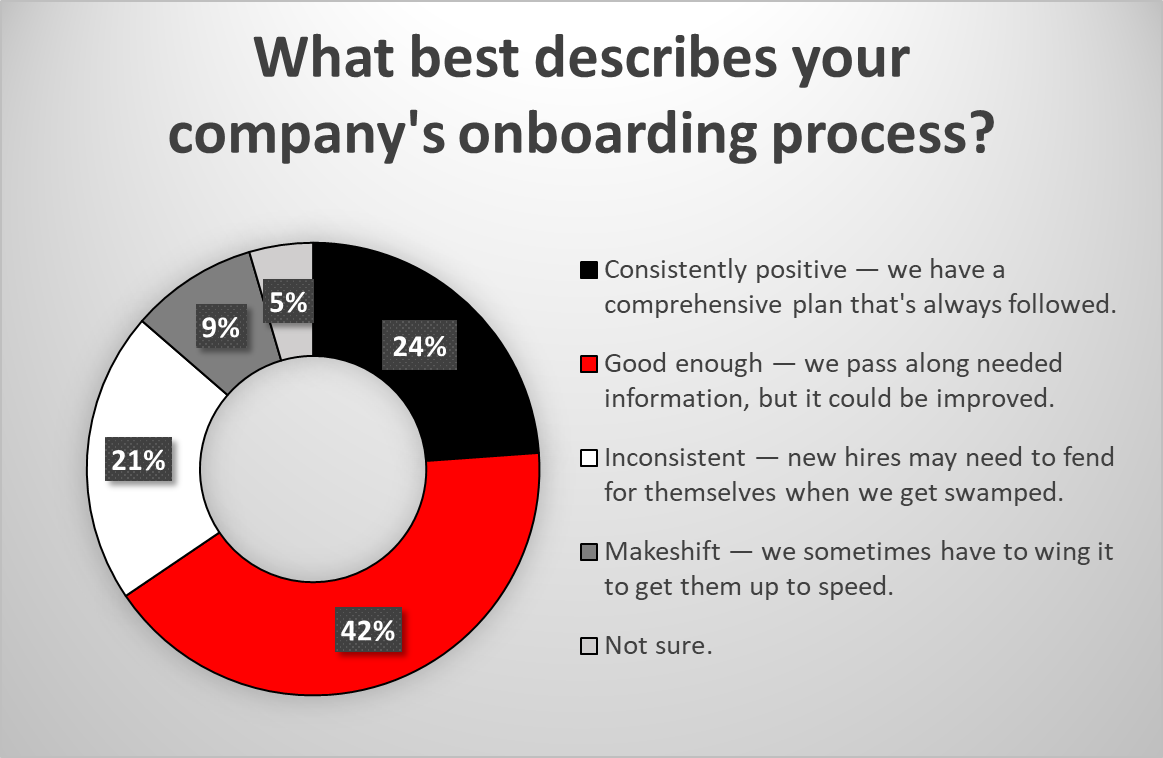 If your onboarding process could use help, you're not alone. Only one-quarter of your peers say their system is always positive.