When you're tasked with a special project, it's an opportunity to stretch your skills and show what you can do. We asked members of the Staples InsidersNetwork to tell us:
What is one of the bigger tasks you've taken on, and what did you learn?
Kimberly, customer service rep: "I organized a very disorganized restoration company into two departments. It taught me how to get along with all the people involved — to see what their needs are and make sure everyone's concerns are heard."
Kimberly's biggest challenge was working with insurance adjusters, contractors and employees to get everyone on the same page, so she affirmed firsthand the importance of communication during this project. "Without it, you wouldn't have a project," she says. She added that customers have to be part of the picture too. "I learned how to listen to them — the experience made me more responsive to customers."
We asked members of the Staples InsidersNetwork to tell us:
If you could choose only ONE of two superpowers, which would most help you succeed at a big project?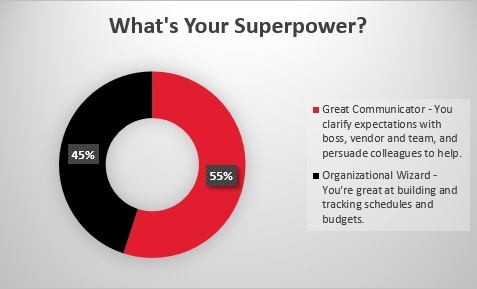 Denise, office manager: "We renovated a pre-Civil War building that had been a B&B into an office location, and I was the liaison between the contractor and the project manager. My big lesson was the value of being very well organized and keep track of everything."
Besides spending plenty of time on-site checking on the progress of renovation work, Denise also organized the move when the building was ready. To stay organized, she kept a notebook to record all important information, and set up files for each phase of the project. "I also had a checklist — everything went on it," she says.
Arnel, business office assistant: "We went through a major rebranding, and everything had to get updated with the new logo and brand: marketing, accounting and sales documents; staff uniforms; and even the building. Effective communication is key. If a particular goal isn't realistic, the team needs to provide that feedback as soon as possible."
The rebranding project team brought together staff from purchasing, marketing, engineering and management, so weekly meetings to keep everyone on track were a must, Arnel says. Also important? Be ready for glitches. "We were always prepared with a plan B — and a plan C, if needed."