How do your fellow administrative professionals make the right impression and keep up their reputation at the office? We asked members of the Staples InsidersNetwork to share their must-dos for maintaining a positive image.
Christine, calibration technician: "I try to maintain an even keel and to not overreact when problems come up. Instead, I offer to contribute to a solution."
Christine has built a reputation as a capable problem solver by keeping her cool in challenging situations. It's a skill she picked up while working as a seamstress and handling alteration requests for a major department store.
"It helps to project confidence when you're presented with a difficult question or problem, even if you're not sure right then what the answers are or what the best course of action is," she says. "You can stay composed and say, 'OK, we'll figure it out,' and then dig into it behind the scenes."
Christine uses this approach often in her current role handling administrative and technical tasks at a manufacturing firm. For example, if she and her colleagues are asked to take on additional work when their plates are already full, she'll tell their supervisor that they will find a way to do it. She'll then huddle with the team to figure out how to reprioritize or redistribute the work so that it's more manageable.
"Getting overly worked up doesn't get you anywhere," she says. "When you stay positive and confident and show that you're willing to do the work, everything goes much more smoothly."
Heather, manager and pharmacist: "Always take pride in my appearance."
Looking tidy and put-together is about more than professionalism, Heather says. It also signals to co-workers and customers that she is dependable.
"If you look like you don't take time for yourself, people might think that you won't take time for them," she explains. "If you put care into your appearance, people may be more inclined to trust you. That doesn't mean you have to dress in expensive clothes, but you should make an effort to look nice."
Heather carries this philosophy over into the appearance of her work area. She makes a point of clearing off her desktop at the end of each workday and making sure that needed items are at hand.
"If someone asks if you have a pen, and it's nowhere to be found, you're perceived as disorganized — rightly or wrongly," she says. "Neatness can project that you are organized and on top of things."
John, operations manager/executive assistant: "I always try to be upbeat and professional."
Maintaining a positive attitude is a must at John's office. Working for a small nonprofit that supports people with a chronic disease, he needs to be compassionate and patient, both toward people who call looking for help and his co-workers.
"When people call, they're often down and despondent, so you have to stay upbeat," he says. "You also need to be professional — sometimes people are frustrated when they call, and you need to try to calm them down and reassure them."
His efforts have paid off. John has received emails and letters describing the difference his help has made. "The first time that happened, I sent out an email letting my colleagues know and saying 'this is why I enjoy working here,'" he says. "It's a really supportive atmosphere — we all applaud each other's successes. It makes all the difference."
We asked members of the Staples InsidersNetwork to tell us: What best describes how others see you at work?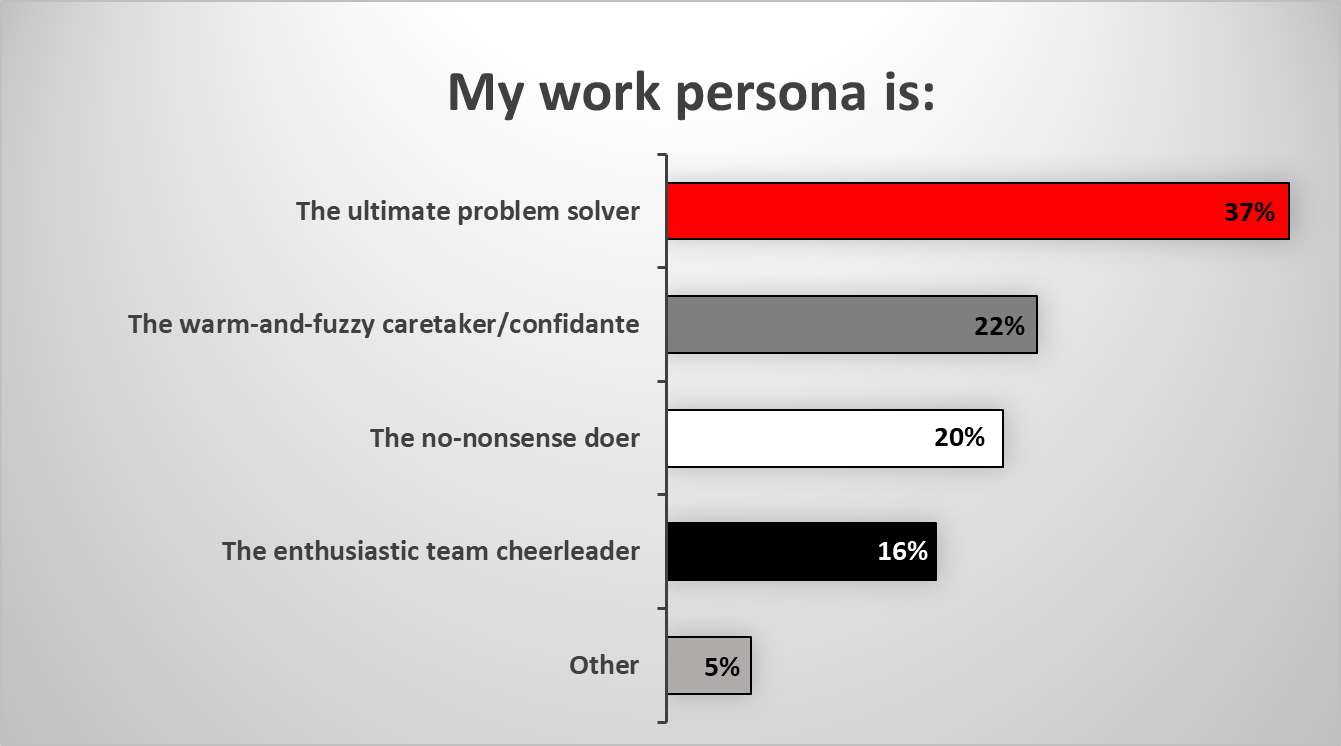 Caption: From troubleshooting to providing personal support, administrative professionals play an indispensable role in their workplaces.