Initiating conversations with strangers isn't always easy, even if you consider yourself outgoing. But making the effort can pay off in the form of helpful tips, introductions and professional opportunities.
We asked members of the Staples InsidersNetwork to tell us: What strategies do you use to get the most value from networking events?
Veronica, administrative assistant: "I don't like to be in big crowds of people I don't know well, so just getting myself to an event can feel like a big step. Once I'm there, I've found that if I smile at people, listen to them and offer what expertise I have in a non-judgmental, here's-how-I-can-help sort of way, people are friendly back."
Veronica acknowledges that it can be hard to fight the urge to formulate responses while others are still talking. Yet she's found that letting the conversation flow yields better results. "It's about meeting people where they are and figuring out how you can help each other," she says. "That creates a foundation for a positive, mutually beneficial relationship."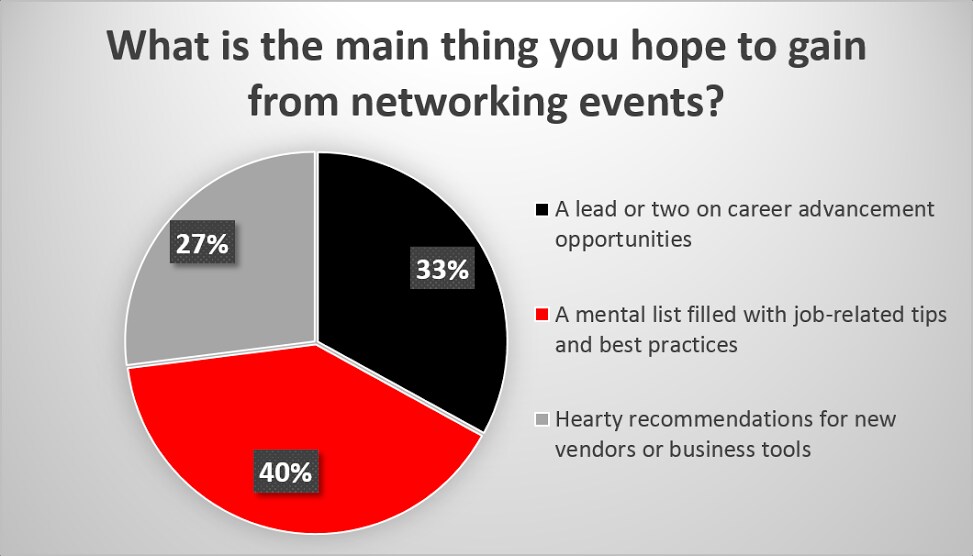 While some of your peers hope to find leads that will help them advance their careers, most seek out tips and recommendations that will help them in their current roles.
Source: Staples InsidersNetwork poll
Andrew, account director: "In this digitally connected age, it's easy to know who's going to what events. I decide in advance who I'd like to try to talk with; then, I use LinkedIn to find bits of information I can talk with them about, such as something specific about their company or an accolade they've received. This helps me to strike up a conversation in a natural way."
Mindful of people's hectic schedules, Andrew sometimes tries to make contact with those he'd like to talk with before an event. "I might say, 'I know you're going to be busy, but could we get coffee beforehand or at the lunch break?'" he says. "I'll schedule a specific time with them so that they know I'm not trying to monopolize their time. After all, they have sessions they want to see and people they want to talk with, too." Using this tactic also helps Andrew avoid the awkward step of trying to identify people in a crowded event hall or conference.
Tami, human resources specialist: "As I'm getting to know people at a conference or training event, I'll ask for their business card. Depending on what we're talking about, I might say, 'If I ever have a question, can I reach out to you?' After the event, I'll bring the cards back to the office and enter the contact information into my database."
Tami tries to build on new relationships by providing helpful information. "For example, if I come across an interesting article related to my field, I'll also send it out [to those new contacts] as an FYI," she says. "Sometimes, I receive articles, too, which is nice for keeping up with industry news and trends from other parts of the country." Tami has also started a listserv for connecting HR professionals. When someone on the list has a question, they can send it out to the group.