Office administrators often have inside knowledge that can make them highly effective at leading big initiatives. We asked three of your peers to describe their experiences in steering high-profile projects to successful conclusions.
Sue, operations assistant: "We recently barcoded our entire warehouse and product line. When the people in charge were dragging their feet, I stepped up and got things going."
Sue's company, a building materials supplier, recently overhauled its warehouse management system. It mapped out the warehouse space to show where every product was located, so that items would be easier to find and order fulfilment would become more accurate. The project may never have been completed if it weren't for Sue's initiative.
"Because the task was so daunting, the people assigned to it just weren't doing it," she says. "I started hearing that we were behind schedule. So I did some research to find out what exactly needed to get done, and told my manager that I wanted to help out."
Sue broke the project down into smaller, manageable steps. She delegated these tasks to her colleagues. "We took each product section in the warehouse — for example, siding, decking and plywood — and worked on that one section at a time," she says. The approach worked, and eight months later the project wrapped up successfully.
Taking the initiative has changed Sue's work life. "My branch manager is continuously thanking me for my leadership," she says. Her level of responsibility has increased, and she is now a lead person in monitoring the warehouse operations.
The experience has also changed Sue's perception of herself. "I never thought of myself as a leader before this," she says.
Kim, office manager: "I took responsibility for opening a brand-new office."
When the medical practice Kim worked for outgrew its space, she took on the project of helping to find a new one. Working with the practice administrator, she researched properties in the area and then consulted with the architects who would design the new building.
"We made all of the decisions regarding the interior and exterior design, including the layout, the flooring and the color scheme," Kim says.
Kim also organized the groundbreaking ceremony before construction began. She invited local government officials, the chamber of commerce and writers from the local newspaper.
"It was a great success," she says. "Working on the process from the beginning was very rewarding. It required using many skills that I hadn't originally been hired for. It was a great learning experience."
Susan, office manager: "I was asked to take on our well-being program. It takes a lot of work, but it has helped us earn an award and attract talent."
When Susan's boss decided to resurrect the wellness program at her company, she asked Susan to lead the effort. The first program had faltered, so Susan's first step was to decide what shape the new program would take to be more successful.
"I met with our insurance broker and other people to get an idea of what other companies were doing," Susan recalls. She also talked to her co-workers to find out what wellness issues matter most to them — for example, personal relationships, exercise or specific health issues. The new program started out small, with monthly meetings, informational emails and occasional guest speakers on different health and wellness topics. A year later, the company decided to expand the program.
"I put together a team of 10 people, which has allowed us to do more each month," she says. For instance, the company arranges "buddy lunches" — small groups of randomly assigned employees who eat together once a quarter — to build camaraderie. The company's holistic approach to wellness even helped it win a "best places to work" award last year.
We asked respondents to a recent Staples survey: What is your strongest leadership quality?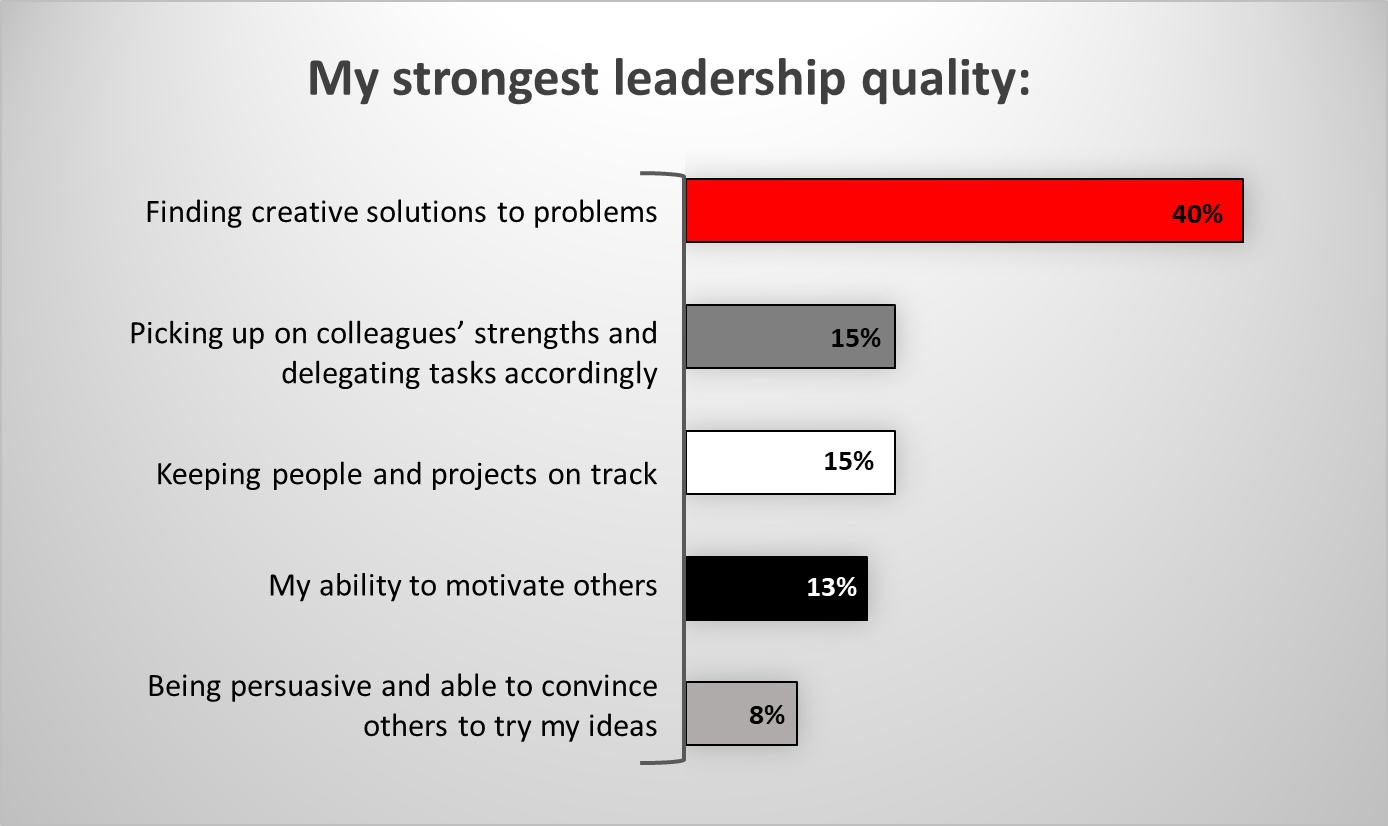 Caption: Administrative professionals possess many leadership traits, but pride themselves most on their problem-solving prowess.