The most successful administrative professionals continually seek information and advice that will help them do their jobs better. We asked members of the Staples InsidersNetwork to tell us:
How do you stay current on skills that help you in your role?
Myeshia, administrative assistant: "I participate in online communities."
To help her do her job better and faster, Myeshia crowdsources tips from her peers in online forums whenever she encounters roadblocks with certain software programs.
"Even though it's easy to find information online from the companies that make the software, it might not tell you exactly what you need to know," she says. "When you pose questions to the people who are actually using it, you'll often find someone who's run into the exact same issue."
One forum Myeshia is particularly active in links to a program she uses to manage her nonprofit's donor database. "There's a lot of functionality to the software, so it can get complicated," she says. "It's helpful that in the online community, I can post a screenshot of a problem I'm having, or even call other members."
Maryann, office manager: "I participate in a monthly roundtable."
On the first Thursday of each month, Maryann, who works at a manufacturing company, meets up with a small group of women who work in similar roles. They meet at a different member's company each month to swap tips and best practices and discuss common challenges.
"This month, we talked about a training program at one of the companies," she says. They've also discussed how to find funding for training programs and new software. Hiring also comes up: "If one of us recently interviewed someone who wasn't quite the right fit for her company, she'll share the information in case there's a need at another of the companies," she says.
Participating in the roundtable helps Maryann build her skills — and it's had other, unexpected benefits. A few months ago, she recalls, a roundtable member happened to share a crisis hotline phone number that the other women could share with their staff. "I posted it on our bulletin board, and a couple of people told me later that they used it," Maryann says. "It felt good to have made a difference."
Alice, office manager: "I check in with a mentor every few months."
Reading industry newsletters and following trends on social media help Alice stay current in her role. But what has been most valuable to her professional growth is the connection she has with a former boss, who has become an informal mentor.
"She was really interested in giving me feedback — for example, 'You're doing great, now here's six things you could be doing better, and here's how to do them,'" Alice recalls. The manager also encouraged Alice to stretch beyond her comfort zone by assigning and advising her through big projects, which built Alice's confidence.
Her mentor's generosity has shaped Alice's approach to managing employees. "I'd check in to make sure that they're doing what they like best, that they're growing professionally and that they have opportunities to try new things," she says.
Meanwhile, her mentor continues to give her guidance and advice. "The last time we met up, I mentioned I was thinking about requesting a change in my job title, since my current one doesn't really feel accurate," she said. "We discussed a few options and what might work best."
We asked members of the Staples InsidersNetwork to tell us: What best describes a job skills-related goal you have for 2019?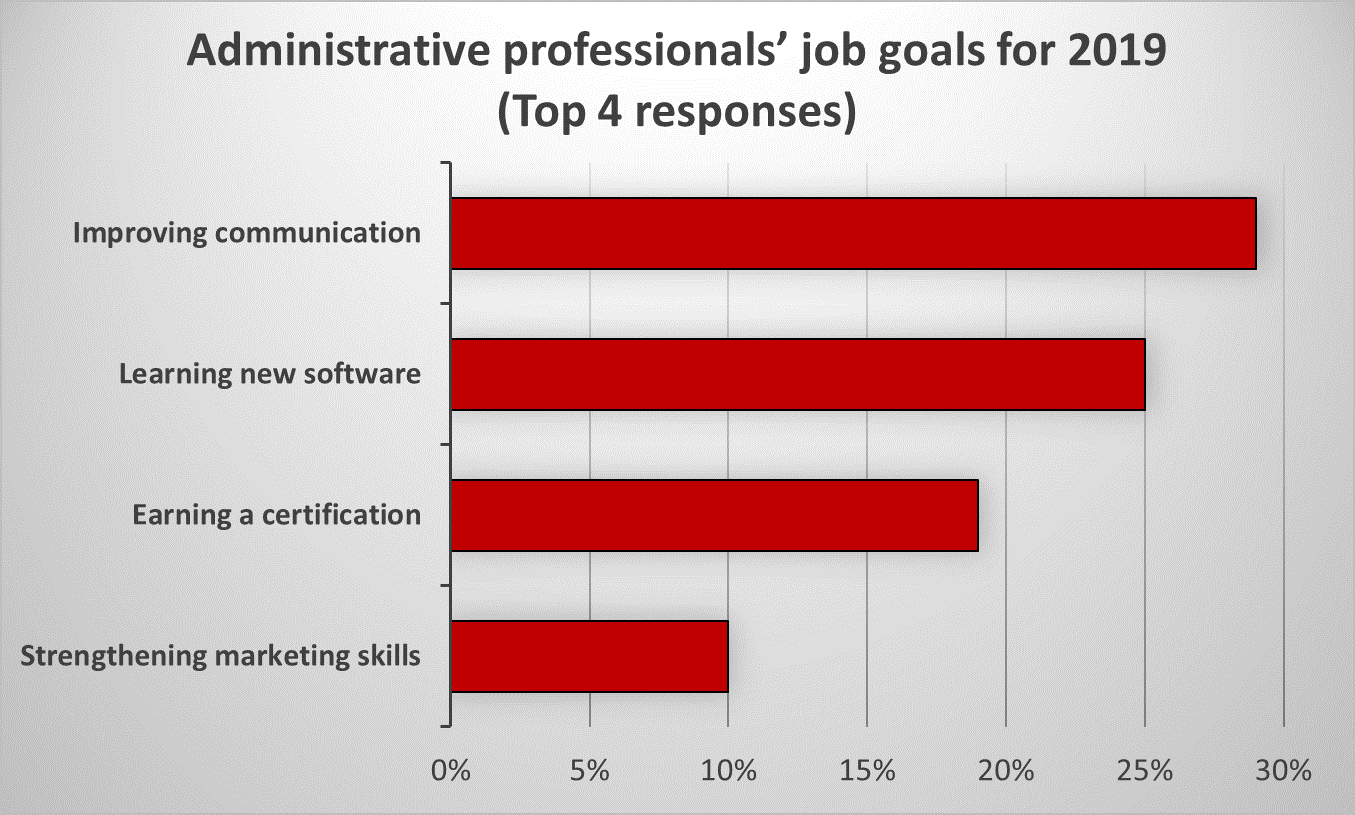 Administrative professionals are looking to improve a variety of aspects of their job performance and improve their prospects on the market in the new year.