When it comes to finding bargains, the search itself is only part of the battle. Choosing the best purchase option starts well before you sit down at your computer or pick up the phone to call your vendor. We asked office managers in a Staples survey:
What's your strategy for making the best buying decisions?
Susan, office manager: "Sometimes spending more is the best way to save."
Susan, who works at a wholesale florist, said her company chose a cheaper option when it bought office chairs a few years ago. But her colleagues were unhappy with what they got, and the company ended up buying new, higher quality chairs. "We should have done it right the first time," she says. In the end, it costs less to buy something that lasts longer and works better for your team.
Remember to do your research first: Ask your account reps a lot of questions and do a careful read of online reviews. That will also help you make a case to your boss for why it may be worthwhile to spend more on an item.
We asked respondents of a Staples survey to tell us: How important is the price tag when you're making purchases?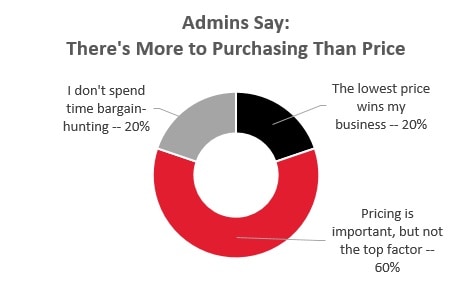 Sarah, HR coordinator: "Set up a spreadsheet to organize your purchasing list."
Sarah tracks her frequent purchases using a spreadsheet she organized by categories, such as breakroom needs and cleaning supplies. Each item entry includes links to vendors' product pages and notes the last price paid. When she needs to make a purchase, she references the item on her spreadsheet to quickly find information — that way, she doesn't have to start a fresh search every time she wants to do product research.
If you keep specific product, quantity and pricing information at your fingertips with a spreadsheet, it's easier to identify good deals that pop up. When a good price is offered by a supplier you don't usually use, you can call your account rep and ask if they can meet it.
Carolyn, parish administrator: "Tap your network for tips."
"People who want to save money tend to find each other," says Carolyn. For her, that includes colleagues, parishioners at the church where she works and even her dental hygienist, who dished out tips the last time Carolyn went in for a cleaning.
You'd be surprised what you can learn at the dentist's office — they might talk about rebate or coupon websites, new sources for bulk shopping or specific deals they've found. Ask people you meet where they shop and how they find good deals — bargain-hunters love to share their success stories.