The COVID-19 pandemic changed a ton about our world, particularly how people work. Employees in industries that don't always require in-person collaboration now expect remote work, and many companies have also adopted hybrid work models, which combine in-person and remote work.
Although much work now takes place online, many industries still use paper documents for daily work. Lawyers, real estate agents, and financial service workers still need documents such as affidavits, property deeds, and contracts in paper form, even when conducting business via video conferencing.
Many other industries also require physical documentation, making document management imperative, especially in environments where hybrid workers travel from home to work and back again throughout the week. All the back and forth makes it easy to misplace important documents or forget whether you left them at home or work. Documents may also need to be shared with other employees for collaboration purposes, necessitating that documents be well-organized and easily accessible to everyone involved.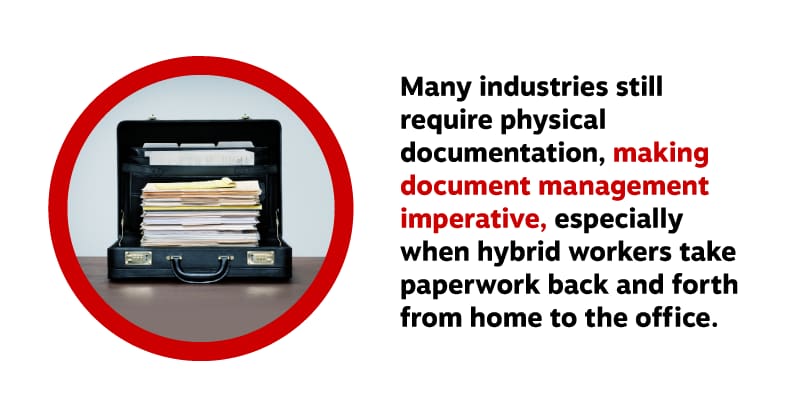 Businesses and hybrid workers can create office and home file organization systems to help the hybrid workplace function more smoothly. By addressing records and document management with file folder organization and labeling, you can keep important documents safe and ensure that they are easily accessible when you need them. What's more, you'll prevent piles of documents from accumulating on your desk — whether at work or home.
Here are four steps to organizing office files and documents in a hybrid workplace.
Step 1: Sort and File Documents by Type

To get started on organizing office paperwork, gather all of the documents you would like to sort and divide them by category and subcategory. Then, place these documents in their respective folders, tab folders, or nested folders. Your folder organization strategy can look like the following (bullet points represent file folders and sub-bullets represent tabs or nested folders):
Below are some tips on how to organize paper files at work and at home. Follow whichever tips work best for your specific needs.
Group documents together by project. Even if the documents included in this folder are not the same type, it can be beneficial to keep all documents related to a specific project together.
Sort documents alphabetically and chronologically. For even better organization, you can arrange your category and subcategory files and tabs alphabetically or by color to help you identify them more easily.
Choose category topics for folders and more narrow subcategories for folder tabs. Don't be afraid to be specific when deciding on these categories, as this helps you create a more detailed personal filing system that functions more smoothly.
Store the most critical files separately. It can be a pain to lose your most important, hard-to-replace documents. Consider storing them separately to prevent them from getting mixed up with other less important documents.

Step 2: Choose Your Filing System

Once you've sorted your documents, choose the filing systems that work for you. Most documents will need to be stored long-term in filing cabinets or boxes in your home or work office. However, some may also need to be carried from home to office and back again. The filing system you choose should be compatible with your work schedule and environment, and that may include the following options:
Consider an expandable accordion organizing folder if you don't have too many files needing storage and you often transport documents.
Go all-in with a sturdy file cabinet with plenty of room for every document you might have. This is an ideal option if you need to store files at home or at work for the long haul.
Choose smaller and more compact file storage options, like a plastic storage bin or cardboard box made to hold hanging files. This can be a good option if you have many documents that need to be transported to and from work.
For extra safety and security, opt for fire-resistant file cabinets.
Hanging file folders will most likely be the best way to file documents as they easily allow for customization and have plenty of space for more oversized items. You can use colored and labeled folder tabs inside the hanging file folders to differentiate your documents and find them easily.
Transport Safely

As a hybrid worker, you likely transport various documents containing sensitive information back and forth from home to office. Keeping paper documents safe is often as simple as keeping them within your sight at all times. Store them safely in their own folders in your bag, file tote, or briefcase so that you can easily identify them and avoid misplacing them. If you must transport a large number of sensitive documents, consider digitizing them and storing them on a USB drive that's safely stored in your bag.
Keep Sensitive Documents Secure

When storing and organizing important documents at home or work, take careful consideration. Contracts, private employee information, and legal documents should not fall into the hands of someone who does not have the necessary clearance. Be sure to use a lockable filing system to prevent this. Most file cabinets can be locked with a key; just be sure that the keys are only accessible by qualified personnel.
Be sure to also keep these documents in a safe place that's free from clutter, water, or anything else that may cause damage to your files or prevent you from being able to locate them. If you want to ensure they remain safe in the event of a flood, fire, or another emergency, consider storing these documents in a fireproof and waterproof safe, that you can quickly grab during an emergency.
Step 3: Dispose of Unnecessary Documents

A general rule of thumb for hybrid workers is when in doubt, throw it out. Only keep documents relevant to a work project or essential to your business. You can typically discard other documents to prevent clutter from building up in your office and remote workspace over time.
You can choose how to best dispose of these documents depending on the information they contain. Any paperwork that does not include personal or business information like bank account numbers can be recycled. As a hybrid worker, you don't want your company's confidential information loose around your remote workspace for non-employees to see, so paperwork with sensitive information is best shredded. You can do that yourself if you or your workplace has a shredder, or you can bring these documents to Staples to take advantage of our secure and confidential shredding and recycling services.
Step 4: Digitize Certain Documents

Digitization can be especially useful for organizing documents in hybrid work environments, as it allows you to transport documents from work to home and back again without having to lug around piles of paperwork. It also helps facilitate collaboration across teams and among colleagues.
You can digitize documents currently being used in projects, but you can also archive documents that are important, though no longer in use. If you want to keep certain items in your records but it's not essential to have physical copies of the documents, consider digitizing them. Scan these documents to your computer and transfer them to a USB drive or hard drive kept with your filed documents. If your workplace operates using a cloud-based storage system, you can also keep your digitized documents there.
Maintaining Your Document Organization
Create a space in your home or office to deposit all new documents that need to be sorted and filed. A simple paper tray on your desk can be especially helpful. If you want to get even more detailed, you can use three separate boxes or trays and label each one:

Make sure to tackle this space regularly, such as once a week, so documents don't pile up and put you back where you started.
Get the Tools for Ultimate Hybrid Workplace Organization
Your work documents — especially those you're keeping for the long haul — are important to keep safe. Now that you know how to organize documents, you can use quality organization filing storage and accessories to keep your documents out of harm's way, so you have them on hand whenever you need them, whether you're working from home or the office. Turn to Staples for all your hybrid workplace document organization needs.