Considering their costly monthly cable bills, as well as the ever-increasing amount of binge worthy content available on streaming services, people are asking: Is it time to cut the cord and cancel subscriptions?
Due to the massive surge in TV consumption during quarantine, Netflix® raked in 10 million new paid subscribers in Q2 2020, crushing their forecast of 7.5 million new paid subscribers. Meanwhile, Fortune® reports that five of the largest cable TV providers, including Comcast® and AT&T®, lost a collective 1.6 million subscribers in Q1.
So while the numbers suggest that the future of cable looks bleak, Staples® went straight to the source, surveying 1,000 consumers across varying age ranges in the U.S. to determine if the masses are predominantly streaming, watching cable, or doing both.
The survey's questions revolved around the following concepts:
Would consumers cancel a cable/satellite TV subscription for certain streaming services?
Which channels incentivize consumers to continue paying for a cable/satellite TV subscription?
What are consumers paying per month for streaming and cable/satellite TV subscriptions?
How has TV consumption changed as a result of COVID-19?
Are Consumers Primarily Streaming or Watching Cable TV in 2020?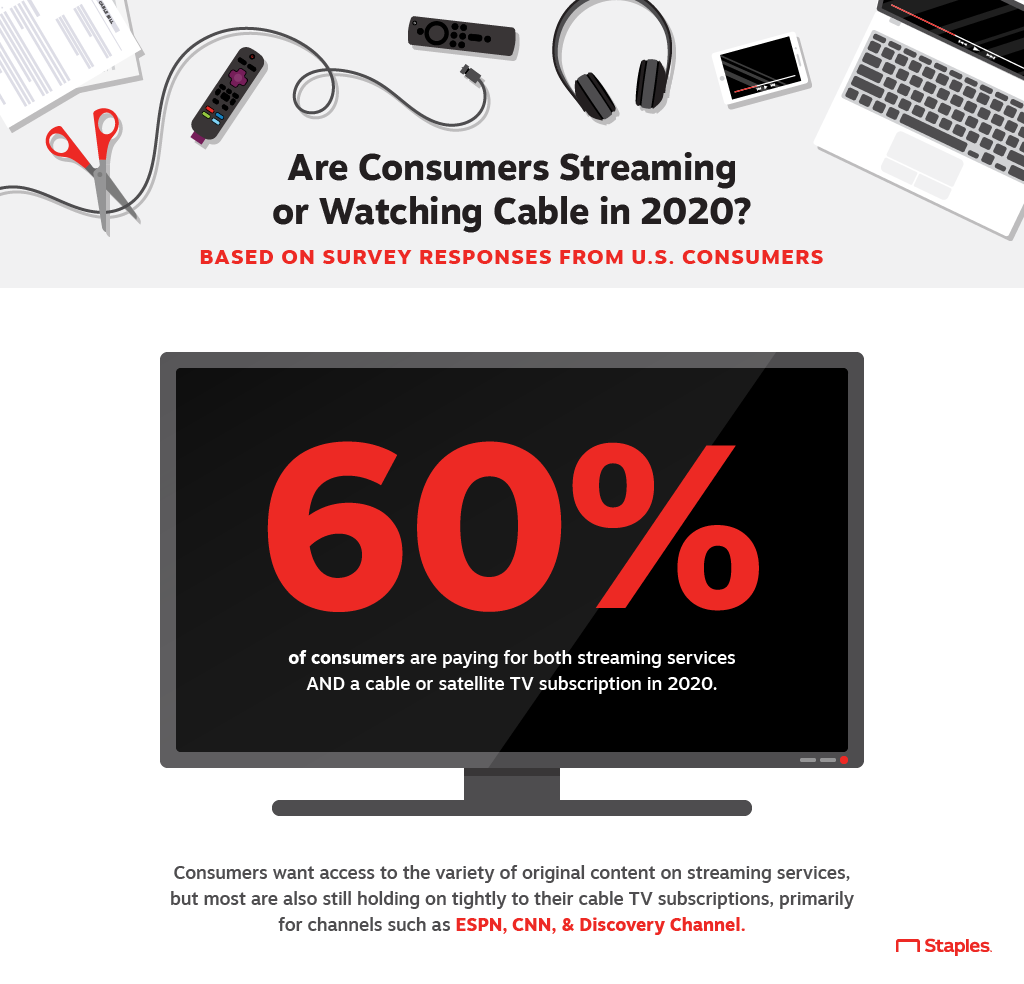 The survey results show that 60% of survey respondents are paying for both a cable or satellite TV subscription and one or more streaming services like Netflix, Hulu®, or Prime Video®. When asked about which cable TV channels would be hard to live without, Discovery Channel®, ESPN®, CNN®, and FX® -- channels with specialized content -- were all top responses.
Consumers are not inclined to limit their options for entertainment just yet – especially not during a pandemic when, even after shelter-in-place mandates have been lifted, many people still make the active choice to stay indoors and watch TV, according to a recent Nielsen™ report.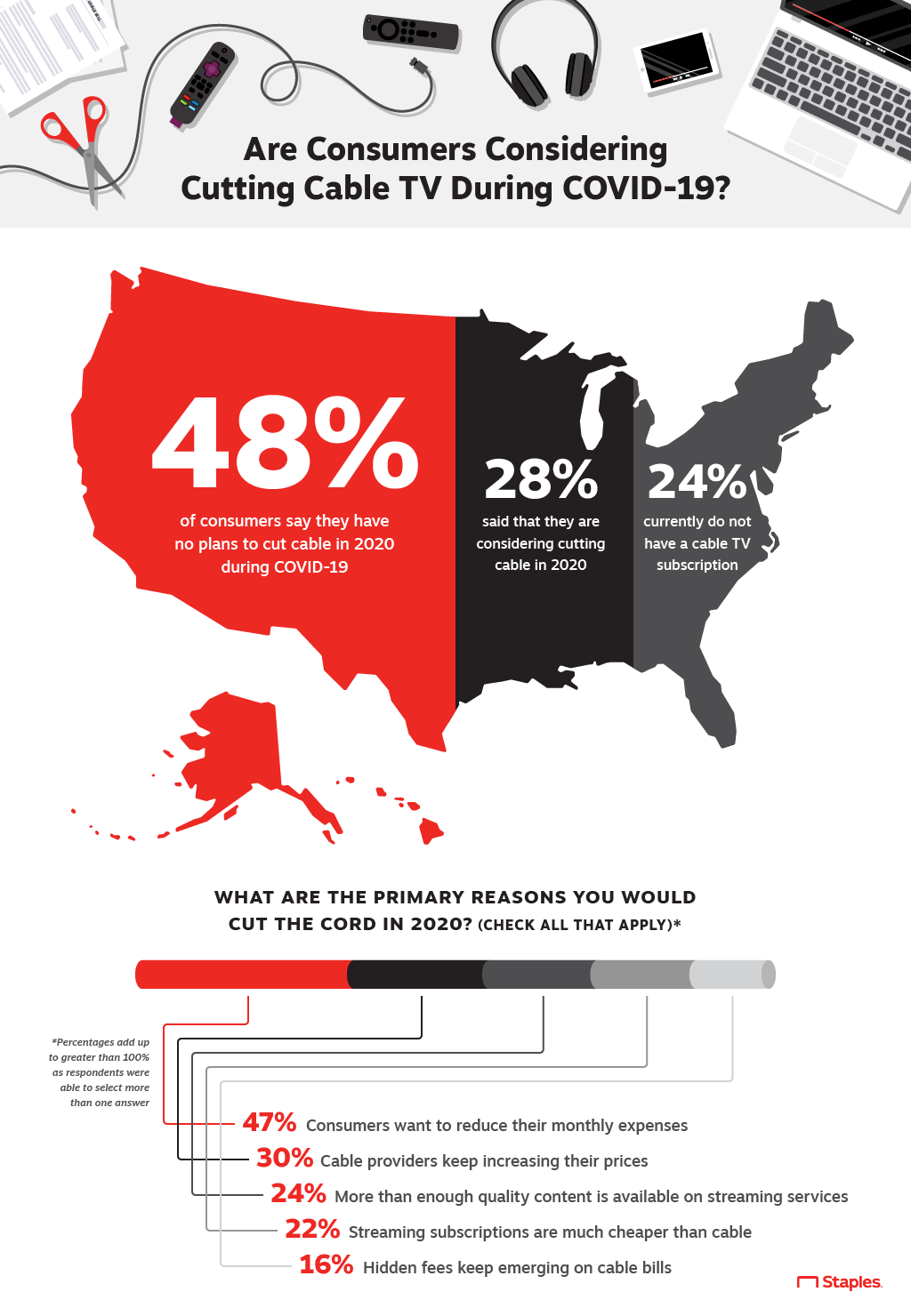 What are the primary reasons consumers already have or would consider cutting the cord? The results are clear. Cost is the biggest factor: 47% of respondents wish to reduce their monthly expenses and 30% say that cable TV providers continue to increase their prices. Furthermore, 24% say that there is enough quality content available on streaming services now, which makes sense given that Netflix has a 17.3 billion dollar budget for original content in 2020, and services like Hulu give you access to a whole slew of cable channels in addition to their original content.
Streaming Habits by Generation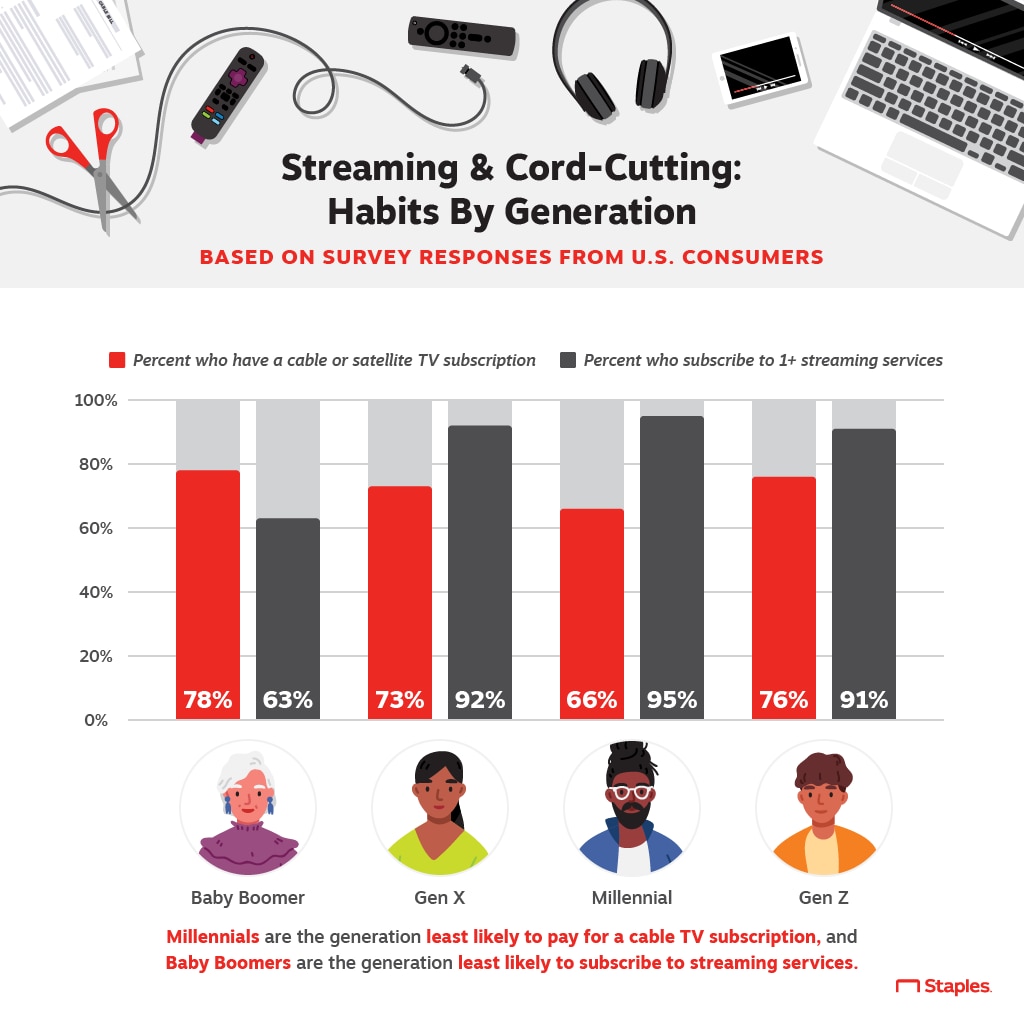 Are younger generations swapping out cable and satellite service for streaming media players like Roku® and Amazon Fire® TV? According to the survey results, Millennials are the generation least likely to pay for a cable TV subscription, but the majority of Millennial respondents (66%) still pay for one. Certain cable TV channels like HGTV® and Bravo® still have devoted Millennial followings, according to Yahoo!® Finance.
Surprisingly, over 60% of Baby Boomers subscribe to one or more streaming services. Though the 60+ generation continues to be a legacy customer base for cable and satellite TV providers, Baby Boomers want in on the streaming action and are joining the growing population of COVID-19 binge-watchers.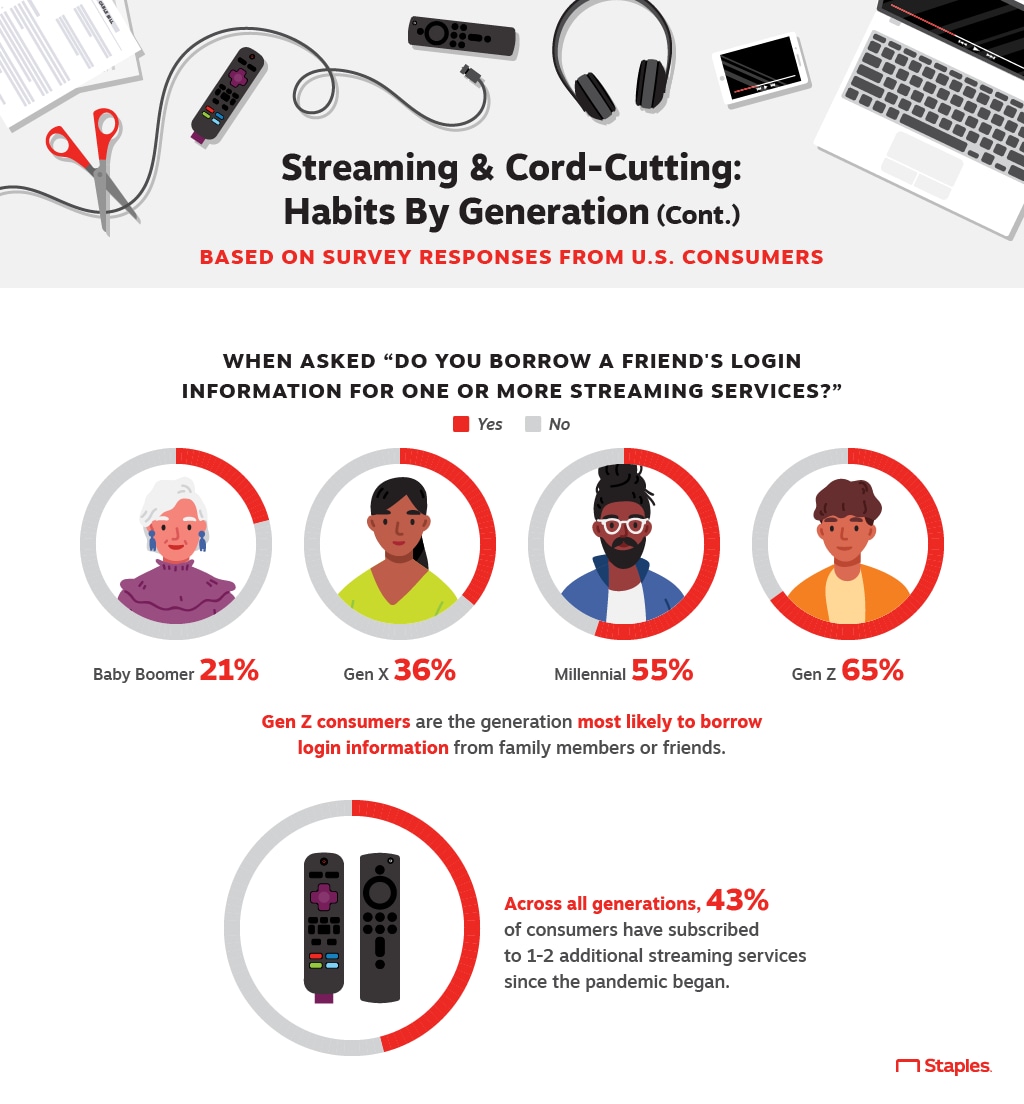 In terms of Gen Z consumers, 65% of them have borrowed login information from a family member or friend for at least one streaming service and 24% of them have borrowed login information for as many as three to four streaming services. In some cases, Gen Z cord-cutters are sharing their Netflix and HBO® passwords with their parents in exchange for their parents' PBS® or New York Times® logins. Widespread password sharing will continue to occur in the future as families and friends craft ways to access the most content at the lowest cost.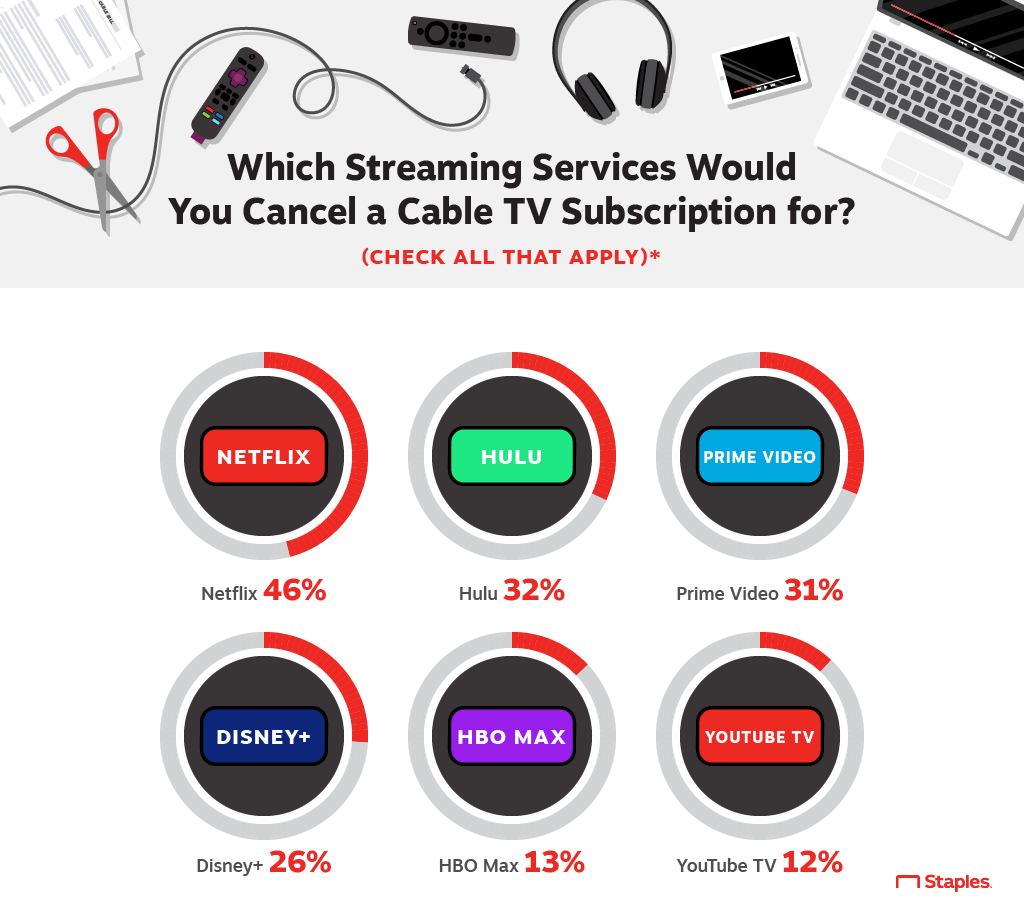 When asking respondents which streaming services they would cancel a cable TV subscription for, Netflix (46%), Hulu (32%), Prime Video (31%), and Disney+™ (26%) were the frontrunners. Services like HBO Max®, YouTube TV™, and AppleTV+™ are deemed nice-to-have by respondents, but not enough to warrant canceling a cable TV subscription altogether.
What Are Consumers Paying per Month to Watch TV & Movies?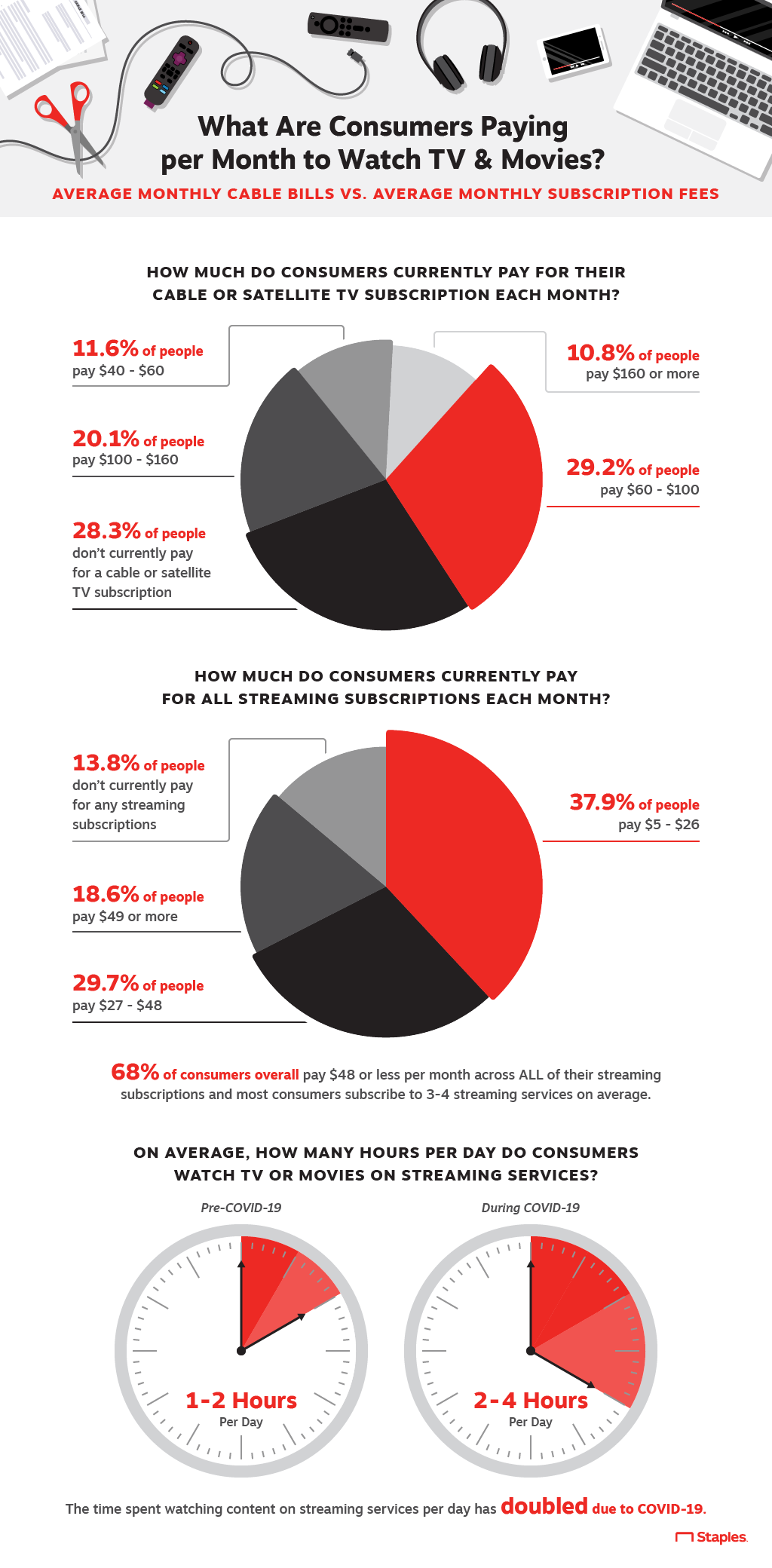 The survey uncovered what consumers are paying per month for their average monthly cable bills and their average monthly streaming subscription fees. In terms of cable, almost 50% of respondents pay $60 to $160 on their monthly cable bills, while 11% pay $160 or more. Of all generations, Baby Boomers are the ones most likely to pay $130 and up for their monthly cable TV subscription. Alternatively, 68% of respondents pay $48 or less per month across all their streaming subscriptions (three to four streaming services on average).
Monthly cost savings from switching to streaming from cable TV amount to 20% or more per month, which begs the questions: "Is it worth it to pay between $60 and $160 for a cable TV subscription where I only watch a handful of the channels consistently? Especially when I could pay under $50 per month for four different streaming services?" This thought process (along with some soul searching and research) is what's currently contributing to the growing subscription economy and the wave of cord-cutting happening across the U.S. in recent years.
How Has TV Consumption Changed as a Result of COVID-19?
Has COVID-19 had a significant impact on the time we spend watching TV per day? Respondents say yes, it has. Results show that time spent consuming content on streaming services per day has doubled due to COVID-19. In fact, 3.3 in every 10 Gen Z consumers have watched four or more hours of content per day on streaming services during the pandemic. These findings make sense given that many people, including remote workers and students, are spending exponentially more time at home during the pandemic's new normal.
Ultimately, while cord-cutting is occurring by the millions around the U.S., with 6.6 million households predicted to cancel cable in 2020, the majority of viewers are subscribing to streaming services while also holding on to cable for easy access to live sports, news, and pop-culture programming like HGTV & Bravo. Consumers aren't ready to make the choice just yet between Sunday football on cable or bingeing an entire season of Stranger Things on Netflix. They want the best of both worlds.
This survey was conducted August 20 - 21, 2020.
© 2020 Staples, Inc. All Rights Reserved. Staples and the Staples Logo are trademarks of Staples, Inc. in the United States and/or other countries. All other trademarks are property of their respective owners.