The fact that most workplaces are moving back to in-person attendance doesn't mean times of change are over, or that upheavals and adjustments are behind us. Some companies are completely changing their workplace models, opting for hybrid workplaces that permanently accept both remote and in-person work. This is a significant professional landscape change that will continue to impact the workplace, its culture, the tools we use, and the ways we connect and communicate.
As a decision-maker at your business, what can you do to effectively manage your team members when they're in different locations? It's especially important now to ensure that, while your team isn't in the same place, they're at least on the same page. In this article, you'll learn how to navigate this time of continued evolution, and how to mitigate potential fallout.
Defining the Hybrid Workplace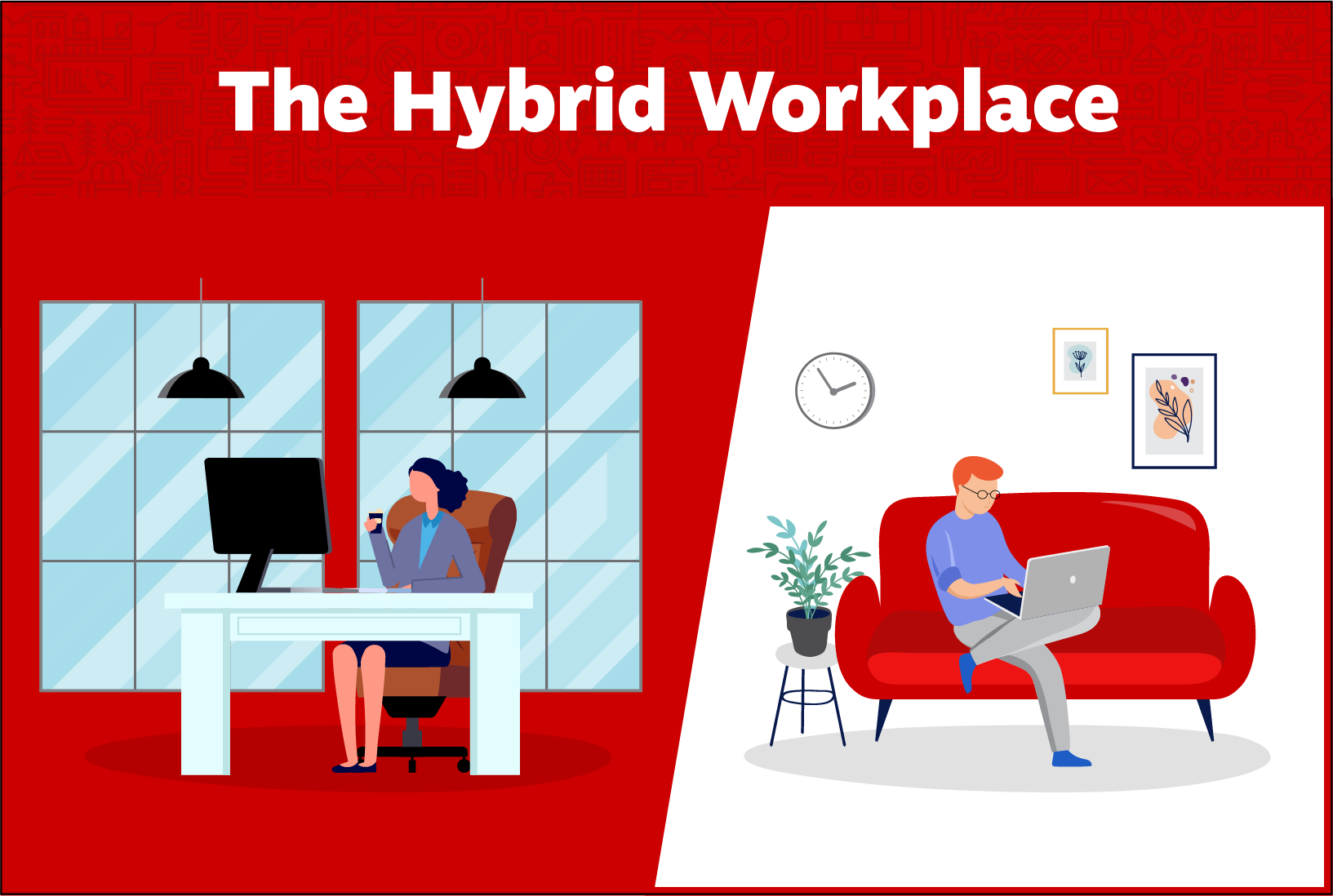 When businesses launch major transformations in company structure or policy, they must be strategic in the way they manage those changes. Whether they're changing to gain a leg up on the competition or to keep up with the latest technological trends, successful workplace change depends on whether employees feel empowered or mandated. If all things go well, organizations quickly adapt to the changes and enjoy positive results. If not, employees may feel alienated and resentful — or worse still, they could actively resist changes.
One of the most significant changes businesses have had to make is shifting to hybrid work models due to the effects of the COVID-19 pandemic. A hybrid workplace model combines in-person and remote work, with some employees working from home or other locations, and others working in the office. Some employees choose combinations of these two models by working from home a couple days a week, and spending the other days in the office.
While the hybrid model can be a drastic change for companies used to all in-person work, it may be an eventuality for most businesses. In fact, a Work Trend Index study found that 73% of employees want permanent flexible remote work options.

Even the world's top companies have adopted the hybrid work model. Google is testing the "flexible work week," where employees come into the office three days a week for collaboration, and work remotely for the rest of the week. Apple is also opting for three-day in-office work weeks, while Microsoft is assuming a standard of 50% at-home work. All of these companies approached the changes by devising new policies and procedures for their disparate workforce.
Bringing the Hybrid Model to Your Workplace
During the COVID-19 pandemic, your business may have been forced to pivot to hybrid work for the first time ever. If your company is learning how to manage the changes that come with a hybrid work model, it's important that you keep your employees' interests at the forefront of your decision-making. It's tempting to treat a hybrid work environment exactly the same as a traditional office environment in an effort to get "back to normal." But doing so is counterproductive as you operate against a new normal.
Hybrid work environments are most likely here to stay, leaving businesses to handle the unique challenges that come with a workforce that's divided between the office and somewhere else. Almost everything is different, and your change management strategies should reflect that. A study from Avaya found that 56% of employees believe that hybrid work has the ability to improve their well-being.

You can ensure that happens by rolling the plan out successfully, and keeping employees in the loop as everyone adapts to the changes.
To prevent fallout, companies should focus on the following steps when managing organizational change:
Clearly communicate with employees on what the changes are and why they're happening.
Be transparent about how these changes will affect the business or particular employees.
Communicate the timeline for the changes, and stay open to feedback.
Provide regular training and support on said changes.
Once you've put these strategies in place, it's important to be mindful of certain challenges that are exclusive to the hybrid workplace. Below are typical challenges you may encounter when managing a hybrid workforce, and their solutions.
Challenge: Remote Employees Feel Excluded
In the office, connections often happen by chance. Employees bump into each other while walking down the hallway and strike up a conversation about their latest Netflix obsession. But with hybrid work, those "watercooler chats" have all but disappeared. If they are to happen, chats like this now need to be scheduled, leaving much less room for spontaneity.
Meanwhile, in hybrid meetings in the workplace, workers are finding it difficult to have their voices heard. The same Work Trend Index study found that 12% of millennials and 16% of generation Z employees struggle to get a word in during conference calls and meetings.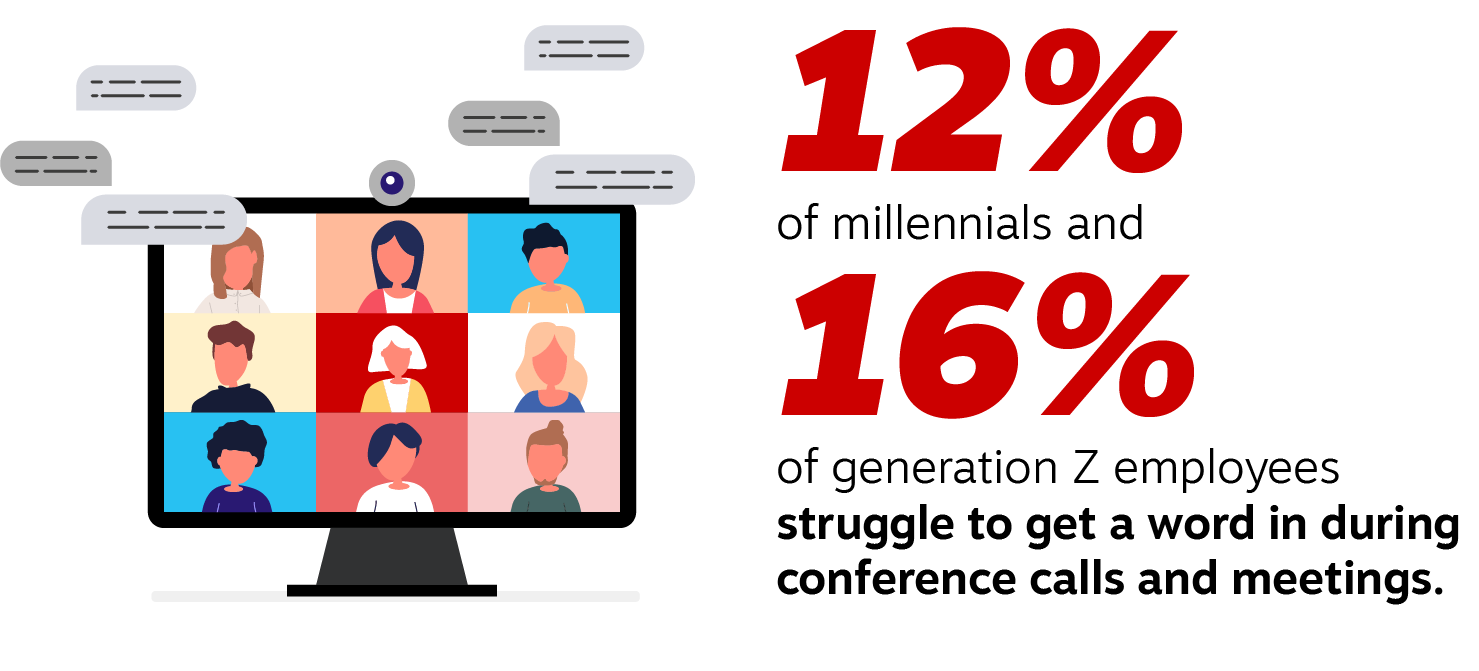 Without impromptu conversations and in-person meetings, it's easy for workers to feel disconnected from their colleagues and the company itself.
Solution: Focus on Accessibility for Both In-Person and Remote Workers
On any given day, you'll likely have a certain percentage of your workforce working remotely, while the other works from the office — and your culture should be open to that possibility. When schedules are constantly changing, it's smart to have some consistency and stability in place to help your employees feel like they're part of a team and a company.
Hold meetings at a set time each week and make sure your employees know they're expected to join. Of course, be open to flexibility in the future, but keep those hours open to allow for connection and collaboration. When setting up meetings, be sure to include everyone. For example, if two team members are working from their homes and three are in the office during a meeting, start a video call in the office and project your screen to make sure no one is left out.
To further foster connection, make sure each employee can offer their opinion on how to best come together. Decide when and how you will communicate with each other and hold them accountable to those expectations. Consider the following:
Additionally, talk to employees to gain a clear understanding of their work plans. Find out the hours that employees plan to be online, which days they will be in the office, and which days they will be working remotely.
Challenge: Culture is Compromised
A company's culture — often determined by management, workplace practices, attitudes, and values — helps a business stand out. It boosts employee morale, encourages engagement, and helps get everyone through tough times and busy periods. But company culture is also sensitive, and can be greatly impacted by even the smallest of changes. Adopting a hybrid workplace is not a small change, and it's sure to have a monumental impact on culture. Workers may feel isolated, burnt out by constant virtual meetings, and unable to achieve work-life balance — all of which put a strain on company culture.
Solution: Prioritize In-Person and Virtual Fun
When much of work takes place remotely, there are less opportunities for laughter and levity. Get to know your colleagues by setting up opportunities to foster connection. At this point Zoom happy hours might be exhausting, but you can still meet virtually or in person to chat or even play games. If a holiday is coming up, plan an in-office or virtual party that includes both in-person and remote workers. If workers are able to meet up face-to-face, schedule a lunch to put work aside and talk about life.
If you're managing an entire workplace, you can also create in-office or off-site company-wide activities to encourage connection and engagement. When you prioritize fun and relaxation, employees have the chance to let loose and create lasting bonds.
Challenge: One Set of Office Supplies for Two Workspaces
A significant challenge of a hybrid work model is logistics. Do employees who work from the office three days a week need two sets of office supplies? Do your remote-only employees have an adequate setup at home that includes everything in-person workers might have? While some employees may be able to work using just their laptops, others may need desktop computers and second monitors.
Until this issue is ironed out, your team might be hauling these bulky items to and from the office many times a week. Doing so is inconvenient, and workers end up spending several minutes setting up monitors and settling into their spaces each day.
Solution: Allow for Seamless Transitions
If you want your employees to be set up for hybrid work success, make sure they have all the tools and supplies they need. As many workers will be moving from home to office on various days, try to make the transitions seamless. That could mean giving each employee two sets of basic desk supplies and permitting them to keep one set at home, and the other at work. That way, they only need to bring their laptop with them from place to place. Some common workplace supplies include:
You could also create policies for how many people are in the office at one time, and provide desk supply kits for individual use in the office. Another option is to reimburse employees for the money they spend on work-from-home supplies. Whatever you choose to do, be sure to keep a detailed record of the supplies each employee has — and whether they're set up in the office or at workers' homes — in case anything goes missing or needs replacing.
Challenge: Burnout and Virtual Fatigue
Digital distractions, increased virtualization, and the expectation to always be online can cause fatigue and concentration difficulties — often referred to as "Zoom fatigue" — in hybrid work employees. If these issues run rampant, employees can easily experience burnout, leading to diminished productivity, heightened stress levels, and a negative outlook on their workplace.
But in a hybrid environment, it's tricky to catch burnout before it happens. It's possible that you and your employees only see each other in person once or twice a week due to your differing schedules. If this goes unchecked for long enough, you have less visibility into who may be struggling, which can affect your employees' satisfaction in the hybrid workplace.
Solution: Check in Regularly
If an employee is withdrawing on video calls or staying silent in chats or meetings, they could be feeling stressed and overwhelmed. This is your chance to offer support before burnout begins affecting productivity. Regularly check in with your colleagues individually to see how they're doing, and be prepared to offer solutions like taking work off their plate or helping them schedule time off.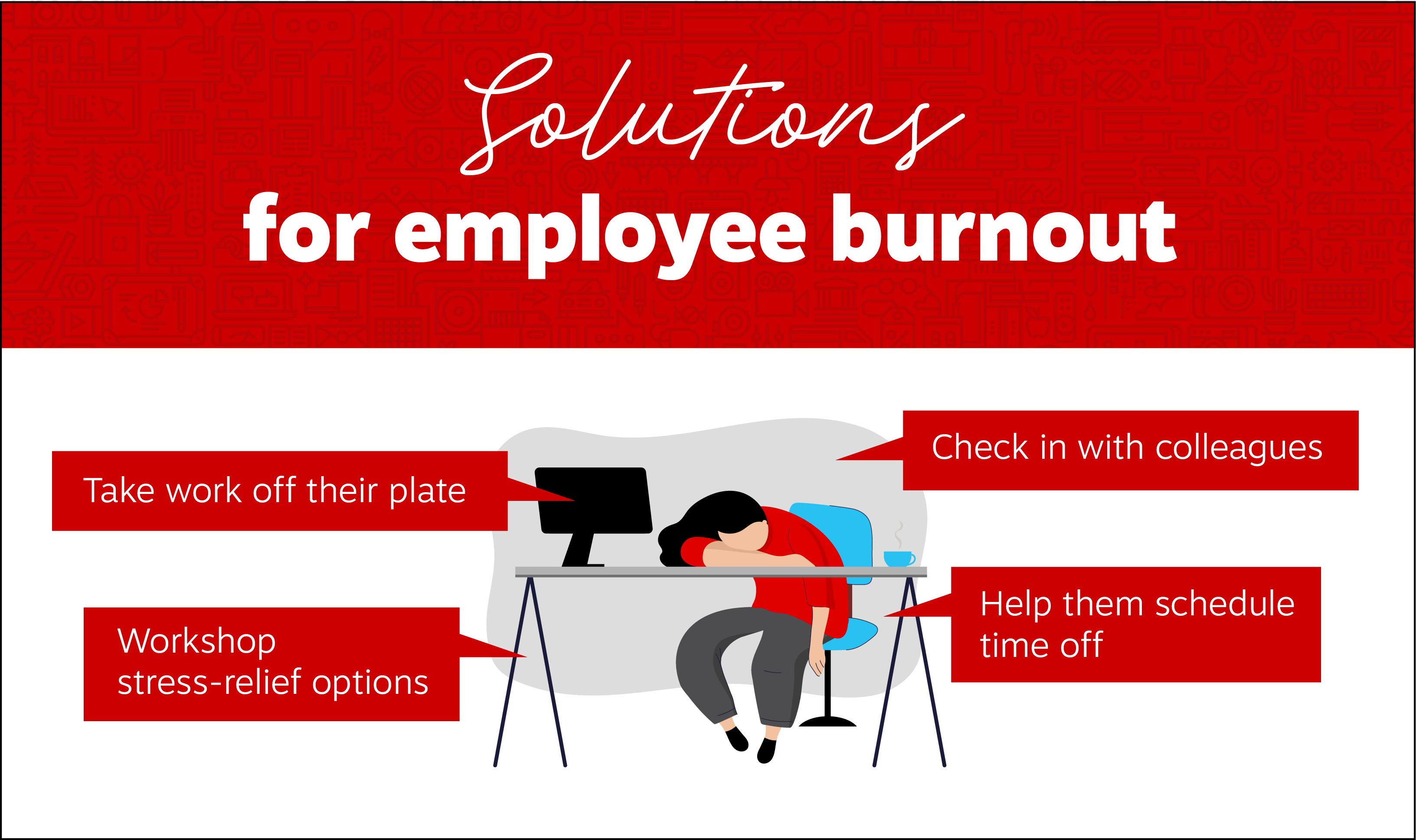 If employees are feeling overwhelmed with increased virtualization of their work lives, you can also encourage them to set boundaries. This can include unplugging for a certain amount of time during the day, allowing them to focus on their tasks without being interrupted by chat messages and requests.
Under a hybrid workplace model, businesses have the chance to experiment and find what works best for them. It's an exciting time of change, so be adaptable and open to what comes your way. Though you'll undoubtedly encounter challenges along your path, they don't have to be complete roadblocks. When you focus on the people who make up your hybrid workplace, you'll be better prepared to handle any changes that might arise — while supporting your business goals and keeping your workforce happy in the long run.