In some ways, meetings during the pandemic's early days were the easy ones. With all office workers suddenly working from home, everybody struggled on a level playing field of unfamiliar videoconferencing technologies, unreliable internet and kitchen table workspaces. But now meetings include those working from home or other remote locations, as well as employees who are joining from a high-tech conference room back at the office. Here are some ways managers can lead meetings that make everyone, including remote attendees, feel like part of the team.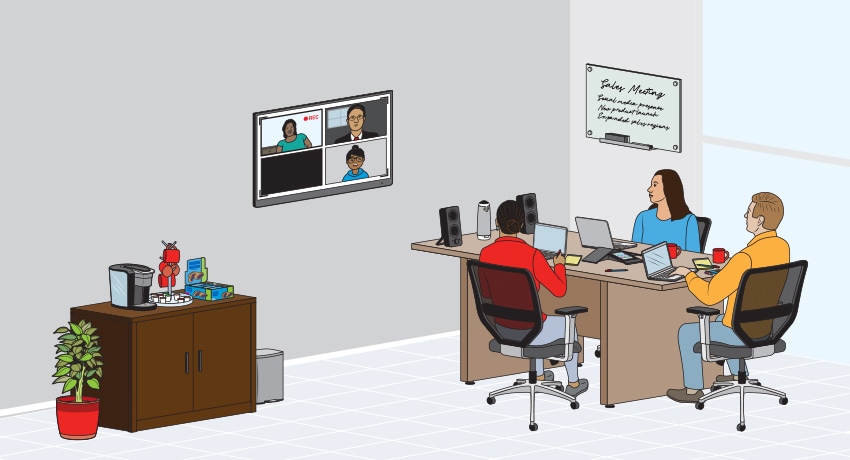 Give virtual workers the first chance to speak.
Make them feel like a necessary part of the meeting rather than an after-thought.
Don't shame anyone for having their camera off.
Be respectful of how each person wants to participate. In fact, you could give everyone a break and institute blackout days, when no one should join meetings with video.
Have fun—and address video chat fatigue.
Pragli, a free tool, shows participants as cartoon avatars that actually move, smile and speak. Participants won't feel so on display, and those in the office will never see that messy room in the background.
Get a good webcam.
The camera and microphone that come with your laptop or monitor aren't ideal for hybrid meetings, says Zane Carroll, director of product development at Staples Technology Solutions. People meeting in the office can use a 360-degree webcam, like one from Owl Labs, that automatically shifts focus on different people when they speak.
Take roll call.
Have attendees announce them-selves—that way no one has to guess the identity of a black square or a phone number.
Commit to one platform.
If remote workers are scheduling videoconferences in Zoom while in-office workers use Google Meet or Microsoft Teams, productivity will be affected, Carroll says. Using one platform across the organization simplifies training and collaboration and makes your meetings go smoother.
Take advantage of cool features.
• Collaborate using your tool's electronic whiteboards, rather than a physical white - board not everyone can see.
• Use a poll function to quickly get every - one's opinion.
• Record and share the meeting with people who can't attend.
Illustrations by Colin Hayes