As one of the fastest-growing school districts in Missouri, Wentzville is under pressure to adopt new ways of learning to provide a cutting-edge experience for its students.
Classroom tech must be flexible, says Greg Lawrence, the school district's director of technology, not only to facilitate learning experiences but also to allow for social distancing in the classroom and to support remote learning.
Even prior to the pandemic, Wentzville's educators needed to accommodate diverse learners across 19 schools that serve more than 17,300 students and 1,200 teachers. So in 2019, the district began a project to find new technology to provide a learning environment that could adapt on the fly.
New Schools of Thought
The project was born out of discussions with teachers and tech­nology staff about the next generation of learning tools.
"Our teachers don't always want to be at the front of the room. They don't always want to have their students in rows facing the front," Lawrence says. "The environment literally changes period to period." One hour you could have two teach­ers in a classroom; the next, just one. Previous technology constrained classroom layouts.
"We used to say technology dictated how the classroom was set up," Lawrence says. "The smartboard was on this wall. Your computer had connections on a specific wall. As a teacher, you didn't have a choice."
Staples stepped in to help refine the district's vision, providing connections to companies like Samsung and MooreCo, to let educators test technologies before commit­ting to specific systems.
Roll With It
Wentzville worked with the Staples team to help create over 200 customized learning carts. Containing 65-inch flat-panel screens and network infrastructure for connect­ing personal devices such as laptops and iPads, the carts provide teachers with mobile, versatile systems for educa­tional technology.
The carts can be moved around the classroom to allow more students to see what's on the screen, into the hallway to make more space, to the gym for faculty meetings and even outdoors.
"What's great is that we're able to provide this real-time, adaptable environment so the teacher has the right tool at the right time," Lawrence says.
The flexibility allows Wentzville's staff to work in groups both large and small. Teachers can now share videos, docu­ments, websites and even students' work.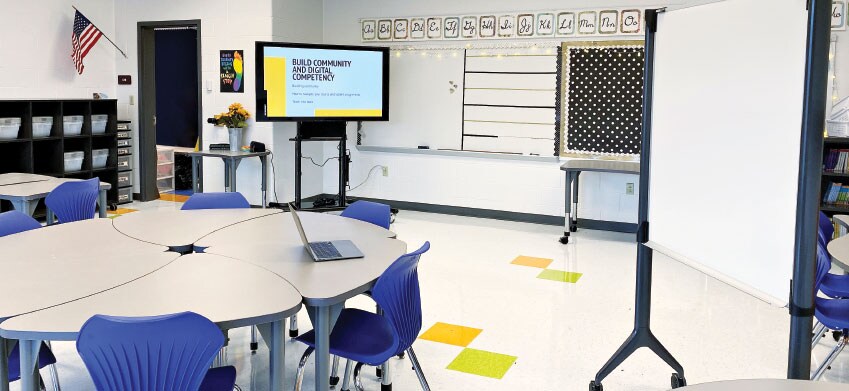 When the COVID-19 pandemic called into question the safety of traditional classroom layouts, Wentzville schools were prepared to adapt. "We were already trying to create a flexible space before the pandemic and governmental guidelines indicated that we need to be socially distant," Lawrence says.
This fall, Wentzville schools resumed classes in a blended learning environment in which half of the class attends in-person instruction two days a week and all students attend virtually three days a week. Teachers have the option to use the carts to video conference with remote students.
"We keep saying 'virtual learning' or 'remote learning,'" Lawrence says. "But I think the reality is that we're in a flexible learning state right now. We're allowing students to learn from anywhere."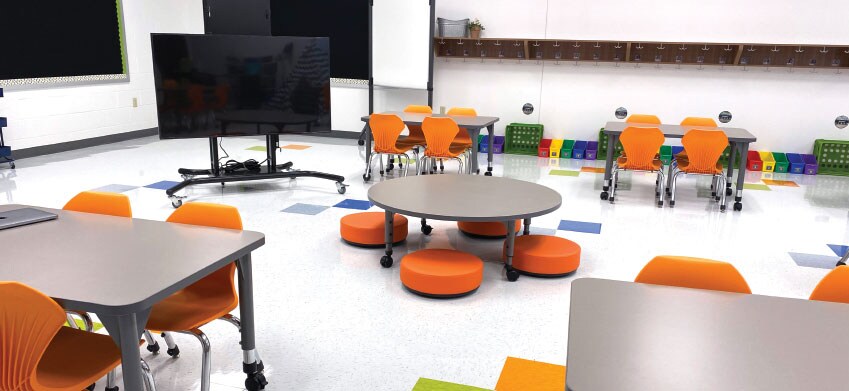 Teaching Moments
With 220 classrooms now outfitted with the new technology, Wentzville plans to roll out the carts to the rest of its schools in the coming years.
"What's cool about this whole process is it's been about the students. It's been about our teachers. And it's about creating amazing learning environments," Lawrence says.
Photo courtesy of Wentzville School District