The COVID-19 pandemic has pressed students and teachers to create new ways of learning in real-time, with online education becoming the new norm from coast-to-coast. The world of remote learning is uncharted territory for most students, teachers, and parents alike – one in which they must navigate virtual classrooms, resource inequities, and new techniques for keeping students engaged. This new system includes a fair amount of unforeseen challenges and benefits.
Remote learning has not been a widely accepted experience for all. Rather, it's been one filled with mixed emotions. While some students have thrived, enjoying the benefits of flexible learning schedules, others have struggled with less face-to-face interaction with their peers and teachers. The same applies to parents. Parents are basking in the extra quality time with their children, but they are also juggling their own work lives while overseeing their children's education at home, which is no small feat.
Since kids are returning to school and staff are preparing schools for a healthy and safe reopening part-time, Staples explored the collective sentiments regarding remote learning by surveying 1,000 parents of school-aged children, K-12, across the U.S. The survey ran from July 15th through July 17th, 2020. We had parents weigh in about everything from work-life balance, devices, and school supplies to the cadence of Zoom calls and which in-school experiences their children miss most.
Pros & Cons of Remote Learning
Parents see flexibility of schedule and work pace as the biggest benefits of remote learning for their children.
When asked about the biggest benefits of remote learning, 36% of parents see "flexibility of schedule" as the biggest advantage to online learning. Schedules can be tailored to ensure students are learning at the best times for them. Remote learning also allows for more nimble schedules in terms of eating, getting adequate sleep, and avoiding long commutes.
Furthermore, 23% of parents see "flexibility of work pace" as the primary benefit, considering their children can digest course material at a rate that corresponds to their individual needs. "More quality time spent at home with family" is listed as a benefit most often by primary school parents (kindergarten through 2nd grade), while "fewer disruptions in the learning environment and distractions from other students" is listed as a benefit most often by high school parents.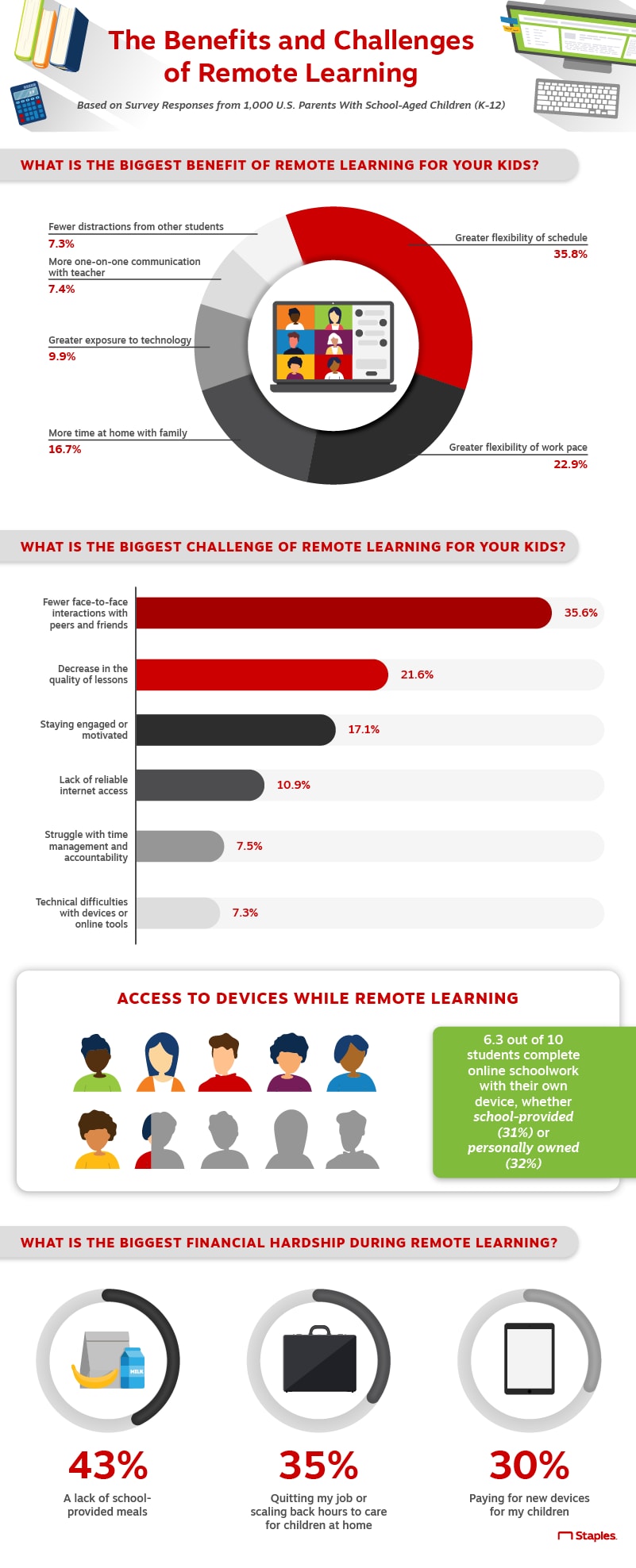 A loss of group learning and fewer face-to-face interactions with teachers and friends is seen as the largest setback of remote learning by parents.
When asked about the biggest challenges of remote learning, 36% of parents see "fewer in-person interactions with peers and friends" as the largest drawback. Other universal challenges are "experiencing a decrease in the quality of lessons due to a lack of in-person learning" (22%) and "staying engaged or motivated due to a lack of in-person learning." As a result, teachers are beefing up their lesson plans with discussion boards, online games, and interactive video lessons to keep students stimulated. Almost 60% of parents surveyed say that their teachers have used one or two new online educational technology tools since the COVID-19 pandemic began.
In some cases, student engagement levels, especially for younger students, are hit hard with the loss of a collaborative and interactive learning experience alongside their peers. The shift to a pass/fail grading system and a condensed school day can also affect student motivation. Where students would traditionally be spending six to seven hours a day in school, students are now spending three to five hours per day remote learning and joining virtual Zoom calls with their class three or four times per week, according to the survey results.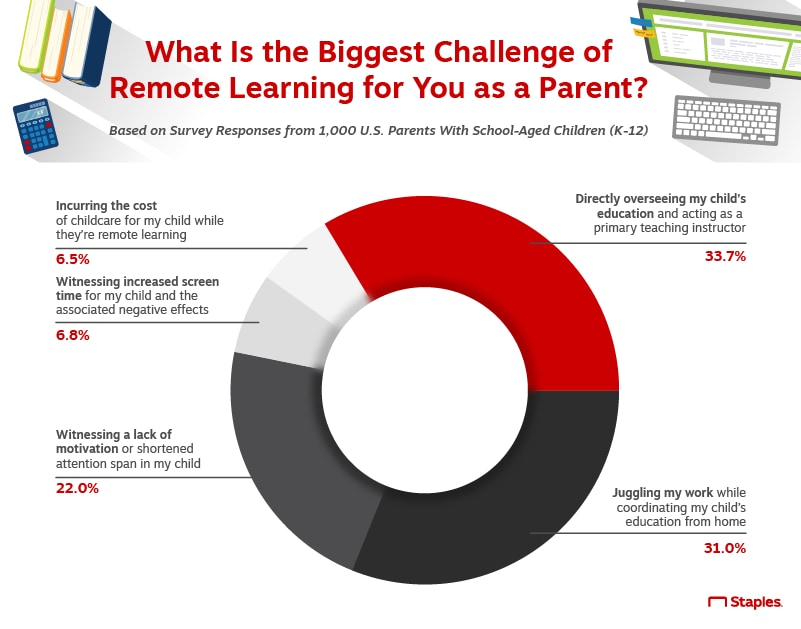 Parents say that acting as an emergency stand-in teacher for their children while juggling their own workload has been the most trying aspect of remote learning.
One third of parents list "the responsibility of directly overseeing my child's education and acting as a primary teaching instructor" as the biggest challenge for them as a parent during remote learning. A close runner up (31%) is "juggling my work while coordinating my child's education from home," answered most often by elementary and primary school parents.
Not only are parents responsible for setting up productive, work-from-home spaces for each of their children and playing the role of hall monitor, they're also now responsible for reviewing lesson plans with their kids, attempting to use the same common core teaching methods that their teachers would have used. Google search volume for "grid method multiplication" is off the charts, as a result.
Financial Hardships
In terms of financial hardships, 42% of parents say "paying for additional groceries due to the lack of school-provided meals" is the hardship they have dealt with most during remote learning. In addition, 35% of parents say "experiencing a loss of income due to quitting my job or scaling back hours so that I can care for my children who are learning from home" is the financial hardship they have dealt with most. Overall, finding childcare, reduced pay, and lack of school-provided meals are all major financial concerns during the shift to remote learning.
In-School Experiences
Students miss school electives and participating in after-school sports teams the most.
When asked about the in-school experiences that their children miss the most, 36% of parents say their children miss "school electives" most; classes like art, P.E., music, computer science, and languages that are much more difficult for school staff to coordinate virtually. High school parents are more likely than other respondents to list "after school sports" and "school events" like dances and football games as their child's most missed in-school experiences.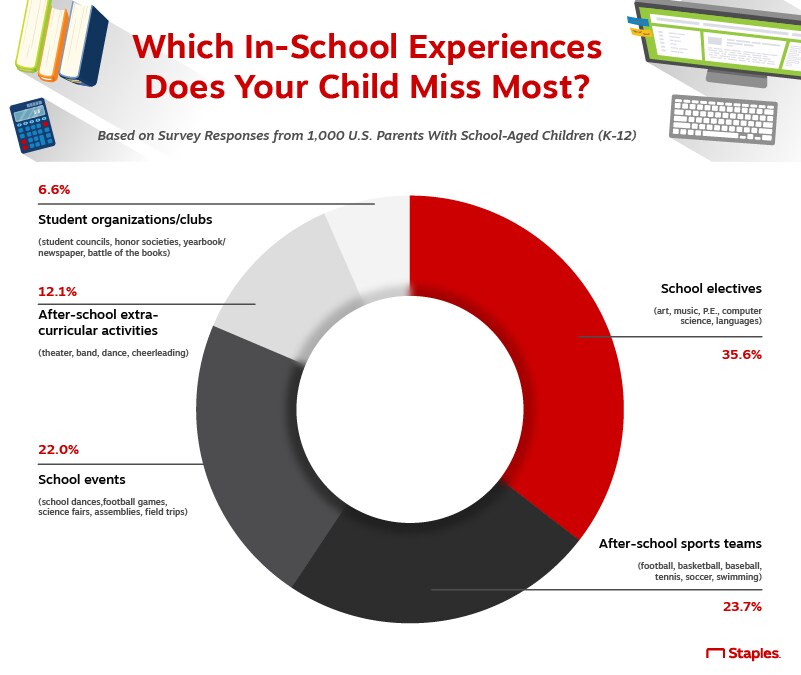 Devices & Internet Access
Whether personally owned or school provided, survey results show that the majority of students (63%) have their own device for schoolwork. Only 31.4% of parents say that the school provided enough laptops or devices for all their children to complete schoolwork and 31.7% of parents say that each of their children has their own personal laptops or devices to complete schoolwork.
Almost 20% of parents say that their school provided laptops or devices for some of their children to complete schoolwork, but not all. Equitable access to both devices and high-speed internet access that can support remote learning persists as a nation-wide issue, especially within rural areas where some households have limited broadband access, or school systems lack the resources to provide laptops to all students who need them.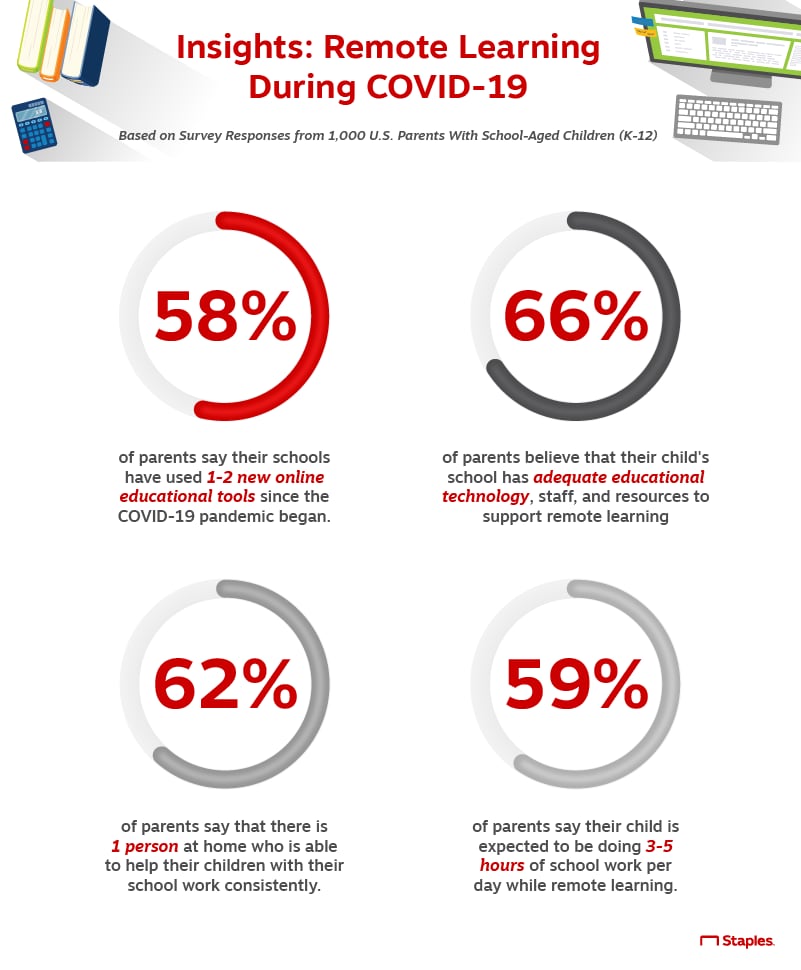 Conclusion
While the survey presents some sobering facts about the struggles for both parents and kids during this new age of remote learning, it also presents some optimistic insights:
62% of parents say that there is at least one person at home who is able to help their children with their schoolwork consistently
66% of parents believe that their child's school does have adequate educational technology, staff, and resources to support remote learning
When asked if their kids are keeping up with their schoolwork during the pandemic, 62% of parents say "always" or "very often."
Remote learning is indeed an unmatched experiment in education for families and school systems across the U.S. Many counties are implementing a hybrid model of education for Fall 2020, whereby schools provide a mix of online and in-person instruction. Whether hybrid or 100% online, teachers and school administrators are relentlessly working to ensure students obtain the resources, instruction, and support that they need to succeed within this learning environment.