The idea of a safe space took on a new meaning for Houston's Legacy Community Health. The organization's clinics have been a judgment-free zone for LGBTQA+ patients since 1978. Then the pandemic struck, just as the healthcare company began consolidating its administrative offices from three locales to one.
Move-in was July 2021. Legacy and its partner, Kirksey Architecture, kept true to their original vision for the $1.4 million transformation of the 67,500-square-foot, three-floor headquarters.
"We wanted it to be inviting, fun and functional," says Joel Kalmin, Legacy's director of facility design.
To that end, "Legacy is not afraid of color," says Stacey Concienne, associate VP at Kirksey. The color scheme is inspired by the rainbow, a symbol of inclusion of all races, religions and cultures. The building's top floor—where visitors enter—is awash in maroon, purple, lavender and fuchsia.
Kirksey painted and furnished the middle floor— home to the central breakroom—in shades of teal, cobalt and chartreuse. The bottom floor, where training, brainstorming and teambuilding occur, has orange and earth tones.
"Paint is cost-effective, potent and practical," Concienne says.
She and Kalmin credit Staples for finding the right furnishings so 500 staffers can go from function to function throughout the day.
"Kirksey, Staples and I have been partners for years," Kalmin says. "They understand my design language."
Much of the budget was devoted to diner booths, traditional desks and more than 60 club chairs on casters to meet the needs of a team that considers itself like family. Not even the CEO or chief medical officers have private offices.
We wanted wellness to be a part of the design. We relied on natural light as much as possible, making it a goal that everyone would have a view of the outdoors
— Stacey Concienne, associate VP, Kirksey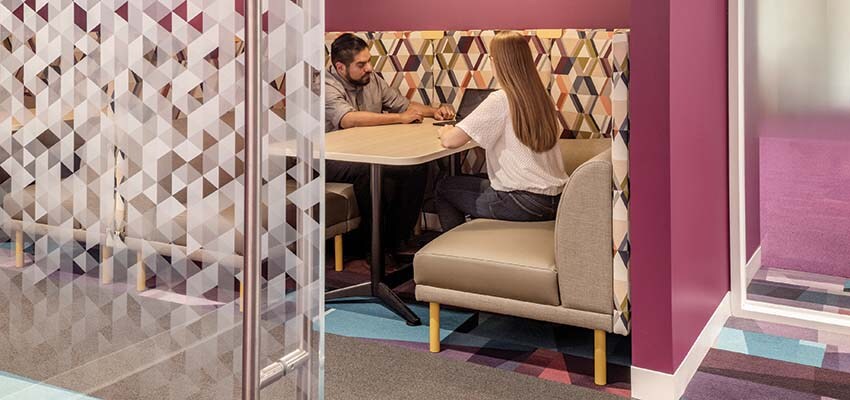 Safe socializing
Banquettes double for dining and spontaneous meetings, with high walls and wide tables.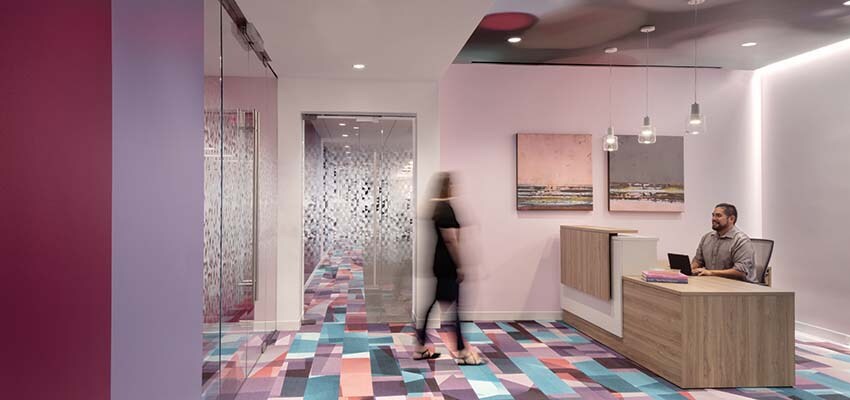 Grand entrance
The wide reception desk at Legacy's top-floor entry discreetly keeps staff and visitors apart. The graphic covering the ceiling adds elegance at minimal cost, while boldly blocked carpet directs people to various destinations.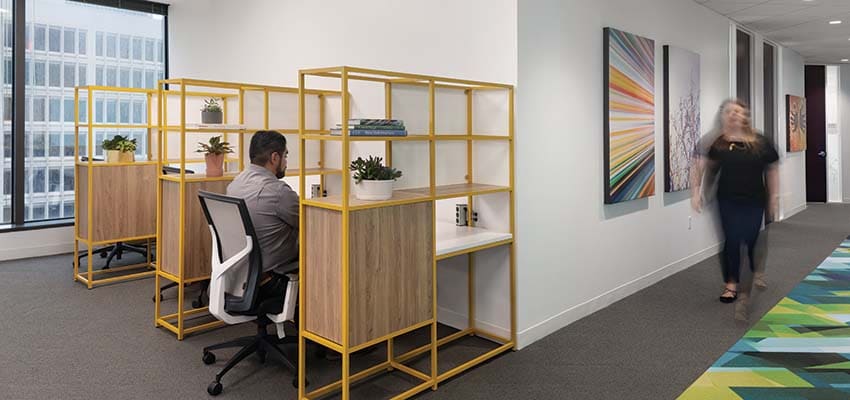 Enjoy the view
Stations for individuals are 30 inches deep and have 5-foot-high panels to help block germs—but not the outside view. Furnishings add pops of color, including bold canary metal trim. Because the staff moves from space to space, storage is minimal. On any given day, 30% of workers are in the office while others are remote.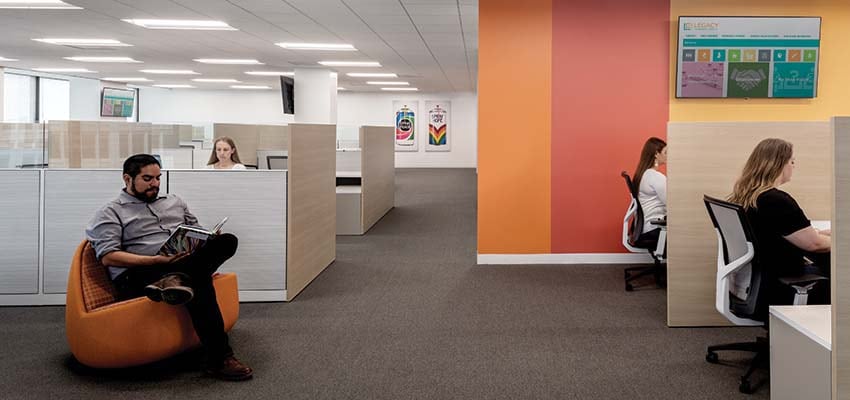 Meet your match
The lowest floor has training, ideation and various-sized conference rooms, which can be booked on an app. Throughout the office, chairs are easily moved, yet comfortable and sturdy.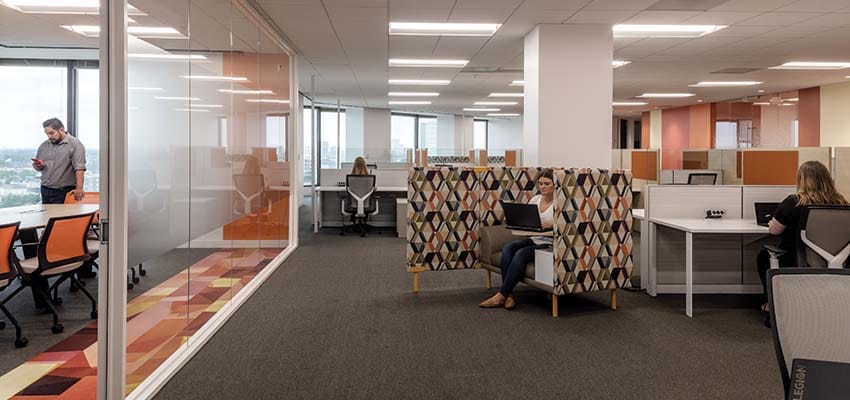 In the clear
On the bottom floor, glass walls echo Legacy's transparent culture—and flaunt views of the city's bayou, downtown and medical center.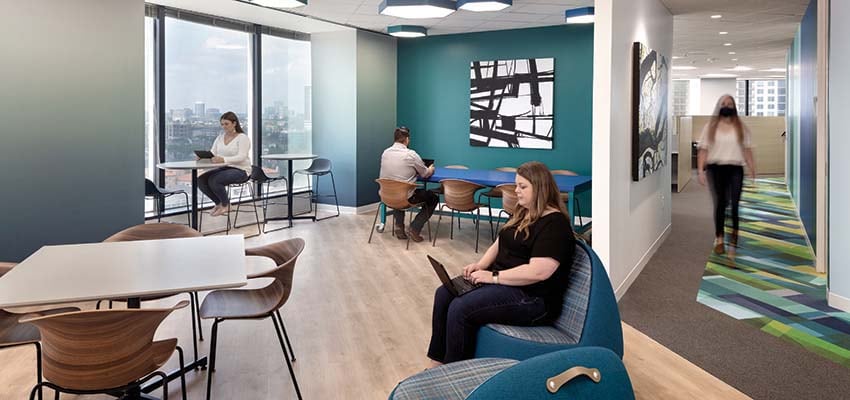 Take a break
Breakrooms on each floor are where employees can come together. The middle floor's breakroom includes movable chairs for meals, impromptu work huddles or alone time to focus. The faux-wood vinyl floor evokes nature—inexpensively. And the surfaces are non-porous and easily wipeable.
Find more tips on transforming your office space at staplesworklife.com/officedesign.