It's a night and day difference: Holiday Retirement's old offices "were very corporate, separated by high cubes, lots of offices around the perimeter, meeting rooms with closed doors. There was not much glass at all compared to what we have now," says Karen Sheean, chief people officer.
Holiday, a Staples customer, moved its corporate headquarters from Lake Oswego, Oregon to Winter Park, Florida in 2017. For 12 months, Holiday's 160 employees worked out of temporary offices while project leads Sheean and Teresa Mann, IT infrastructure manager, led the team effort to transform a space. With help from the Walker Design architecture studio and Staples, which sourced and supplied furnishings, the Holiday team created an office that reflects the company's mission and values: teamwork, transparency and fun.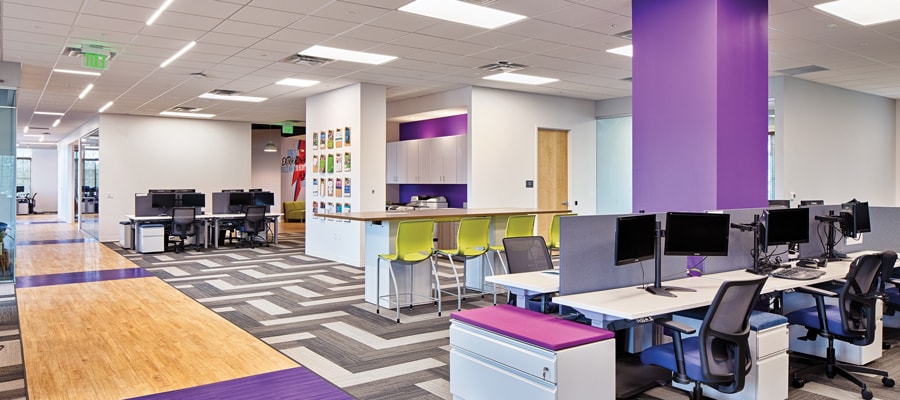 1. Into the great wide open
At first, the Winter Park office looked like a 1980s-era law firm, Sheean jokes. "There were high cubicles and offices everywhere—and lots of mahogany." Holiday gutted the office and replaced it with an open concept featuring glass walls and communal workstations. "We wanted people to be able to share ideas easily and to have much better access to our leaders and other teams," Sheean says.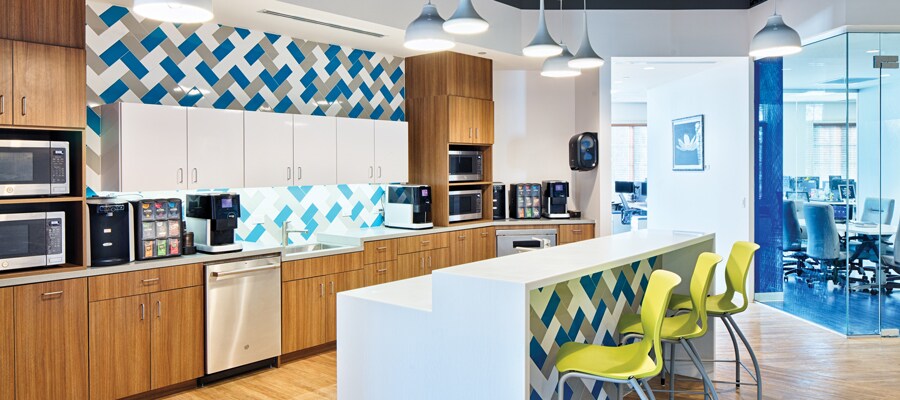 2. Pursuing greatness
Holiday received a certification last year from the Great Place to Work Institute, which recognizes companies that offer an exceptional employee experience. Holiday earned this honor due in large part to its office, which supports employees' physical health with adjustable sit-stand desks and their mental health with common areas such as a game room and cafe that promote socialization. "What we do as a company is create communities for older people to thrive in," Sheean says. "I wanted to do the same thing in our office, but for our associates."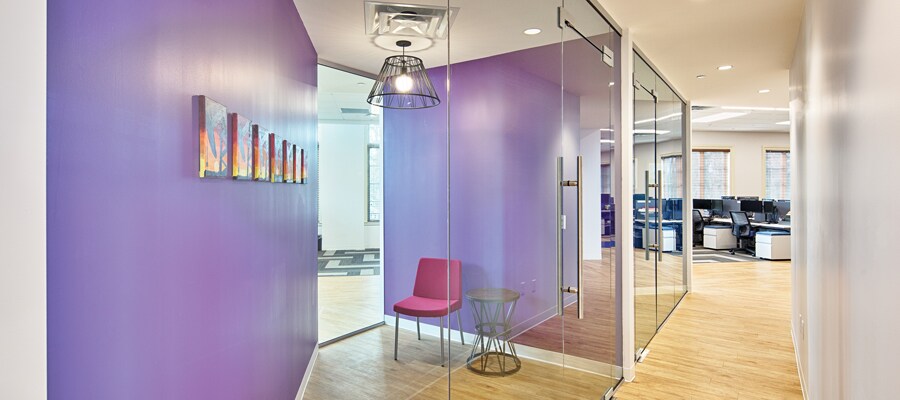 3. Furnishing success
The furniture helps make the office adaptable and friendly for workers. Large, cocoon-like loungers give privacy to employees who work in them. Small groups of employees can gather for impromptu meetings on round sofas that Holiday calls "learning circles." And modular, movable cube seating can be arranged in a variety of flexible configurations.
4. Artful decor
Holiday is especially proud of the artwork in its headquarters, which is displayed on a designated gallery wall and in meeting rooms throughout the space. "Aside from the big wall murals, all of our art was created by residents in our communities," explains Sheean, who says the retirees contributed approximately 90 pieces. Those works are a reminder of why the company exists and whom it serves.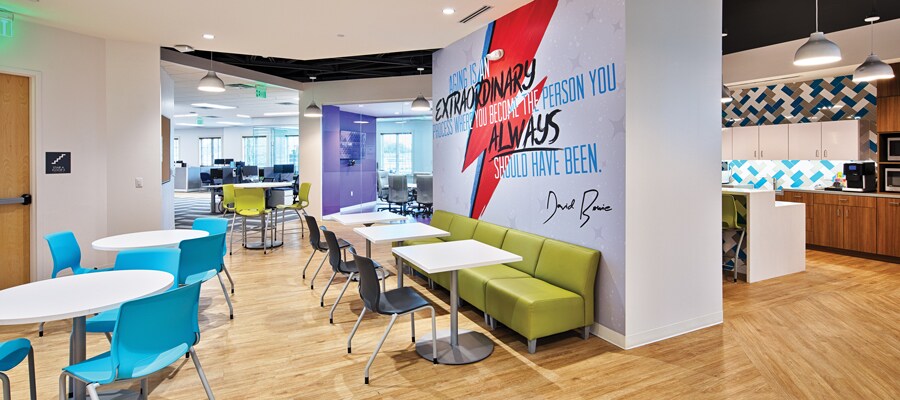 5. Coloring outside the lines
The new office space features a neutral background—whites and grays—with pops of bold color on the floors, walls and furniture. Each color represents a different department within the company to give building occupants a sense of place. "Senior living is a really dynamic industry, but not everyone knows that," Sheean says. "We're trying to change that so we can attract the smartest, most engaged people to work for us—including people who haven't previously thought about working in senior living."
6. Turning over a new lease
Thanks in part to its new office, Holiday feels like a completely different company, Mann says. "It's a kinder, more open place to work," she explains. "And because of that, we actually accomplish more. We're more productive, because people are happier. They want to work hard, and they want to accomplish our goals."