No matter what size of space you manage, your office furniture design can determine the happiness and efficiency of your staff. Your goal is to support every job position, keeping in mind that employees generally have different work styles, responsibilities, and workspace needs.
In a recent study conducted by The Property Group on workspace design and productivity, loyalty, and engagement, 97% of 2,500 employees said their office arrangement was a detriment to their focus. Almost half of respondents said the existing office furniture layout had a major impact on their productivity.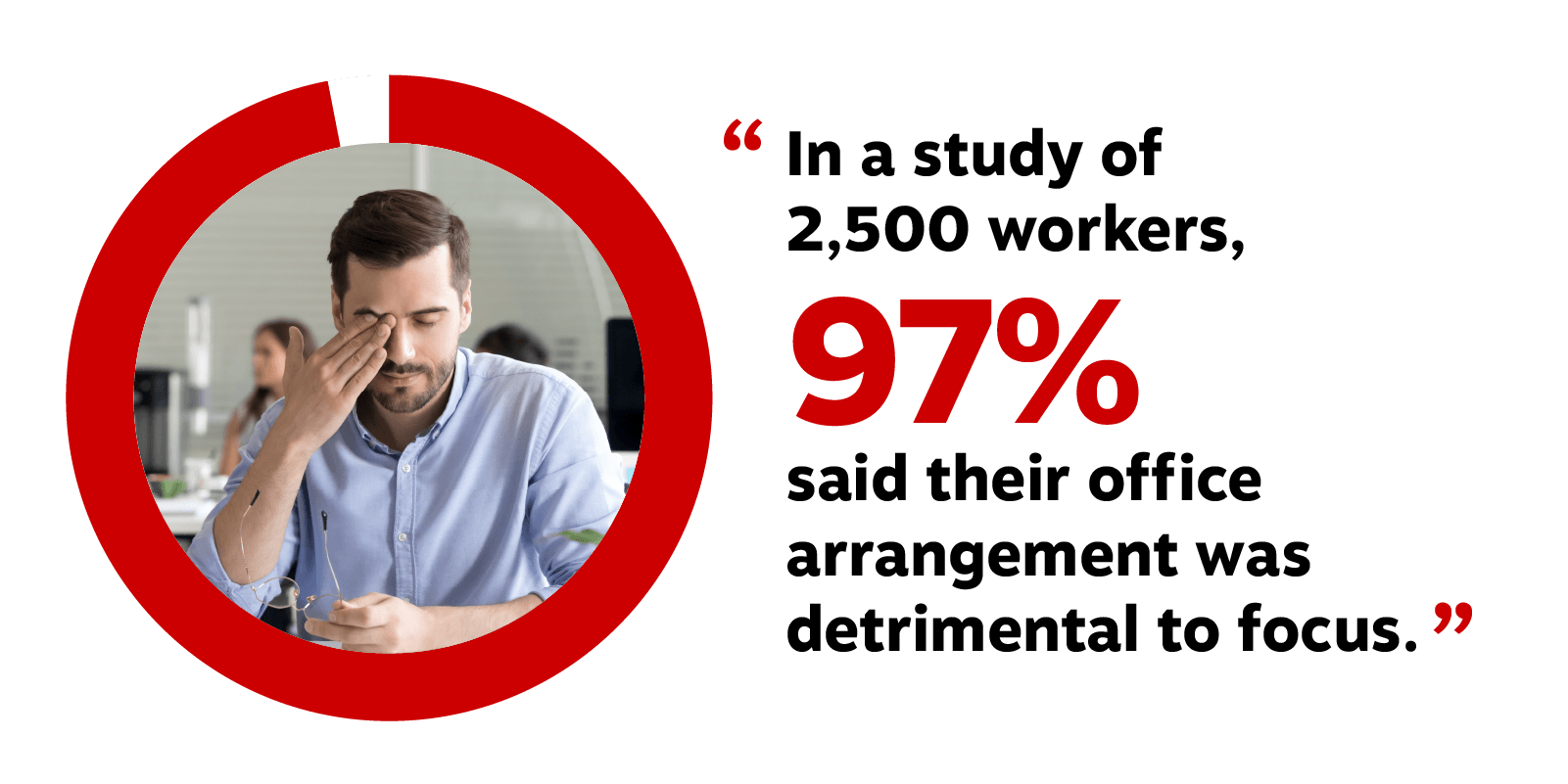 Knowing how important productivity is to the success of employees and your business as a whole, you should embrace anything that can improve efficiency. That being said, your office space planning deserves some extra consideration. Below, we discuss the strengths and weaknesses of the various types of office layouts and how to best implement each one. We hope you'll use this information to determine the most productive office design based on your employee needs.
Considerations for Configuring an Office Layout
In the study mentioned above, employees expressed their desire for an optimal balance of collaboration and distraction-free focus time in their workplace. They mentioned that workspace design influences their feeling of value in the workplace as well as their willingness to stay at a job.
Your office layout affects everything from employee performance to company culture, so here are a few considerations you need to make in your office furniture arrangement to retain employees, foster productivity and collaboration, and make employees feel valued.
Accommodate the need for future flexibility
Offer areas for privacy and quiet focus time
Design the area with your brand goals in mind
Infuse spaces that allow the office to join together as a community
Create a workspace conducive to all types of work being performed each day
Find out your employees' work environment preferences and incorporate them as you see fit
With these workspace design goals in mind, where do you begin? What type of setup is best and what do workers prefer — totally open, mostly enclosed, or some mix of both? Start by finding out what your employees want and get on the same page internally about which office arrangement ideas support your goals. We did this via survey and have shared what we found below.
Survey Findings on Employee Workspace Preferences
These are key findings from the 2019 U.S. Workplace Survey by the Gensler Research Institute and the Staples Workplace Survey 2019. The results paint a nuanced picture about what type of workspace is most satisfying to employees, but they provide important insights that may help to guide your internal conversations and inspire the way you approach your next office layout.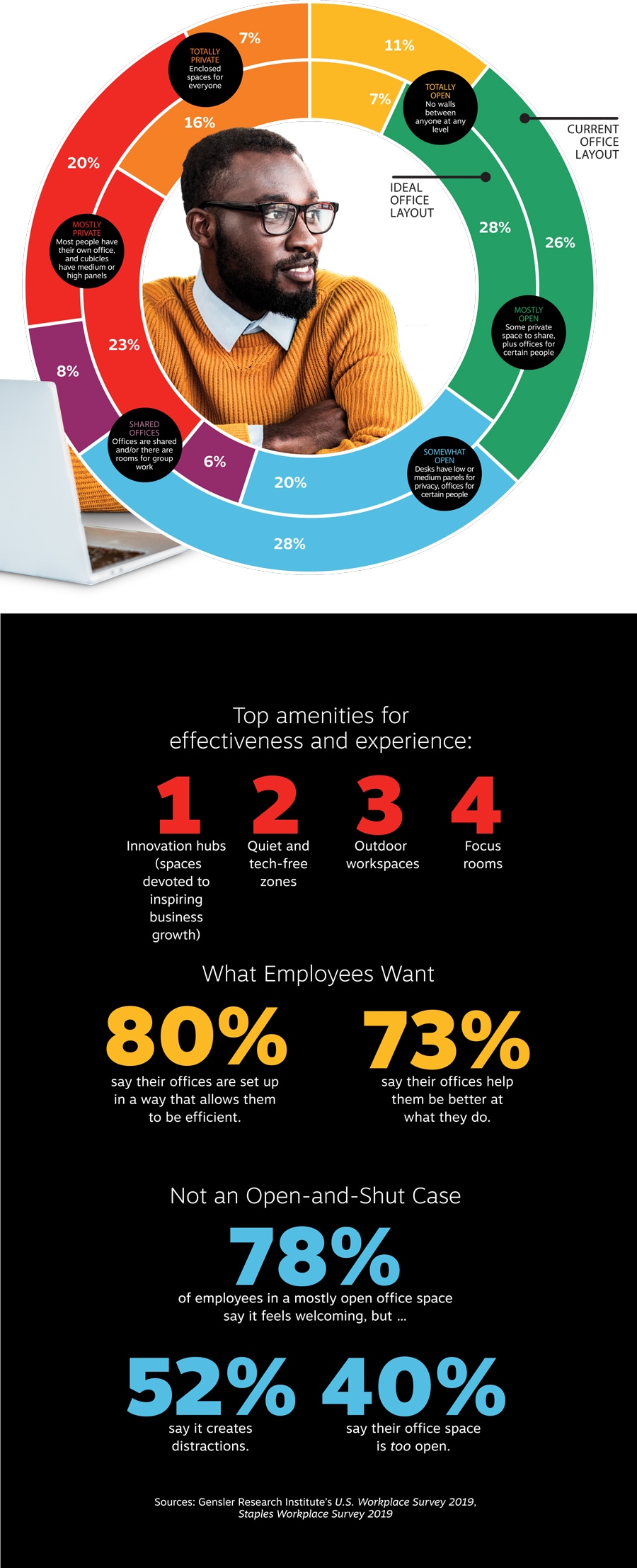 The following are the top amenities people said were important for workplace effectiveness and experience:
Innovation hubs (spaces devoted to inspiring business growth)
Quiet and tech-free zones
Outdoor workspaces
Focus rooms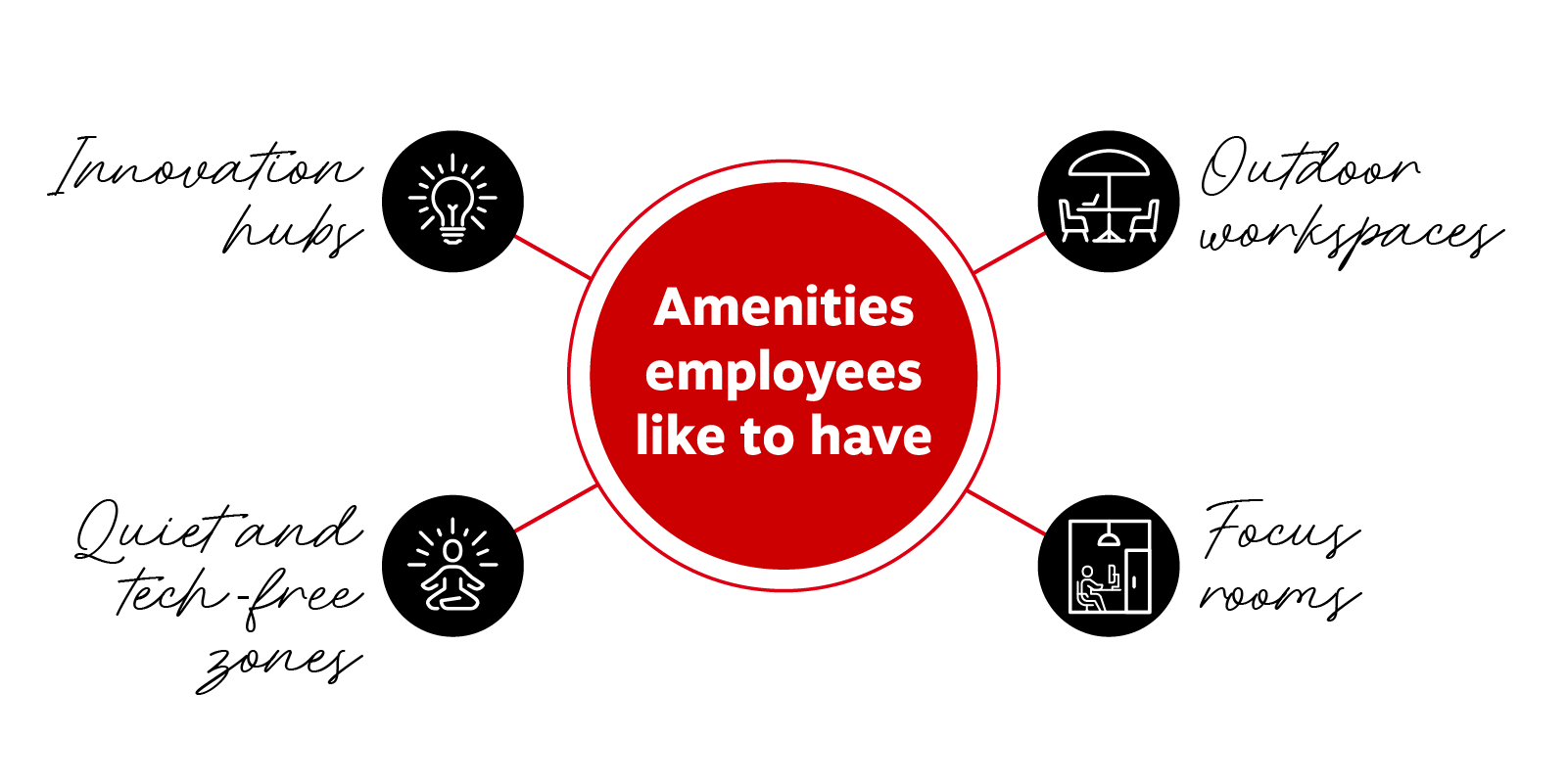 Survey data also discovered that:
80% say their offices are set up in a way that allows them to be efficient
73% say their offices help them be better at what they do
78% say an open workplace design feels welcoming, but

52% say it creates distractions
40% say their office space is too open
Now, let's look at several office furniture layout options and how each one can meet specific employee needs. Making the right layout decision can help keep everyone around the office more happy and productive!
Private Layout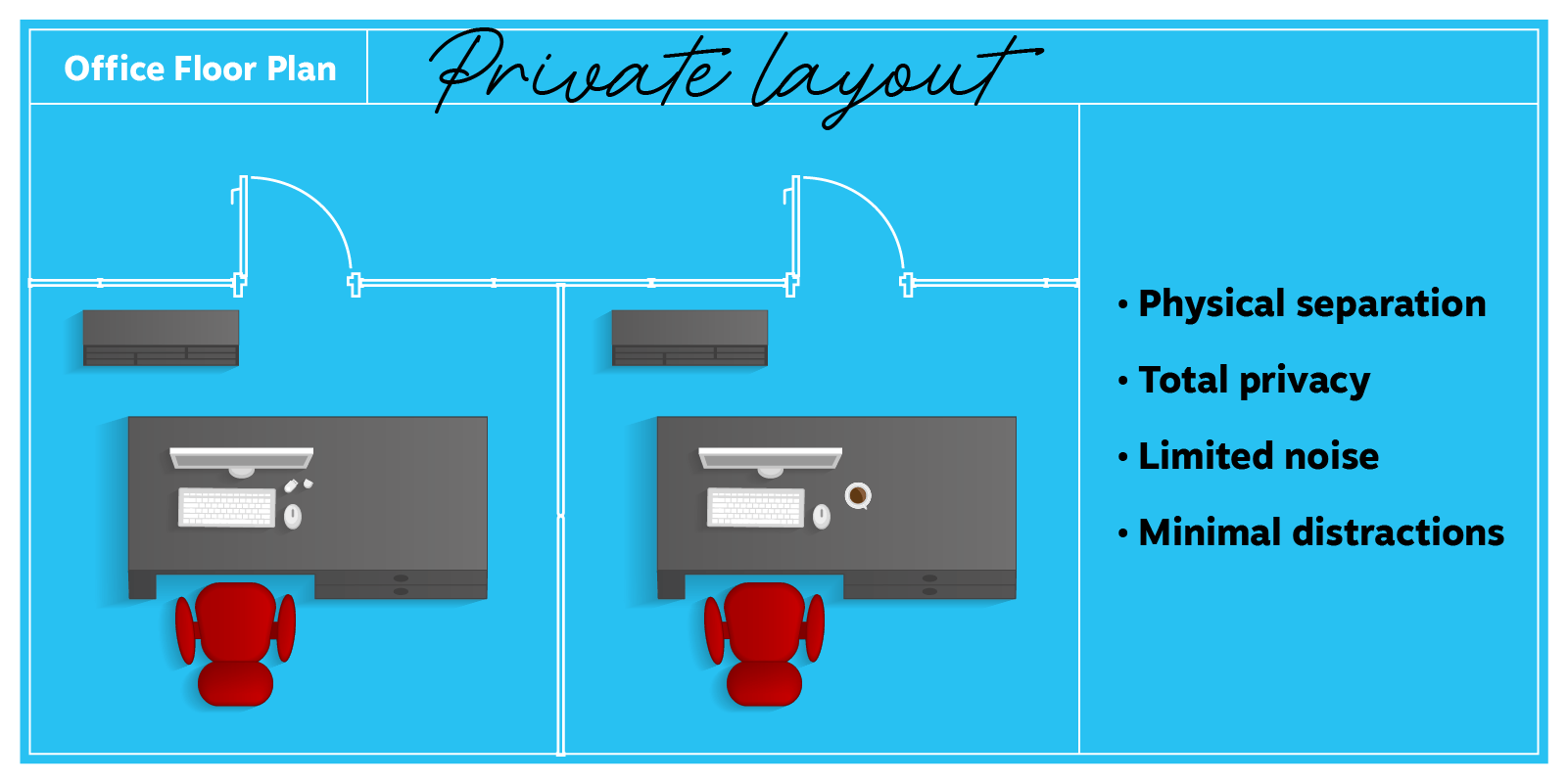 What it is: A private workspace is one in which a worker is separated from the rest of the office staff by physical barriers. These barriers usually extend from the floor all the way up to the ceiling to ensure total privacy and seal the office off from the rest of the workspace. Most offices offer private workspaces in conjunction with collaboration areas so workers can engage with others when it fits into their schedules.
Ideal for: Private layouts are best for introverted personalities, executives, and other job positions that require private space for the handling of confidential information and/or deep focus and quiet, unbroken concentration for the majority of the day.
How private layouts help productivity:
Easy to concentrate
Lower noise levels
Fewer distractions
Easy social distancing
Lesser chance of transmitting illness (fewer sick days)
Optimal environment for sensitive discussions and data
Gestation time for problems and creativity
Gives introverts somewhere to retreat and decompress
Feeling of ownership and confidence in one's own workspace
Provides a place to recharge and prepare for upcoming meetings and tasks
How private layouts hinder productivity:
Difficult to supervise employees in isolated environments
Communication between coworkers is less likely to occur
Employee has little need to leave their own office, so friendships with coworkers are less likely to form
How to optimize a private layout for maximum productivity:
Most private workspaces are isolated and discourage interaction. Invite collaboration without introducing distraction by incorporating several different zones in your office layout. If possible, locate private work zones at the back of the office (farthest from the traffic and noise of the office entrance). Within the private offices, you could include a couple of chairs, a coffee table, and a whiteboard so that collaboration can still occur in these spaces when the office owner chooses to invite people in.
For those who don't get private offices, there could also be several unassigned private call rooms, a fully separated cubicle area, and/or cozy, unpartitioned but distant nooks with single chairs so that workers seeking solitude are less likely to be disturbed.
The zone for employee collaboration would be located in the middle of the office, and the zone for casual conversation would fall closest to the front door. Both of these areas could include bench seating and sofas that invite multi-person discussion. When you provide spaces to suit all types of people and jobs, productivity is bound to increase.
Furniture elements to maximize private workspaces:
Ergonomic chairs and keyboards for long-term sitting
Spacious desks to allow for physical and digital functions
Additional chairs or couches and a small table for small-scale collaboration in private offices
Noise traps outside the private office to bring down external noise levels
White noise machines to drown out external noise and muffle private conversations
Adjustable-height desks to allow for standing during focused work times
Privacy-centric chairs for those who need privacy but don't have their own office
Power accessibility away from walls and corners to enable collaboration (outside of private zones)
Tackboards, sliding screens, and whiteboards (for collaboration zones)
Shared Layout
What it is: A shared workspace does not follow the convention of assigned seating. Instead, it allows dynamic workforces to use any desk or workspace available on any given day to accommodate a need for flexibility. People around the office share the same aspects of a workspace at different times, allowing them to come and go as they need to. A shared workspace is marked by unassigned desks and tables (separated into cubicles or in an open/semi-open floor plan), usually with a computer setup available with an adapter for company-issued equipment.
Ideal for: Shared workspaces are great for collaborative teams and mobile or hybrid workers who don't get their own personal office and don't need their own designated workstation. They're also ideal for companies who may need to scale up or down on a regular basis, as unassigned seating is easy to move around.
How shared layouts help productivity:
Allows for flexibility
Employees can move around daily and enjoy a change of scenery to spur new ideas
Gives employees the freedom to use company space on their own terms and work wherever and however they prefer
How shared layouts hinder productivity:
Lack of permanence could cause workers to feel insecure
No personal space, privacy, or ownership over one's own space
Potential for attachment to specific desks
Regular IT issues as a result of daily reconfiguration
Lack of continuity across workdays could cause productivity problems
Teams could become scattered across the office
Less visibility with employee attendance
How to optimize a shared layout for maximum productivity:
The most effective shared layouts are flexible and account for all the different kinds of work being done within them, incorporating individual and team work opportunities. In practice, a shared office space could take the form of long, unassigned seating at communal work tables in the center of the room with pods of couches and coffee tables around the perimeter for break-out sessions.
Shared workspaces can be conducive to performance with a little extra foresight. Now that you know the potential for IT problems, personal space issues, and so on, you can provide solutions proactively. For example, before implementing a shared layout, make sure every unassigned cubicle, table, desk, or benching system is outfitted with the needed outlets and equipment and perhaps a list of instructions for technology configuration in case someone forgets. This way, when an individual chooses a desk for the day, everything they need is in front of them with a list of potential fixes if they encounter problems. This ensures a cohesive daily work experience that may heighten productivity despite constant seating changes.
Lockers are another great hot desking solution that gives people some personal space back without sacrificing the flexibility of a shared layout. For privacy and quiet, you could include unassigned call rooms where people can work in peace or add calm lounge areas distinguished by high-backed seating, closed-off booths, and private corners.
Furniture elements to maximize shared workspaces:
Lockers
Collaborative seating
Benching and desk systems
Computer equipment
Soundproof barriers
Comfortable armchairs and couches for lounge areas
Phone booth-type private offices
Reconfigurable furniture
Retractable walls and space dividers
Movable lamps and accessories
Privacy desk panels
Rolling whiteboards
Semi-Open Layout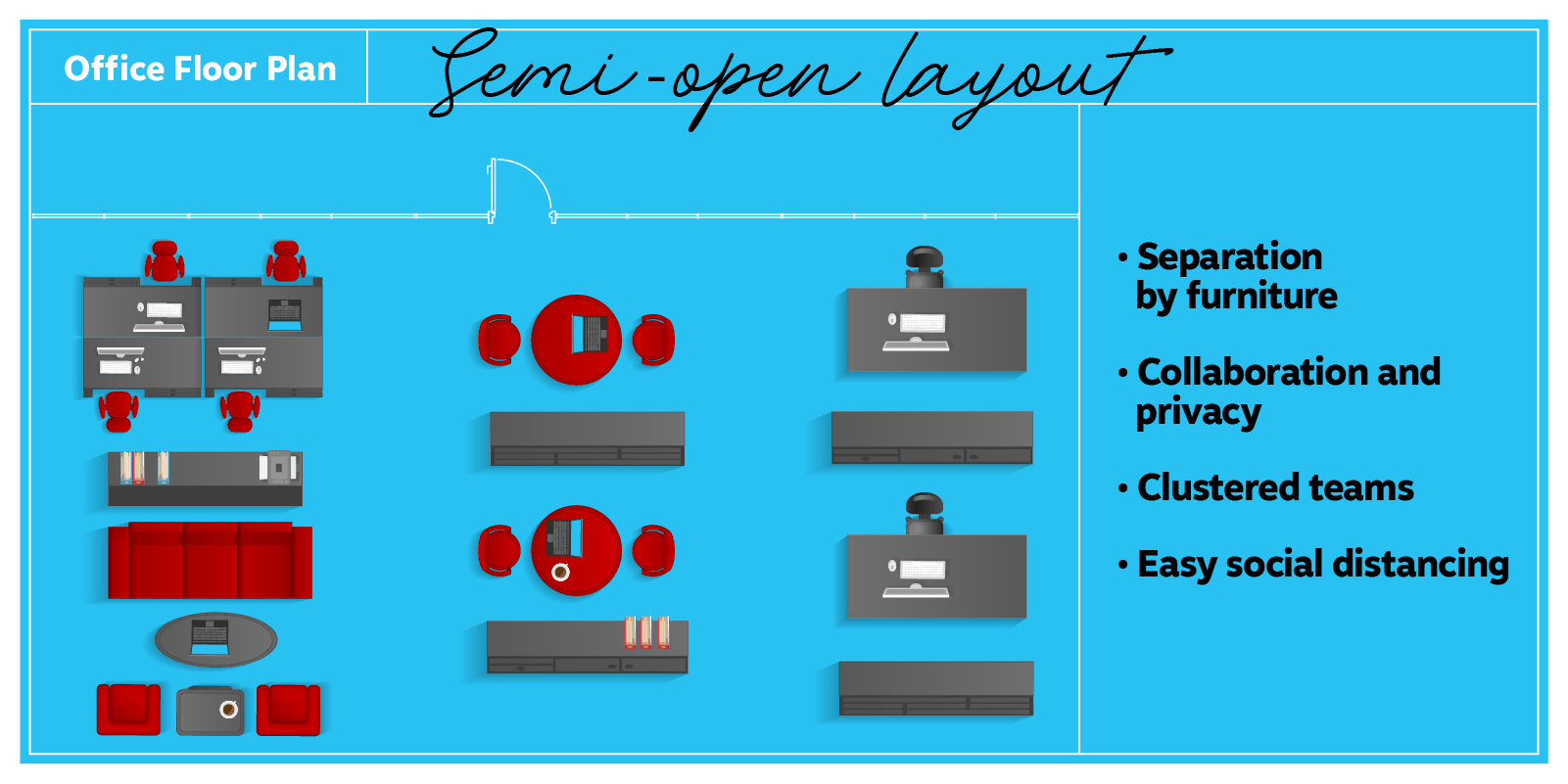 What it is: Semi-open floor plans, also called hybrid floor plans, contain many of the same elements of shared and private workspaces but with more open floor space and greater capacity for collaboration. They often include shared office space, cubicles, and private offices.
Ideal for: Semi-open office layouts are best for teams that need equal amounts of quiet and collaborative time and have both autonomous and social work responsibilities. Companies utilizing semi-open floor plans also tend to have employees that work remotely and in the office.
How semi-open layouts help productivity:
Accommodates the working needs of more employees
Allows for quiet reflection, social distancing, and in-person collaboration
Prevents employees from totally secluding themselves
How semi-open layouts hinder productivity:
Can be difficult to strike the right balance
Less seclusion for those who handle private data
Hard to control the noise level in shared areas
How to optimize a semi-open layout for maximum productivity:
Semi-open office spaces tend to cluster teams into desk pods where each desk has a low partition to encourage quiet work sessions without completely hampering communication or social interaction. The best semi-open spaces keep team desk clusters separated and dispersed across the floor with couches, accent chairs, and coffee tables interspersed throughout. These meeting areas allow teams to interact when it's best for them — and when quiet time is needed, individuals can retreat to the soundproof telephone booths along the back wall.
Furniture elements for the best semi-open spaces:
Movable dividers
Ceiling- or wall-mounted sound traps
Cubicles
Sofas
Accent chairs
Communal tables
Sneeze guard partitions
Phone booths
Open Layout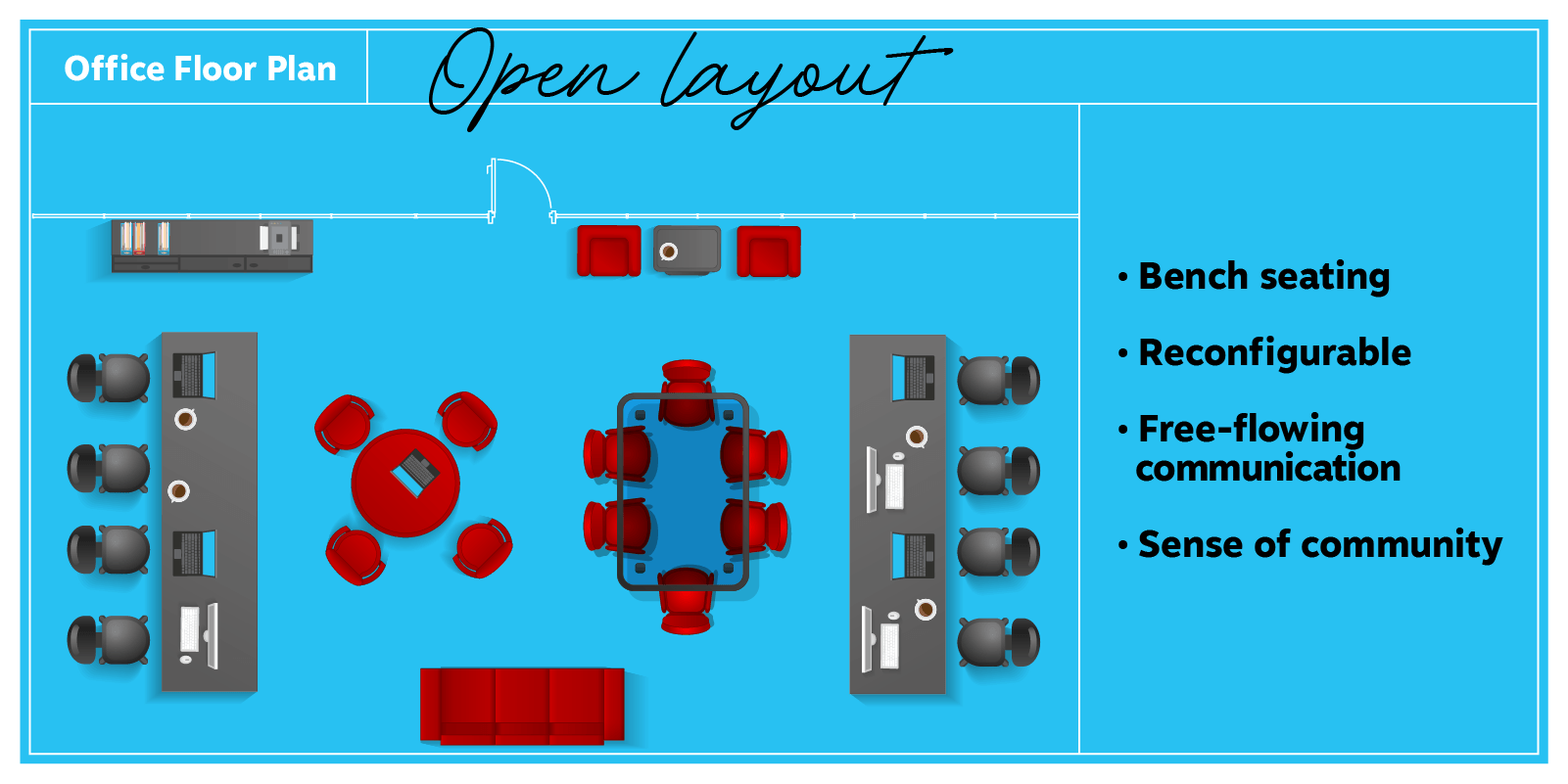 What it is: Open floor plan offices eliminate partition walls and maximize open space for full collaboration. Office work areas are usually designated with furniture; for example, desks may be replaced by long work tables referred to as benches, and the only thing that separates one team from another is a bookcase. Tables are intermingled with lounge seating, such as couches, to provide casual meeting places that allow for flexibility, easy reconfiguration, expansion, and reduction. The caveat is knowing how to maintain a balance of openness with options for a healthy and safe workspace.
Ideal for: Open floor plans are best for highly collaborative teams and offices that undergo frequent change. They're inexpensive and flexible, so they're convenient when teams need to adapt to COVID guidelines
How open layouts help productivity:
Free-flowing communication
No one feels isolated
Sense of community
Easy employee monitoring
Sense of warmth and hospitality
Conducive to meaningful conversation
Easy collaboration and group brainstorming
How open layouts hinder productivity:
Potentially distracting
Less ownership of work environment
Lack of privacy and quiet
Not ideal for teams who handle sensitive information or client calls
How to optimize an open layout for maximum productivity:
Without a smart collaborative office layout, an open space can become loud and chaotic. Take employee preference into consideration when creating an open, collaborative workspace design. Tuck the busiest teams into the quieter corner of the room and place the more collaborative teams closer to the reception desk where conversations are less of a distraction.
Place collaboration pods (couches, accent chairs, huddle areas, and meeting rooms) closer to the break room or wherever is farthest from the teams that need to focus. Provide these quieter teams with rolling dividers and screens so they can section themselves off from others when they are in the zone.
Furniture elements to maximize open spaces:
Communal desks/large tables
Sofas and accent chairs
Benching and desk systems
Sneeze guards
Freestanding furniture, such as rolling and mobile boards
Space-saving compact desks and corner desks
Multipurpose furniture and expandable/foldable chairs
Locking filing cabinet or locker units
Furniture and Layouts to Optimize Productivity in Other Office Areas
We've discussed working floors of the office in great detail, but not all employees carry out their full work day at their desk. Many prefer to roam the building for a change of scenery and end up working in common areas or even outside the building. Just like the main floor of your office, these alternative work areas can be optimized for employee needs with things like phone booths, huddle spaces, and demountable walls to leverage space while providing private areas.
Conference/Collaboration Rooms
Conference rooms are the places where million-dollar ideas are born and where in-house employees team up with the virtual workforce, so this space needs to be conducive to these ends.
Collaboration rooms need:
Plenty of comfortable chairs
Whiteboards
A reliable projector
A spacious conference table or single-person desks with tablet arms for social distancing
Ample power sources for employee electronics
Brand-reflecting decor for when clients visit your office
Sufficient lighting
How to optimize a collaboration room for maximum productivity:
The best conference rooms are ones in which employees can all see and hear each other easily in a circle, square, or U-shaped configuration. Ideally, everyone would have an unobstructed view of the screen or white board and a power outlet on the table for their tablet or laptop. An alternative setup for a larger group could be the auditorium configuration in which there are rows of seats staggered in height and a podium, screen, or stage at the front. When everyone has a clear view of the presenter and each other, meetings will be more free-flowing, collaborative, and productive.
Common Areas
Common office spaces, such as lobbies and break rooms, are used for holding team chats, eating lunch, phone calls, breaktime, and other diverse purposes. They should contribute to a feeling of hospitality and represent your brand goals.
Common area furniture and tools you may need include:
TV, screen, or monitor
Small central table
Regular or interactive whiteboard
Comfy, adjustable chairs
Lunch tables
Game tables
Soft couches
Coffee and snack carts
How to optimize a common area for maximum productivity:
Optimize your office lobby for collaboration and productivity by including huddle spaces in the design so smaller teams have a place to retreat when the main floor gets too noisy for effective communication. Huddle spaces are small meeting rooms for groups of two to six people equipped with technology for collaboration and teleconferencing. Your huddle space can include a small- or medium-sized table in the center of the room with several chairs around it, a TV or pull-down screen, and a whiteboard.
Likewise, you should design your break rooms in a way that makes employees want to take breaks so they can be more productive when they get back to work. Make sure that snack tables, coffee stations, and ping pong or pool tables are visible from the outside to draw workers in. Farther into the room, provide comfortable sofas and several tables with plenty of seating to encourage them to sit and stay a while. This configuration will make people more likely to socialize, play games, eat a snack, and burn off steam so they're refreshed and ready to hit the ground running when their lunch hour ends.
Outdoor Areas
Outdoor office space is often underutilized. If you have a relatively peaceful outdoor space that is somewhat protected from the elements, working outside can refresh, inspire, and boost team creativity. All you have to do is provide sufficient tables, chairs, benches, and waste receptacles to encourage people to soak up the vitamin D and enjoy the fresh air. This will vary their workday and potentially boost morale and job satisfaction.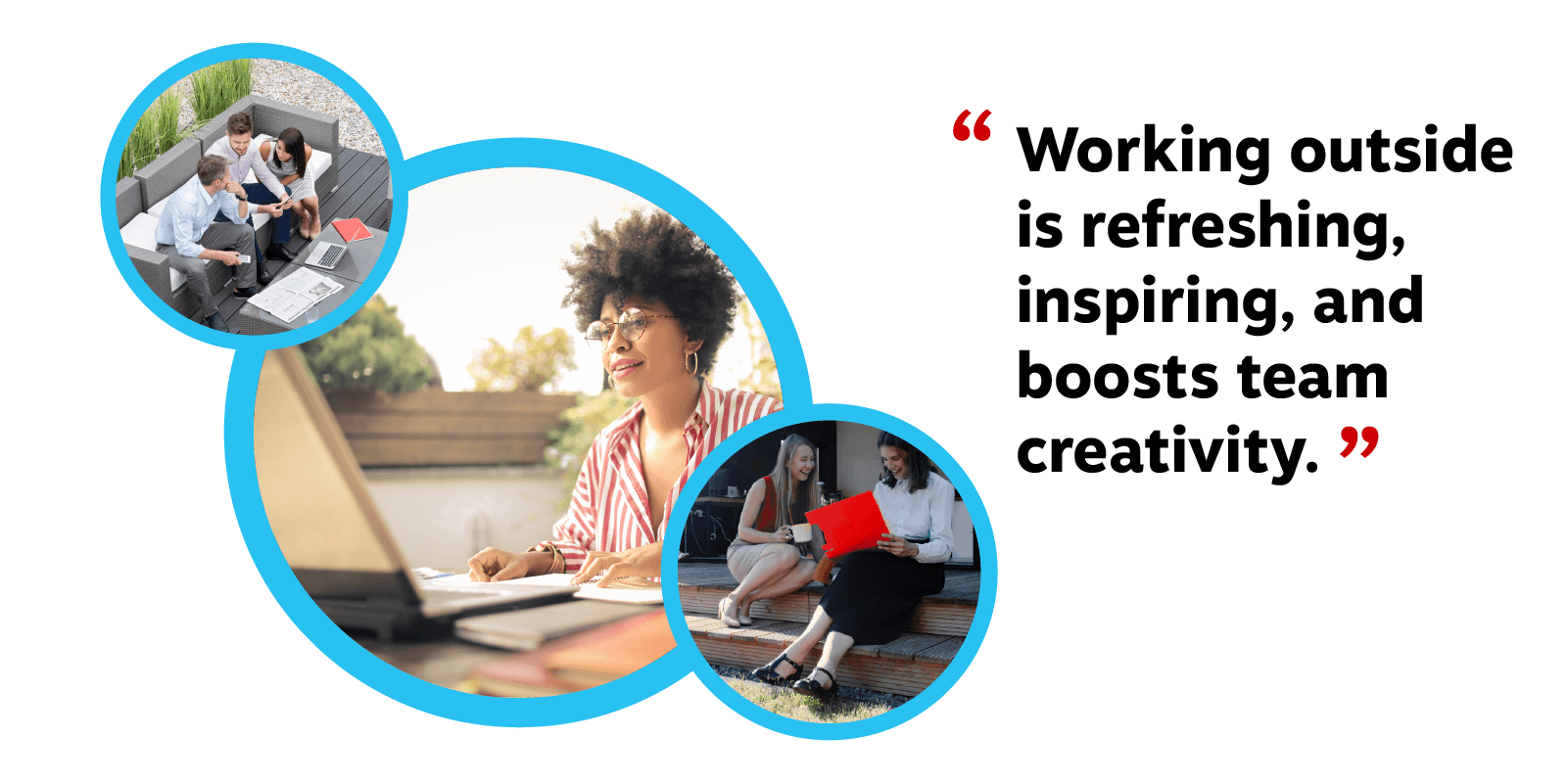 If you can't provide outdoor workspaces, try to seat workers next to windows, if possible. Forbes discovered that, "... views of the outdoors lead to a better work performance by up to 16%" and that those who are exposed to natural light during the day get more sleep at night, which means they'll come to work more refreshed and be able to devote more energy to their jobs!
Outdoor workspaces require:
Several multi-person tables
Several solo work stations
Umbrellas, awnings, or canopies for shade
Heating lamps for cooler temperatures
Wi-Fi extenders
How to optimize an outdoor area for maximum productivity:
With the right outdoor layout, you can have team huddles or just a quiet space to get away and recharge. You'll want to be able to accommodate a number of employees at any given time. For team huddles, provide a couple of larger tables that can seat six to eight people comfortably as well as a few single-person sitting areas for those who have come outside to focus. Make sure the collaboration tables are distanced far enough away from the solo work areas. Trash and recycling bins should be placed close to the tables to make it convenient to clean up from their work session.
Elevate Your Office Productivity Today
In the end, you'll probably end up adopting a combination of the layouts listed above. It will probably require some trial and error on your part to figure out the right layout for your office, so be patient as you experiment with different furniture configurations. Every office has unique needs, and the layouts that other companies have found effective may be completely wrong for your company. When you discover the right one, your employees will be more effective, engaged, productive, and satisfied with their jobs.