Whether you manage a small shop, a café or a professional office, how you fare at ramping business back up after a COVID shutdown may partly depend on the safety measures you put in place.
And for good reason, says Neal Duffy, senior manager of facility solutions technical training at Staples. "People are concerned about everything, from interacting with other visitors to surfaces they'll have to touch to the air they'll be breathing," he says. "Any business that's taking steps to make their building safer — and communicating those measures — will likely end up with more confident and productive employees in the building."
While it's impossible to eliminate risk entirely, these 10 steps can reassure customers that you're taking measures to help them stay safe:
1. Work with your local health officials.
The response to the pandemic is constantly evolving — as are the policy recommendations of health officials, which vary by state and fluctuate with the data on COVID cases and transmission rates.
"For the general public, staying on top of the correct, most recent information can be overwhelming," says Lucia Mullen, senior analyst and research associate at Johns Hopkins School of Public Health's Center for Health Security. "Knowing that a business is putting a lot of attention toward working with local health authorities can help consumers feel confident that they're up to date and following through on changing policies."
2. Put the customer safety basics in place.
While some safety solutions will vary by industry, most businesses should embrace mask mandates and social distancing as their first-line defenses for reducing risk.
"Look for easy mitigation practices that promote physical distancing, such as restaurants offering curbside takeout, opening with limited capacities or posting menus online to facilitate touchless ordering," says Mullen. "If you're able to, move operations outside where there's a lower risk of transmission."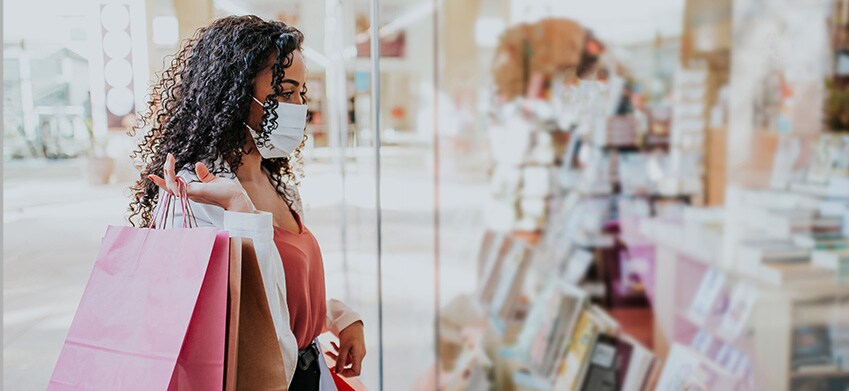 3. Rethink your cleaning practices.
Increase the frequency and thoroughness of your cleaning protocols, particularly of high-touch surfaces such as countertops and doorknobs. Use appropriate cleaning agents.
"Customers wonder, Are the surfaces I have to contact to function within that building going to be safe to touch?" says Duffy. "Do I need to pull my jacket sleeve over my hand?" Going contactless wherever possible — installing automatic doors, self-flushing toilets, and touchless towel, soap and hand sanitizer dispensers — can help reassure contact-averse customers.
4. Promote your policies.
The more proactive your business's policies and practices are, the safer your customers are likely to feel about coming back. For example, businesses such as healthcare practices, salons and restaurants can go over safety protocols when people make appointments or reservations, then follow up with policy reminders in an email, text or phone call, says Cristina Ainslie, LEED AP BD+C, senior design director at Staples, who consults with healthcare providers on safety protocols. Let patients or customers know ahead of time if you'll be doing temperature checks, screening for COVID symptoms or asking about their exposure to COVID.
"Guidelines should make people aware that they need to wear a mask, and also explain what to do on arrival, where to stand in the elevator and where to sit," Ainslie says. "Not only does that make them aware of how to enter the space, but it's reassuring for those who may still have some hesitation about returning."
5. Educate your employees — continually.
With COVID-related policies, "one and done" is not enough employee training, says Mullen, who points out that it's all too easy for pandemic fatigue to nip away at even the most engaged employee's resolve.
Relaxing safety practices too soon may lead to spikes in cases, which can prolong the pandemic. "It's a good idea to regularly remind employees that the only way we'll get through this is to continue to follow the measures that work and regularly review the latest information on what that means," says Mullen.
6. Adapt your sick leave policy.
Now is not the time to encourage employees to overlook the sniffles or come to work with a cough. Business owners that screen employees for visible signs of illness should also be aware that, according to the CDC, such health checks will not be completely effective because asymptomatic individuals may pass through screening undetected.
7. Use signage to inform your customers.
Clear and visible signage at entryways and throughout your business will reinforce requirements for both customers and employees. Prominently posting policies in your place of business also helps empower your employees to ask that customers meet these standards.
8. Get better acquainted with your space.
Arming yourself with knowledge about your building will better enable you to answer customer questions as they arise — and take steps to address concerns.
As a starting point, Mullen suggests understanding your building's ventilation system. If upgrading isn't in the budget, something as simple and inexpensive as opening a door or window might be worth exploring.
9. Call in workplace experts.
If navigating the latest advice on safety measures is challenging, know that you don't have to fly solo.
"When you have questions about safety measures and aren't sure what to do, call someone and ask," says Ainslie, who regularly advises customer-facing businesses on pandemic-related concerns. "A designer can help you with challenges like reconfiguring seating to meet distancing requirements or planning appropriate wayfinding signage that directs foot traffic to promote physical distancing."
10. Stay the course.
The CDC has cautioned that it's critical to keep taking precautions to prevent COVID-19. "We have seen cases get lower and lower in the U.S., and the vaccines that are out now will make a world of difference," says Mullen. "It's not over yet, but the great news is that we do have a light at the end of the tunnel."