Our company's called Mote Marine Lab
And our staff is absolutely fab
But our breakroom is bleak
Where the faucet does leak
And the cabinets are so ultra-drab
So begins the winning entry in our Ultimate Breakroom Makeover Contest. This jaunty limerick (which you can read in full below) came from the nonprofit Mote Marine Laboratory and Aquarium, of Sarasota, Florida.
Mote researches ocean sustainability issues, such as the effects of toxins on the environment or the population dynamics of sharks. Education is also a big part of its mission — its aquarium is open to visitors 365 days a year. When they're not in the lab or the aquarium, the good people of Mote need a better breakroom for relaxation, collaboration and inspiration. We talked to Shelby Isaacson, Public Relations Manager for Mote, about the nonprofit's work and what a revamped breakroom means for them:
Most of us only think about the wildlife in aquariums, but there are a lot of humans working behind the scenes. Who uses your breakroom? When are they likely to use it?
At our City Island campus, 55 employees work in the aquarium and 151 work in the lab, which includes 33 Ph.D.-level scientists — and that doesn't even count the many essential volunteers and affiliates who support our mission. Everyone uses the breakroom at one time or another — particularly at lunchtime. We'd love to be able to use it for impromptu meetings as well, as we are very limited on space.
You caught our eye by making up a funny poem (from a shark researcher, no less) to illustrate all the issues with your breakroom. Has the state of the room been a longstanding joke at Mote?
Yes. The breakroom is a running joke among staff due to its graveyard of microwaves, dingy sink and stained chairs. Some staff won't even eat in there due to the drab décor and amenities. But as a nonprofit, we prioritize our mission, so the breakroom just hasn't gotten any upgrades.
How did you find out about the contest? What prompted you to enter?
Our business manager, Lori Beier, saw the contest via a Staples email and thought instantly of our pathetic breakroom. She mentioned it to a few key staff members, including Dr. Robert Hueter, Senior Scientist and Director of the Center for Shark Research. Hueter has showcased his talent for limericks at company functions before, so Beier recruited Hueter to write our submission.
What was the reaction when you found out you'd won?
We felt just like the kids who visit our aquarium — completely elated. The breakroom is our place to catch up with each other and to share what we're discovering. In fact, several scientists have found ways to collaborate in the lab while sitting at those shabby tables.
What are your plans to update the space? How will those plans make your workplace better overall?
We're letting the Staples designer take the lead on the space update. We sent over ideas and a wish list, but honestly anything will be a huge improvement from what we have now. Our staff is so grateful for this update. It will hopefully do amazing things for everyone's morale and be a place we can host casual meetings during the "off lunch" hours — we're all about maximizing the spaces we have.
What's the next step in this process for you?
We're taking this one day at a time. I do know a few staff have laughed about having a funeral for the appliances and I wouldn't put it past a few of them.
Anything else you'd like to add?
This win came at a good time for our staff. We all work so hard and it will be great to have a place that we can enjoy and relax during the day.
The full poem, for your reading enjoyment:
Our company's called Mote Marine Lab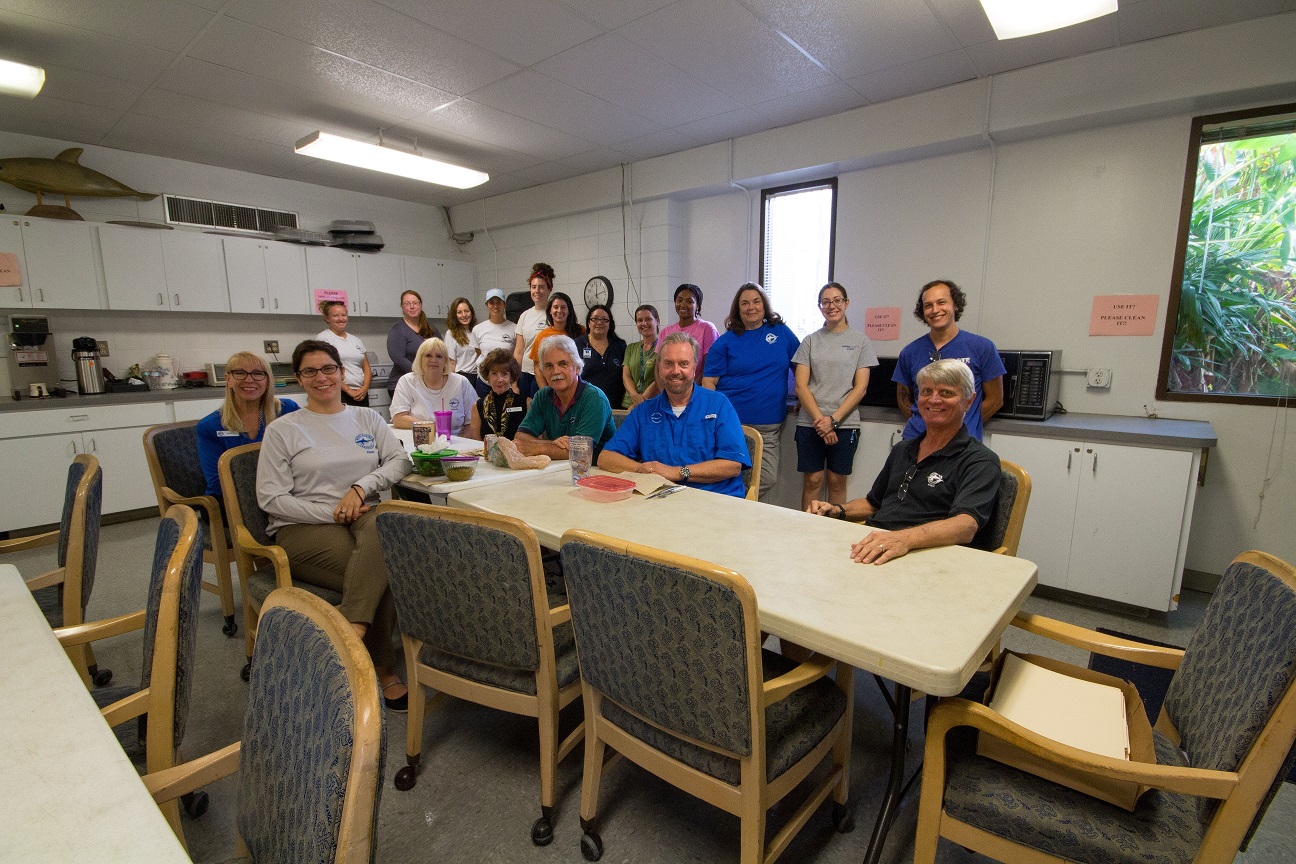 And our staff is absolutely fab,
But our break room is bleak,
Where the faucet does leak,
And the cabinets are so ultra-drab.
We do have a microwave oven
No longer deservin' of lovin'
And a fridge that's a scare,
With brown creatures in there,
Plus a sink that's prone to floodin'.
All manner of insects abound
And the lights all make a weird sound.
It's as if the room's haunted
By bad lunches unwanted
With the ghosts of the dead all around.
The ceiling was installed in the seventies
Its fungus and stains aren't amenities!
True, the floor has been waxed
And has not yet collapsed,
But it's beginning to eat our extremities.
So Staples, we seek your alliance!
We're a nonprofit studying science,
But our breakroom is SAD
And we need your help BAD
Before we lose all of our clients!