With so many types of paper on the market today, how do you know if you're choosing the best one for the job? While your message is your number one priority, what it's printed on will make an impression on your customers and clients. Knowing how to choose paper for printing is an essential skill every business needs to understand. Here are some tips on how to make your next printed piece a winner.
Weigh Your Options: Choosing the Right Paper Weight
When determining the weight of paper, think of it this way — the higher the number, the heavier the stock. Paper is measured in pounds per ream (500 sheets). The typical weight for everyday printing is 20 lb. paper. Need something with a bit more heft? A 32 lb. stock is ideal for two-sided printing, as it produces minimal show-through and thus a more refined appearance. For enhanced presentations such as invitations, company stationery or marketing brochures, consider a durable 65 lb. or 90 lb. high-quality paper.
There are a couple of things to keep in mind when choosing a paper's weight. If you're mailing your project, consider postal costs, as a heavier weight paper will cost more to send. Another factor is your printer — if you plan on using a heavy 90 lb. card stock, make sure the printer can handle a thicker paper.
Scratch the Surface: Coated vs. Uncoated
As you're choosing the types of paper for printing your project, consider the differences between coated and uncoated stock. The main distinction is in the paper's absorbency.
Coated stock
Coated stock Is sealed, so the ink sits on the surface for sharper images and more vibrant color. With coated paper, you also have a choice of finishes with varying levels of sheen such as gloss, satin and matte. This type of paper is ideal for high-quality publications such as catalogs and magazines, as well as photos, direct-mail postcards and brochures.
Uncoated stock
Uncoated stock is more porous and provides a softer appearance. Since images will not be as crisp on uncoated stock, this type of printing paper is better for text-based documents. Uncoated stock works well with techniques such as embossing and foil stamping, so it's ideal for stationery and business cards.
Whiteness and Brightness: They're Not the Same
When deciding on the types of paper to use on specific printing jobs, remember this: White comes in many different shades. It varies in both tone and brightness. Whiteness refers to the color as the human eye sees it, whereas brightness refers to the paper's ability to reflect light. Paper brightness is typically determined on a scale from 50 to 100. This scale, which measures the light reflected by the paper, increases with the paper's brightness. If your document or presentation contains images, using a brighter stock will produce sharper detail and higher contrast. For instance, if you're printing photos that include skin tones, a paper lower in brightness will give the skin a greyish appearance.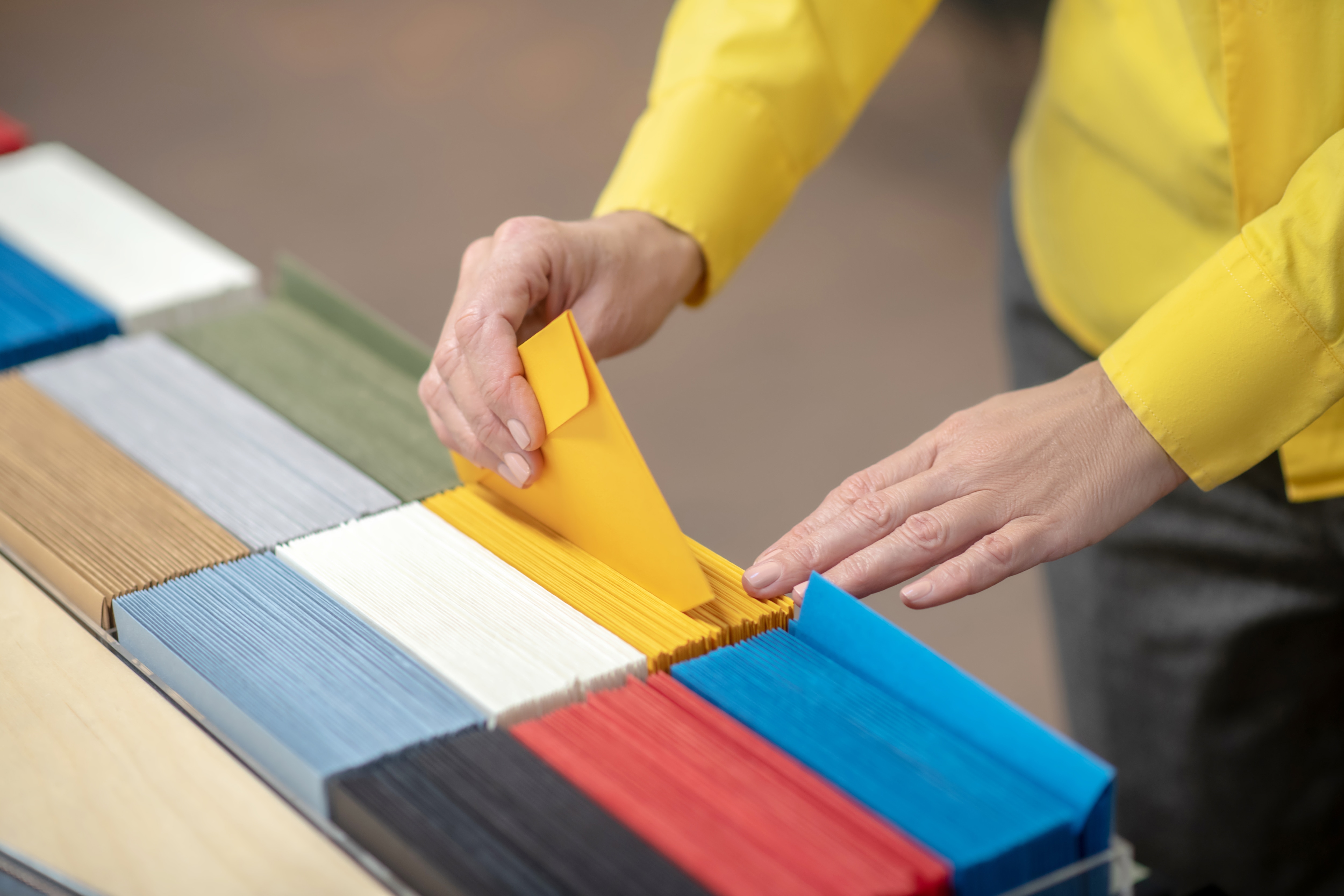 Know When to Color Outside the Lines
Colored printer paper can add interest to a document dominated by large blocks of text. You may want to use a colored stock that reflects your brand image or logo. Just keep in mind that the shade you choose might alter the appearance of your text and graphics. For instance, blue ink on yellow stock will end up looking green. And black ink on a background that's too dark will reduce legibility. Experiment with color to find the look you want.
Add a Unique Touch to Any Project
When you want the most sustainable option for your project, recycled paper consumes less energy, water and emissions, while reducing the amount of landfill waste. There's a specialty paper for everything, from perforated sheets for invoices and business forms to fun borders and patterns. Check out metallic paper, which adds an elegant dimension to invitations, stationery and promotional material.
Explore a wide selection of printer and copy paper and everything else you need to get your brand message across.