In today's competitive business landscape, companies must continually seek innovative ways to stand out. Personal business communication is critical, and with so many people shopping online these days, e-commerce shipping requires particular focus because it provides an opportunity to differentiate your business from competitors.
There are ways to improve the customer's e-commerce experience by adding a personal touch. The customer has chosen to order from you — now you need to make sure they're satisfied beyond the purchase if you want them to come back again. And that loyalty starts with the delivery.
Create custom shipping boxes.
Here's your opportunity to think outside the box. As customers eagerly await the arrival of their latest purchase, why not make that moment memorable with custom shipping boxes that add to the anticipation, while creating a brand association with the recipient?
Many subscription box companies understand the popularity of "unboxing" videos and how to use these to create excitement and capture customer reactions. Avid readers anticipate that bright blue box from Book of the Month to dig into their next read. The company has turned the very act of opening the box into part of the purchase.
Create that same feeling with your products, and the benefits will go a long way. Try these ideas:
Brand the outside of the box.
Hit them with your logo, tagline or clever call-to-action message before they even open the package. If you're on a tight budget, there are cost-effective options such as custom stamp kits or custom shipping labels to make your delivery more special. You can get started by choosing unique shipping boxes and packing supplies, too.
Bring the "wow" factor inside.
Keep your branding going with tissue paper printed with your logo or a pop of your logo's signature color imprinted on the inside of the box. Added touches like embossed stickers, fancy ribbons and inventive filler make the unveiling even more exciting.
Creating custom packaging requires additional time and cost, but its long-lasting impact will resonate with your customers.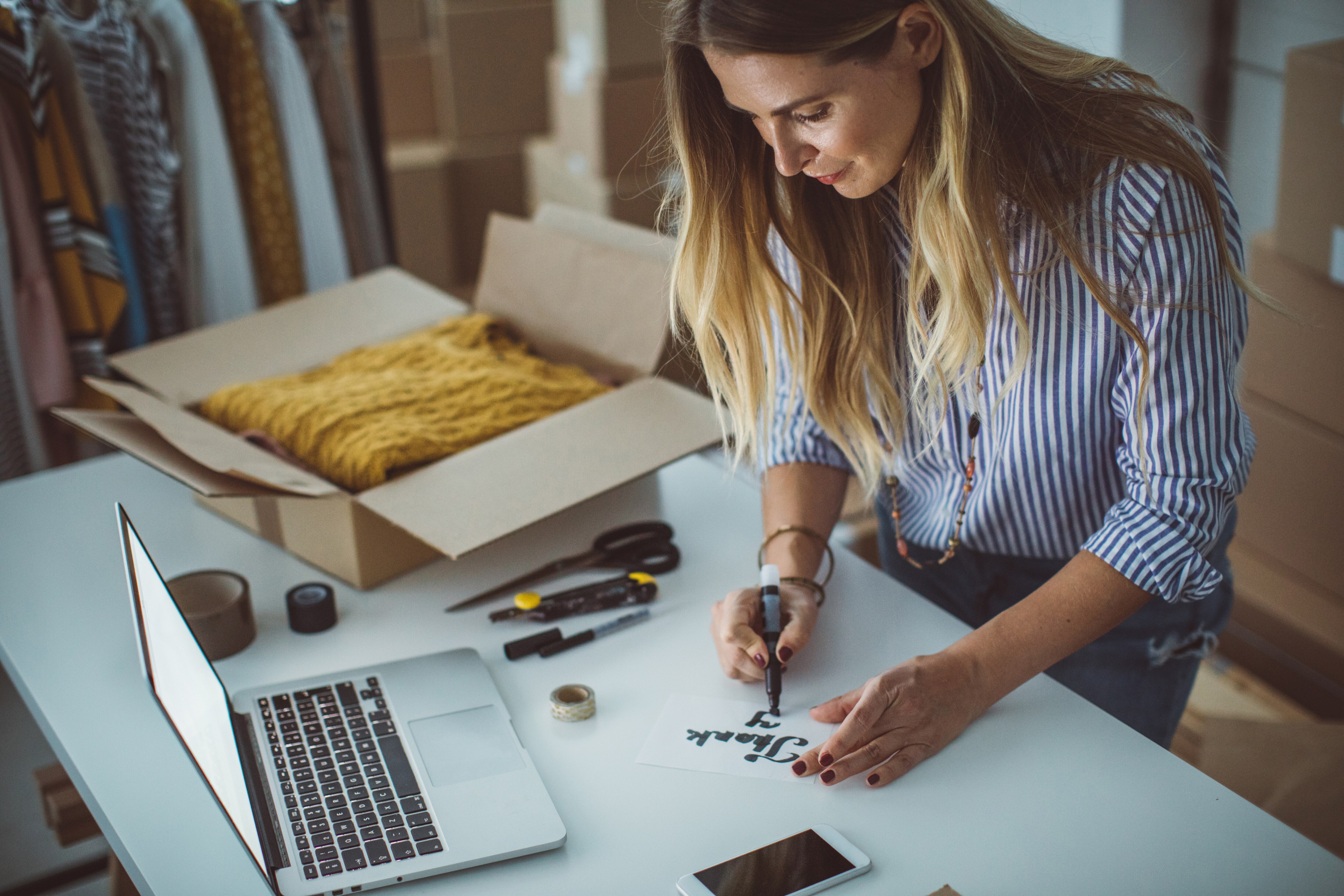 Include a personalized thank-you note.
Writing notes by hand seems to be a dying art, but think about how you felt the last time you received a handwritten card or note. When shipping items to customers, use this opportunity to include a note expressing your appreciation for their business. This extra step will make your customer feel like more than a number — and inspire them to keep coming back.
Track their purchase patterns.
When a customer purchases the same item, or a similar one from you several times, it provides insight into their interests. Build off this loyalty by including a coupon for an item you think may be of interest to them. It can be as simple as a discount code or QR code they can scan to access the deal. This can also be achieved through email, but including a special offer in the packaging is more personal.
Surprise them on their big day.
Everyone likes to be remembered on their birthday. Surprise and delight your customers by sending them a personalized card or coupon code with birthday month savings. Sending a card will go a long way in showing your appreciation for your customers' loyalty.
Keep in touch beyond the sale.
We've all received impersonal "Are you happy with this purchase?" emails. While it's proper customer service etiquette to follow up with a customer after they've made a purchase, there are better ways to do this. Make a note of their purchase and send a personalized follow-up email asking if the specific product met their needs.
The best way to build your brand is to nurture relationships with your customers and keep them wanting to come back time after time. Incorporate these examples of good customer service to elevate your e-commerce shipping practices — and increase your brand loyalty.