The first few days back in the office can set the tone for the months ahead. We asked members of the Staples InsidersNetwork to tell us how they set themselves up for a successful new year.
Christine, member relations director: "I deep-clean and get organized."
Christine follows a multi-step process for starting the new year right. Her first big to-do when she returns after the holidays is to clean her workspace thoroughly and purge old files and clutter.
"I'll wipe down the file cabinets, clean all the drawers and get rid of anything I haven't touched in six months," she says. "I'll also clean out my old computer files, since a lot of clutter makes it hard to find what I'm working on. I decide which files I'll keep and organize them by year."
Christine also sets out new calendars and marks dates for events that she knows won't change. "Then, I back out from those dates and plan out timelines for the steps leading up to them," she says.
Cleaning, planning and goal-setting takes time — sometimes, much of January, she says. But it's worth it. "I feel more secure the rest of the year, because I know what has to get done and have a plan to do it."
Julie, site manager: "I make small, attainable, goals."
Setting a specific goal for January and the months beyond helps Julie stay focused all year. For example, one of her monthly goals might be to take a 10-minute walk each day. Another may be to check one reasonably easy item off her running to-do list each morning.
"I'm a procrastinator, but if I make a point of getting something small done every day, it adds up," she says. "By the end of the month, I might not have anything left on my list."
Julie's keys to success are to keep the goals small and to frame them in positive terms. "For example, one of my goals was to spend less money on lunches during the workweek," she recalls. "Telling myself, 'I will buy lunch once a week' was more motivating than saying, 'I will pack lunch four times a week.' It sounded more like a treat and less like a chore."
Lisa, admin support/marketing/HR specialist: "I restock my desk with cheerful, colorful supplies."
For Lisa, the new year means a new look for her desktop. "My company has its annual open house in December, and because I'm in the reception area, my desk turns into the bar," she laughs. "I have to get rid of everything on my desk beforehand, which gives me a good opportunity to weed things out and start fresh in the new year."
Lisa typically orders a new paper planner and colorful sticky notes for the new year. "I like color — it makes me feel good when it's drab outside," she says. "Because I wear many different hats, color-coding also helps me stay organized." For example, she jots down HR-related to-dos on green notes and marketing-related to-dos on purple ones. She carries the color system over to her files and Outlook calendar.
"I just try not to make it too complicated and get caught up in the process and sacrifice productivity," she says.
We asked members of the Staples InsidersNetwork to tell us: What best describes how you feel about January and February?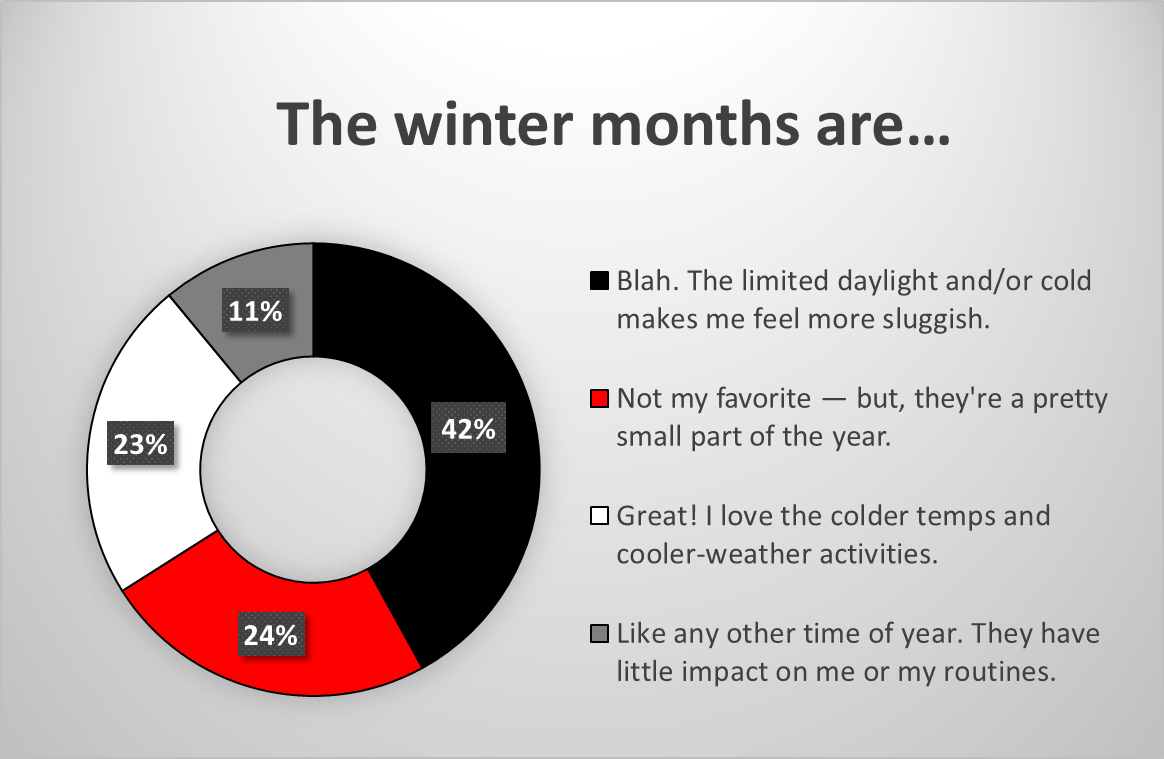 Not everyone would rather fast-forward through winter — but many prefer longer, warmer days.