Gutting and rebuilding your breakroom to look like a football field is one way to drive up the fun factor in your workplace. But you don't need to completely renovate the space to make adjustments that will help your workers feel more refreshed, priming them for heightened engagement. Here are five tuneups you can make to your breakroom that improve productivity.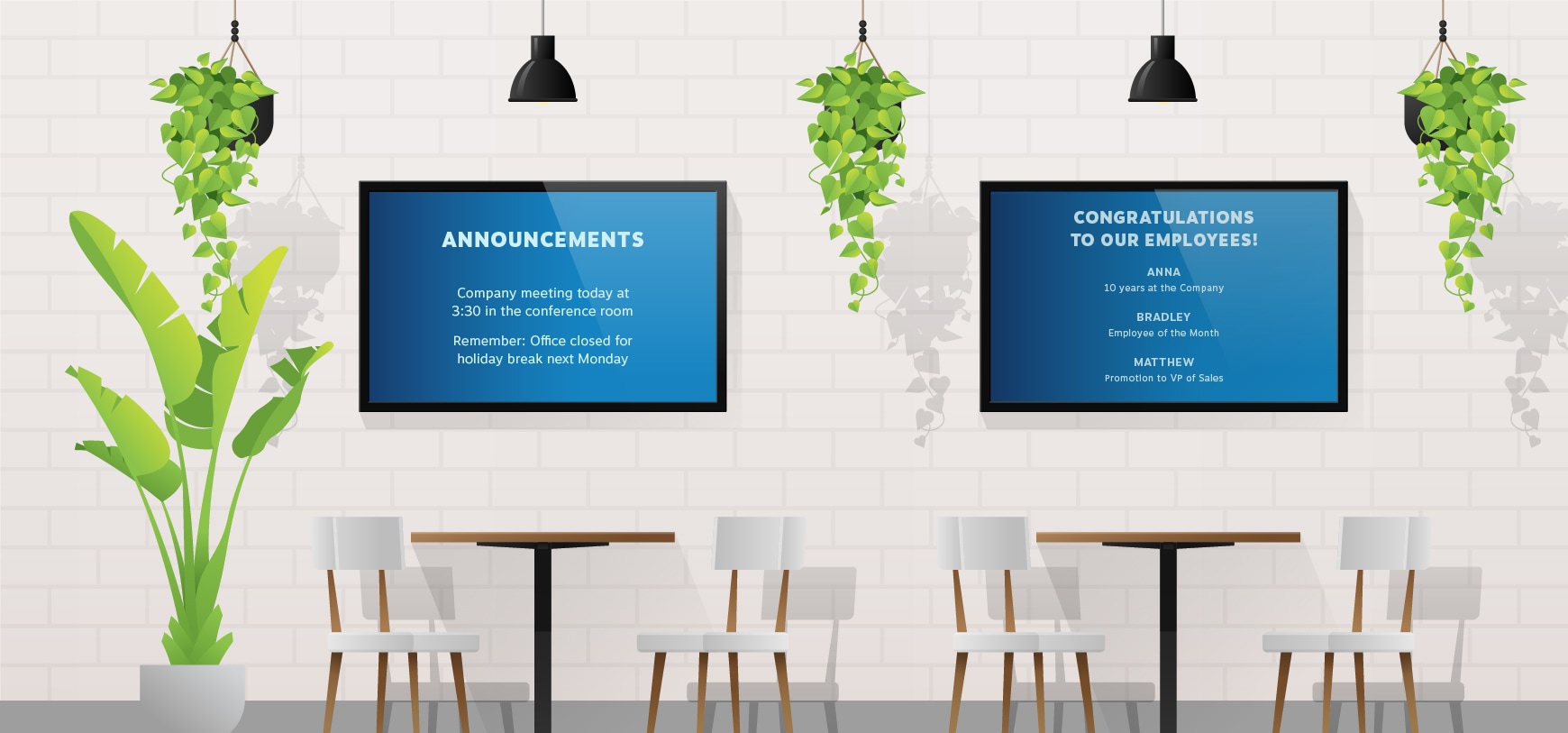 Add Digital Displays
Digital signage helps companies relay important information to their employees, and a breakroom is a great place to add a display. Breakrooms are where employees from different departments congregate every day, and you have their attention because they're not caught up in their work.
"There are endless opportunities to utilize breakroom signage as a communications tool," says Bryan Phann, senior business line manager for commercial digital displays at ViewSonic, a company that specializes in digital display technology. You can feature messages from executives, employee recognition, company activities, safety initiatives and urgent news. "It can boost team morale and make employees feel valued, which in turn may increase productivity," Phann says.
Incorporate Round Furniture to Promote Collaboration
The breakroom can be a place for employees to continue valuable conversations — if it has the right layout.
A study in the Journal of Consumer Research found that the geometry of seating arrangements had an effect on people's thought processes. The results demonstrated that angular setups stimulate a need to be unique, while circular seating arrangements foster a need to belong. Round configurations might help facilitate collaboration because they get people thinking about harmony and smooth relationships, according to the research.
To cultivate an environment that promotes the spread of ideas and connects employees, consider bringing round tables into the breakroom. Include small, round café tables in addition to (or instead of) larger tables. Make sure to place round tables at least 5 feet apart to support natural flow of movement.
Encourage Power Naps
We all know that getting rest is important, but is it beneficial to nap at work?
"Absolutely," says Kathleen Maddison, PhD, research fellow and lecturer at the Centre for Sleep Science at the University of Western Australia. She says that research shows naps can enhance alertness and improve mood, cognition, coordination, memory and psychomotor performance — and that they outpace other options such as caffeine.
Cordon off a corner or small area of your breakroom for napping, complete with a comfortable couch, soft lighting, noise-canceling headphones and sleep masks. If you want to go further, bring in a sleep pod if you have room, Maddison suggests.
Make sure employees keep naps short. "To avoid sleep inertia, limit the duration of the nap to 30 minutes or less," Maddison says.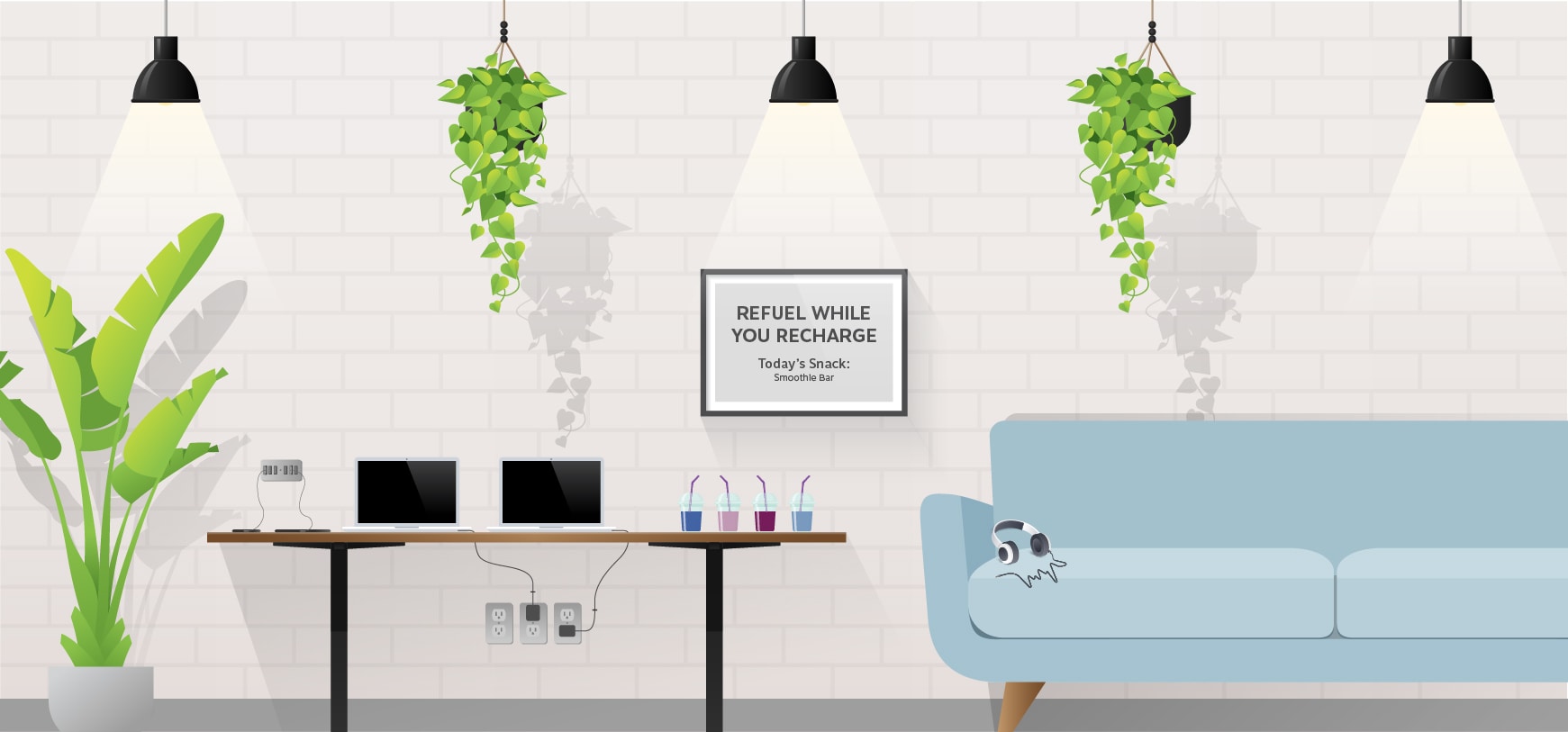 Add Charging Stations
We're constantly using laptops, tablets and smartphones to get our work done, all of which have something in common: They need power! And according to research from Gartner Group, workers typically spend only 40% of their time at their desks.
When employees want to work away from their cubicles, the breakroom can become a convenient alternative with the addition of charging stations.
Create a Healthy Food Station
You'll want to offer the usual grab-and-go snacks and nutritious treats that employees expect, but the breakroom can also be the ideal location to inspire health and wellness. A healthy diet improves brain function, which increases performance.
"Monthly initiatives that utilize the talent within your organization can work well," says Andrea Holwegner, registered dietitian and corporate wellness nutritionist from Health Stand Nutrition Consulting Inc. "Find health leaders to volunteer to make avocado toast with red pepper slices, organize a smoothie station or salad bar, or make energy balls on-site for sampling while providing the recipe."
These initiatives are a great way to get employees feeling their best. Designate a part of your breakroom — like a section of the counter — as the official healthy food station. Holwegner says you'll need to consider the equipment you require, but much can be done with kitchen basics you might already have, such as cutting boards, good knives, toaster ovens and blenders. And don't forget to ask your co-workers to help with cleanup after these monthly occasions. A clean breakroom will help colleagues bond.